FROM A TEMPORARY AIRFIELD IN EASTERN UKRAINE — For two long and bloody weeks, Ukrainian troops have been carrying out an assault on heavily fortified Russian positions across the war's front lines.
Despite recapturing a string of small villages, the counteroffensive's progress has largely been measured in yards, not miles. Even President Volodymyr Zelenskyy has acknowledged the advances are slower than he hoped.
One reason for the limited gains on the ground is that Ukraine is badly outgunned in the skies.
Russia's combat aircraft are far more advanced and it has far more of them. An analysis by FlightGlobal, an aviation website, found Russia had fifteen times more jets and attack helicopters than does Ukraine.
NBC News saw that disparity up close on a recent trip to a sunny clearing in eastern Ukraine, where the country's 18th Separate Brigade had set up a temporary airfield for its aging fleet of Soviet-era helicopters.
The field had little in the way of permanent infrastructure. Keeping the Mi-8s and Mi-24s stationed in one place for too long could invite Russian missiles, officers said.
The brigade is nicknamed after the inventor Igor Sikorsky, who founded the Connecticut-based aviation company that still bears his name. A century later, Sikorsky might admire the continuing Ukrainian ingenuity that allowed the 18th Brigade's helicopters to be fueled and armed on a grassy meadow.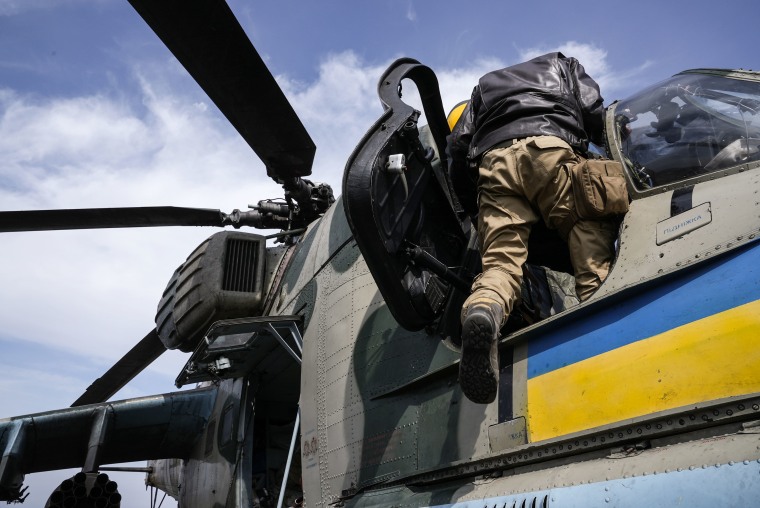 "We really don't have enough modern equipment for this. Modern planes. Modern helicopters," said Oleksandr, a pilot who asked to be identified only by his first name for security reasons. "But even with what we have, we very successfully complete the task."
The task is carrying out assaults on Russian tanks and infantry in support of the counteroffensive. But it also involves a deadly aerial cat-and-mouse game with Russia's fighter jets — against which the Ukrainian helicopters have little defense.
"We usually hide behind obstacles, so it is more difficult for them to catch us," Oleksandr said.
The unit's helicopters fly just above the tree line, sometimes as low as 15 feet off the ground, to try to conceal their movements. Ukraine's military does not disclose its combat losses but casualties among pilots are particularly painful, given how few of them there are in the armed forces.
Despite the danger, Oleksandr said, it was heartening to be supporting ground troops as they take the fight to the enemy. "I'm a military man, I'm an officer, that's what I studied for. Now is the time for me to put all my skills into real action," he said.
Ukraine's patchwork air defenses are made up of a mixture of Soviet-era equipment and newly-supplied Western weapons, like U.S. Patriot missile batteries. The combination has been enough to deny Russian jets complete dominance in the air, and has helped shield Ukraine's major cities from missile and drone attacks.
But with the counteroffensive attempting drive the fight closer to Russia's own borders, there is less that Ukraine's air defenses can do to provide cover and dull some of the Kremlin's advantages in the sky. That has at times left troops to carry out assaults on fortified positions without much support from above, leaving them exposed.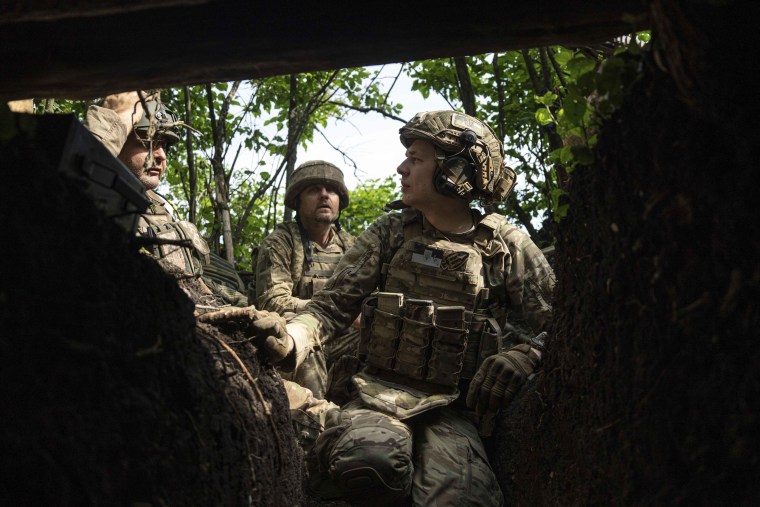 Oleksandr said Ukraine badly needed American F-16 fighter jets and Apache helicopter gunships to level the playing field. "It will be much easier for us to fight. And the effectiveness of our aviation will be much greater," he said.
After months of resisting Zelenskyy's calls for fighter jets, President Joe Biden agreed in May to allow NATO allies to supply F-16s to Ukraine. He also announced the U.S. would support a joint training program for Ukrainian pilots to learn how to operate the aircraft.
But it remains unclear where or when the training will take place. And it could be months before the fighter jets actually reach the battlefield. So far, none of the Western allies have volunteered to give Apache helicopters to Ukraine.
The British Defense Ministry said in a statement this week that Russia had deployed an additional 20 attack helicopters to Berdyansk airport, a civilian airfield in an occupied area of Zaporizhzhia that has been transformed into a Russian military base. Their purpose was to help defend against Ukraine's counteroffensive, it said.
"It is likely that Russia has gained a temporary advantage in southern Ukraine, especially with attack helicopters employing longer-range missiles against ground targets," according to the statement. 
In his national address Wednesday, Zelenskyy stressed the need to chip away at Russia's advantage. "I am especially grateful, guys, for every shot-down Russian helicopter," he told Ukrainian troops. "Each shooting down is important."