Explosions were heard in Ukraine's capital Kyiv Thursday morning shortly after Russian President Vladimir Putin announced that his nation will conduct military operations in eastern Ukraine.
The announcement by Putin appeared to be the final precursor to an attack that the U.S. and its European allies have tried for weeks to stave off through diplomatic talks.
"Our actions are all self defense and to give people a choice," Putin said, according to an NBC News translation of his remarks. "We think it's important that everyone can choose freely who lives in the Ukrainian territories."
He also warned other countries not to get involved militarily. "The response from Russia will be so severe, that no foreign nations have ever experienced it before," Putin said.
Ukrainian Foreign Minister Dmytro Kuleba tweeted that "Putin has just launched a full-scale invasion of Ukraine."
"Peaceful Ukrainian cities are under strikes. This is a war of aggression. Ukraine will defend itself and will win," Kuleba said.
An adviser to the minister of interior, in a message to journalists including NBC News, said cruise and ballistic missile strikes were underway at control centers in Kyiv.
The adviser, Anton Herashchenko, also told reporters "troopers landed" in the port city of Odessa and were "crossing the border in Kharkiv," in the northeast of the country.
President Joe Biden said after Putin's speech that "Russia alone is responsible for the death and destruction this attack will bring, and the United States and its allies and partners will respond in a united and decisive way. The world will hold Russia accountable."
"The prayers of the entire world are with the people of Ukraine tonight as they suffer an unprovoked and unjustified attack by Russian military forces," Biden said in a statement.
Putin announced the military plans as the United Nations Security Council held an emergency meeting and urged Russia not to attack Ukraine.
"If indeed an operation is being prepared I have only one thing to say, from the bottom of my heart: President Putin, stop your troops from attacking Ukraine. Give peace a chance," U.N. Secretary-General Antonio Guterres said.
The dramatic turn came after Russian state media reported Wednesday that rebel leaders in Donetsk and Luhansk — two breakaway regions in eastern Ukraine — had asked Putin to provide military assistance to defend against Ukrainian "aggression" and prevent a "humanitarian catastrophe."
The Ukrainian military warned earlier this week that Russian-backed mercenaries had been sent to the area to stage "provocations" as a possible pretext for invasion.
In an emotional speech early Thursday local time, Ukrainian President Volodymyr Zelenskyy made a plea to prevent a Russian invasion that he warned could cause tens of thousands of deaths.
"I appeal to Russian citizens as a citizen of Ukraine. We are separated from you by more than two-thousand kilometers of common border. Along it now stand your troops, almost 200,000 soldiers, a thousand fighting vehicles. Your leadership has approved their step forward. On the territory of another country. And this step could be the beginning of a great war," Zelenskyy said.
Zelenskyy also said he tried reaching out to Putin late Wednesday, but received no response.
The address came after the Russian state news service Tass reported that the two Moscow-backed breakaway regions Putin formally recognized as independent this week had asked the Kremlin to help push the Ukrainian military out of the area.
"They are asking the president of Russia to provide assistance in repulse the aggression of the armed forces and formations of Ukraine," Putin's spokesman Dmitry Peskov was quoted as saying.
Putin had said earlier this week he was sending troops into the territories to carry out what he called "peacekeeping functions."
In his address Thursday, Putin said he was reacting to the request of the rebel leaders for help defending themselves.
The Ukrainian military this week warned that Russian-backed mercenaries had been sent to the area to stage "provocations."
"The purpose of these provocations will, of course, be to accuse Ukraine of further escalation," it said.
White House press secretary Jen Psaki told reporters that "as we've said from the beginning, there are going to be a range of false flag operations that we have expected to and laid out the playbook to see. This is an example of it."
The European Union's top foreign policy official, Josep Borrell Fontelles, tweeted that the "request for assistance by Moscow from the so-called DPR/LPR breakaway regions announces a very dangerous additional step against #Ukraine's sovereignty that would put thousands of lives at risk. The EU strongly urges #Russia to refrain from any further escalatory actions."
Secretary of State Antony Blinken told NBC's "Nightly News with Lester Holt" that "Russia has positioned its forces at the final point of readiness across Ukraine's borders."
"Everything seems to be in place for Russia to engage in a major aggression against Ukraine," Blinken said.
Around the time of the Tass report, Pentagon spokesman John Kirby said Russia had been continuing to "assemble closer to the border" and had "put themselves in an advanced stage of readiness to act."
He said an attack could come "virtually any time now. We believe they're ready."
A senior U.S. defense official earlier said that Russian troops range from about 3 miles to 30 miles from the border. Russia also has more than 10 landing ships in the Black Sea with troops on board.
The Biden administration had warned this week that an invasion was imminent and could include hitting Kyiv. U.S. officials seemed more confident Wednesday that such a scenario was about to become a reality.
The Ukrainian government, which had been previously cooler about the likelihood of war, declared a state of emergency starting Thursday. Government leaders urged all of their citizens to leave Russia immediately and started calling up military reservists.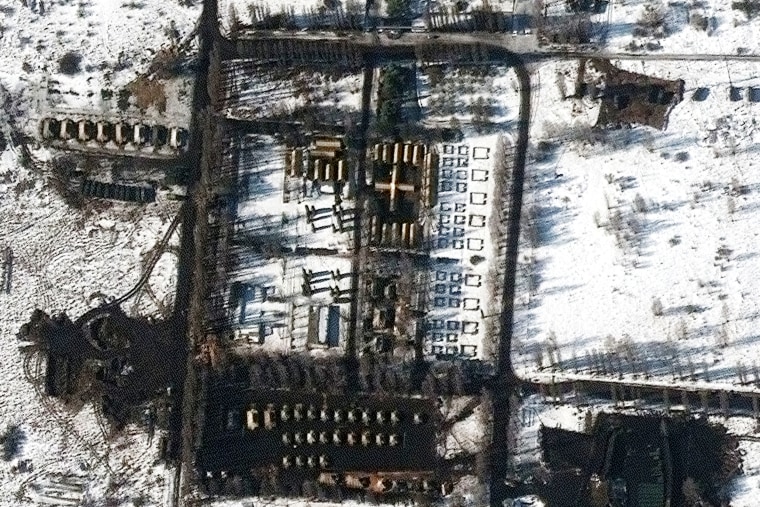 Meanwhile, Kuleba, Ukraine's foreign minister, issued a sobering message before the United Nations General Assembly earlier in the day.
"The beginning of a large-scale war in Ukraine will be the end of the world order as we know it," he said.
The United States, Europe and other allies appeared to have lost hope in diplomatic efforts, canceling meetings with Russian officials and instead imposing the first salvo of sanctions on Moscow.
In an expected yet dramatic move, Russia began evacuating its embassy in Kyiv, according to The Associated Press, citing the Russian state news agency Tass. By Wednesday afternoon, Russia's flag was no longer flying over the building, the report said. The departure came a day after Russia's foreign ministry announced that it would evacuate all diplomatic missions in Ukraine to protect the lives of their personnel.
Late on Wednesday, Ukraine's parliament imposed a nationwide state of emergency for 30 days starting Thursday.
Ahead of the parliament's vote on the state of emergency, at least five Ukrainian websites were hit by cyberattacks, according to Mykhailo Fedorov, minister of digital transformation. The websites for the Cabinet of Ministers and Ministry of Foreign Affairs were among those affected.
A bomb threat had also been called in to Ukraine's parliament, the National Police of Kyiv confirmed, but authorities found no explosives.
The government urged all Ukrainian citizens to leave Russia "immediately" and has started conscripting reservists ages 18 to 60.
Recent estimates have put the number of Ukrainians living in Russia at 1.9 million to 3 million.
"We are aware of the risks that exist from the Russian Federation. We clearly understand that our army is ready to fight back," Ukraine's top security official, Oleksiy Danilov, told reporters after asking lawmakers to approve the state of emergency.
Ukraine's parliament also gave initial approval to a draft law that would allow citizens to carry firearms in self-defense.
On Tuesday, Putin said Russia's recognition of Donetsk and Luhansk stretched to large swaths of territory held by the Ukrainian military. The move further raised concerns that a broader armed conflict could break out as Russian troops move in and came after Putin gained parliamentary approval to use his armed forces abroad.
"Our country is always open for direct and honest dialogue, for the search for diplomatic solutions to the most complex problems," Putin said Wednesday in a video statement released to coincide with the annual Defender of the Fatherland Day.
"But I repeat: The interests of Russia, the security of our citizens are unconditional for us," he said.
A day earlier, Biden said Putin's order of troops into eastern Ukraine, the area controlled by Russian-backed separatists, amounted to "the beginning of a Russian invasion."
"We still believe that Russia is poised to go much further and launch a massive military attack against Ukraine," Biden said in remarks at the White House.
Blinken on Tuesday canceled a meeting with Russian Foreign Minister Sergey Lavrov — a further sign of the waning window for diplomacy.
U.S. allies — including the European Union, Canada, Germany, Britain, Australia and Japan — have all announced they have imposed or will impose sanctions against Russia.
Chief among their targets were Russian banks, though oligarchs, lawmakers and a key natural gas pipeline were also hit.
Although political opposition figures in Washington, London and elsewhere said the measures did not hit hard enough, Biden and his allies have made it clear that more measures will be imposed should Russian forces cross into Ukrainian-controlled territory.
"Hit more. Hit hard. Hit now," was the message of Ukraine's Kuleba on Twitter Wednesday.
The Russian foreign ministry, meanwhile, condemned the "counterproductive" U.S. sanctions as "blackmail, intimidation and threats," warning "there will be a strong response" from Moscow.
CORRECTION (Feb. 23, 2022, 4:52 p.m. ET): A previous version of this article misstated the day when Ukraine's state of emergency goes into effect. It begins Thursday, not Friday.