Civilians across Ukraine were subjected to intensifying attacks as Russia's war entered its third week, bringing growing accusations of war crimes against Moscow over its assault.
Fresh strikes hit the besieged southern city of Mariupol, and Ukrainian officials said a Russian airstrike on a hospital a day earlier had killed at least three people, including a child.
Russian troops also moved closer to the capital Kyiv on Thursday and could be just 10 miles from the city center, a senior U.S. defense official said.
News of the advancements and civilian deaths came on the same day Ukraine's top diplomats met for the highest-level talks since Russian President Vladimir Putin launched the invasion of his democratic neighbor on Feb. 24. The meeting was brief, however, and appeared to produce little progress toward any end to the fighting.
---
Latest developments on Ukraine:
---
Vice President Kamala Harris, speaking during a visit to Poland, embraced calls for Russia to face an international war crimes inquiry and joined the growing outrage over the Mariupol hospital bombing.
The trip has turned into a diplomatic test after a very public communication breakdown between Washington and Warsaw over efforts to send Soviet-era fighter jets to Kyiv.
The U.S. and its European allies have stepped up their efforts to aid Ukraine's fierce defense, which has seen Russian forces struggle to advance on the ground in two weeks of war but brought increasing devastation from the air.
The U.S. this week also voiced concerns that Putin could be preparing to use chemical or biological weapons in Ukraine.
Civilians under fire
The Russian assault has left many civilians in dire conditions.
Ukrainian officials said they would again attempt to evacuate residents of battered towns and cities along seven safe routes agreed to by Russia. More than 83,000 residents were evacuated from areas across the country in the past two days, Ukrainian Deputy Prime Minister Iryna Vereshchuk said Thursday in a post on Telegram.
But attempts to create a humanitarian corridor for residents in the heavily-hit port city of Mariupol seemed to fail again, with no civilians being evacuated from the city on Thursday, Vereshchuk said. It was the latest in a string of failed attempts to get residents out and aid into the city.
"The most difficult situation is in Volnovakha and Mariupol," Vereshchuk said Thursday. "It is not possible to organize humanitarian corridors from there. These cities are a real humanitarian catastrophe."
Relentless attacks on Mariupol continued Thursday, local officials said. The city of around 400,000 people has had no heat, electricity or water for at least a week in freezing temperatures.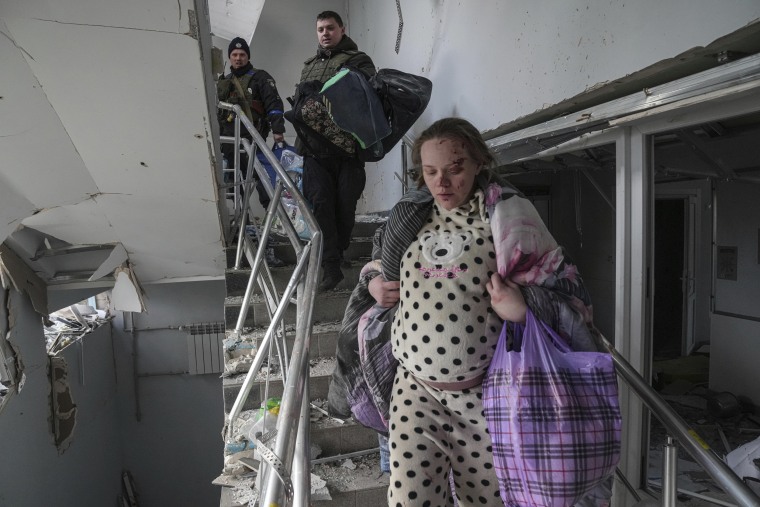 Wednesday's attack on the children's and maternity hospital there killed three, including a young girl, and injured 17, Ukrainian President Volodymyr Zelenskyy said in a speech posted to Telegram.
NBC News has not verified the number of people killed.
Zelenskyy accused Russia of committing a "war crime" and "genocide" after the incident.
In a video released Thursday, Zelenskyy told Russia its invasion would backfire.
"You will definitely be prosecuted for complicity in war crimes," Zelenskyy said. "And then, it will definitely be, you will be hated by Russian citizens. All those whom you now constantly, daily, for many years in a row, deceive. When they feel the effects of your lies, they will feel in their wallets, in the possibilities that are becoming less and less. On the stolen future of Russian children."
Britain's armed forces minister, James Heappey, also said that whether hitting the hospital was "indiscriminate" fire into a built-up area or a deliberate targeting, "it is a war crime."
Russian Foreign Minister Sergey Lavrov dismissed those accusations and alleged that the hospital was a base for far-right radical fighters and that all mothers and pregnant women had been taken out of the building. Lavrov gave no evidence for the claims and video taken after the strike showed pregnant women being carried away on stretchers and women crying while holding children outside the building.
Russia's defense ministry said Thursday that the hospital attack was "staged," according to Russian state news agency RIA Novosti.
"The supposed 'air strike' was a completely directed provocation to sustain the anti-Russian sentiment in the Western audience," the state news agency said. The photos of the aftermath showed "two separate staged explosions next to the hospital. One was a deep underground explosion and the other one was smaller and was targeted at the hospital building," it said.
Russia has consistently denied targeting civilians, but residential areas have increasingly come under fire from Russian airstrikes, with hospitals, schools, homes and vital infrastructure destroyed.
"The enemy's goal is to force Ukrainians to accuse the Ukrainian leadership of inaction by terrorizing the civilian population," Ukrainian presidential adviser Oleksiy Arestovych said, adding that Russia was using tactics similar to those it used in Syria.
Since the beginning of the war, 63 hospitals have been damaged and five medical workers have been killed, Minister of Health Viktor Liashko said in a Facebook post Thursday.
More than 2 million people have fled for neighboring countries and countless others have been displaced inside Ukraine.
In the northeastern city of Sumy, 2,000 foreign students were evacuated Wednesday, Ukraine's foreign ministry said on Twitter. Fresh evacuation efforts were planned for Thursday, the regional governor said, after Russian aircraft bombed residential neighborhoods and struck a gas pipeline overnight.
Outside of Kyiv, Russia has made moderate operational advances on the ground in the last 24 hours, the senior U.S. defense official said Thursday.
But Russian forces have also suffered losses in attacks from Ukrainian forces, Britain's defense ministry said in an update Thursday. It reported a "notable decrease" in Russian air activity over Ukraine.
In Irpin, a Kyiv suburb now on the front line from which streams of civilians have fled in recent days, the mayor said Ukrainian forces had held back Russia's advance on the capital.
"The easiest way into Kyiv is through Irpin, but we are holding on here after two weeks of fighting," Mayor Oleksandr Markushin, 42, told NBC News. "They only have part of the city."
U.S. intelligence indicates Russian forces are capable of encircling Kyiv in one to two weeks, a U.S. official said Thursday. But the battle to take the capital city will take much longer, possibly four to six weeks, the official said.
No breakthrough in talks
Amid the increasing devastation on the ground in Ukraine, the meeting between the countries' top diplomats in Turkey — the highest-level talks between the two sides since the war began — appeared to produce few concrete results.
Ukrainian Foreign Minister Dmytro Kuleba said Russia appeared to "seek surrender from Ukraine, but this is not what they are going to get."
He said that he and his Russian counterpart Lavrov failed to agree on a broad cease-fire to address civilian needs.
"Unfortunately, FM Lavrov seemed to have come to talk, not to decide," Kuleba later tweeted.
In a wide-ranging news conference, Lavrov gave no indication of a softening in the Kremlin's position. He said that Russia "did not attack Ukraine," and added that no one listened to Moscow's complaints over many years that "the situation" in the country posed a direct threat to Russia.
Lavrov slammed the West's supply of weapons to Ukraine, calling it a "colossal threat," but denied that Russia had plans to attack other countries.
"Those who are pumping Ukraine with weapons need to understand they have responsibility for their actions," he said in a news conference after the talks.
In an impassioned speech posted on Telegram Wednesday night, Zelenskyy again called on the West to enact a no-fly zone above his country, something the U.S. and NATO have rejected, fearing it could escalate the conflict into a broader war on the continent.
Western aid
The dispute over supplying Kyiv with fighter jets was the first public setback for what has been a united effort to help aid Kyiv and strengthen the West's position in Eastern Europe.
Harris said during her visit to Poland that the U.S. had delivered two Patriot missile defense batteries to the country, as part of an ongoing effort to beef up the defense of NATO's eastern flank. Harris also said that the U.S. will give $50 million in humanitarian assistance to help Poland as it deals with a flood of refugees fleeing Ukraine.
The House passed a huge spending bill Wednesday night that included nearly $14 billion in aid for Ukraine. 
German Chancellor Olaf Scholz and French President Emmanuel Macron spoke with Putin on the phone on Thursday and again demanded a cease-fire, government officials said. Their talk came ahead of a European Union heads of state and government dinner later in the evening. 
With Russia's offensive seemingly stalled in the face of stiff Ukrainian resistance, U.S. officials said they were concerned that Moscow could be preparing to use chemical or biological weapons in Ukraine after the Russian Defense Ministry accused its neighbor of possibly planning a false-flag chemical weapon attack.
"To be clear: This is preposterous," said White House press secretary Jen Psaki in a statement, referring to Russia's claims.
"We should all be on the lookout for Russia to possibly use chemical or biological weapons in Ukraine, or to create a false-flag operation using them. It's a clear pattern, and no one should fall for it," she added.
While Moscow has warned against the West's involvement in the conflict, crippling sanctions from the U.S. and its allies have left Russia increasingly isolated.
Putin met with his cabinet on Thursday to discuss measures to shore up the Russian economy.
A growing list of global companies have halted operations in the country, with major Japanese firms including Uniqlo and Sony pulling out Thursday. Hilton also announced that it would close its corporate office in Moscow, while German fashion brand Hugo Boss said that it was temporarily closing its stores.
Moscow has blasted the Western sanctions and Lavrov said that Russia was working to ensure it "will never be in this position again so that no Uncle Sam can ever destroy our economy." 
In a new effort to pressure wealthy Russians, the U.K. hit a number of oligarchs with new sanctions.
They include Roman Abramovich, the billionaire owner of the Premier League soccer club Chelsea, as well as industrialist Oleg Deripaska and Rosneft Chief Executive Igor Sechin.
The sanctions would block Abramovich's efforts to sell the club, but a special license would let it keep playing and paying salaries.
Moscow's stock exchange was closed Thursday for the 10th consecutive day.