Russia said Monday that Ukraine's military had launched a significant attack in a bid to break through its defenses on the war's southeastern front lines.
Reports of heavy fighting from officials in Moscow and the country's cadre of influential military bloggers fueled speculation that it could be the beginning of the major counteroffensive that Kyiv has been preparing for months to reclaim occupied land.
Ukraine denied the claims, accusing Russia of lying to sow distrust and suggesting that the long-anticipated attack was still yet to come.
'Moving to offensive actions'
The Russian Defense Ministry said in an overnight statement that Ukrainian ground forces launched "a large-scale offensive" Sunday in five areas of the Donetsk region in eastern Ukraine.
Ukraine used two brigades of its "strategic reserves" in the attack, with six mechanized and two tank battalions involved, the ministry said. It added that Ukraine had lost up to 300 troops, as well as 16 tanks and other equipment.
"The enemy's goal was to break through Russia's defenses in what it considered to be the most vulnerable area of the front," the statement said. "The enemy was unsuccessful in achieving its goals."
In an updated statement Monday, the Defense Ministry said Ukraine had suffered "significant losses" in areas of Donetsk and the southern Zaporizhzhia region.
NBC News has not verified the claims.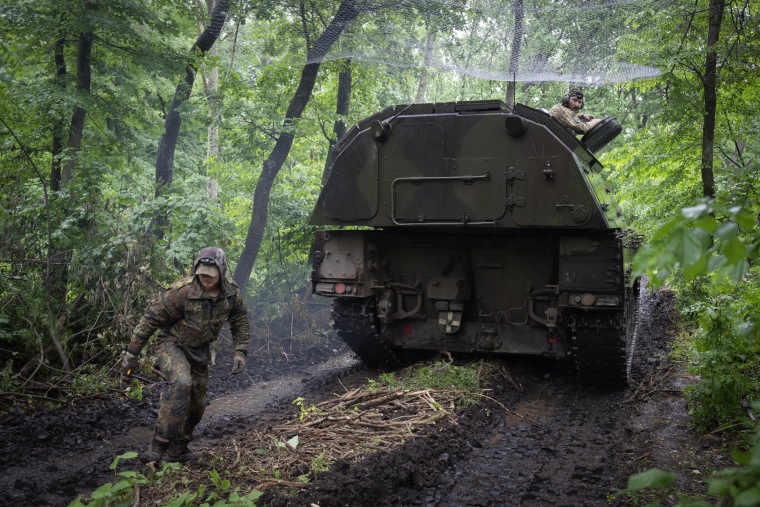 Serhiy Cherevatyi, the spokesman for Ukraine's eastern group of forces, called Russian claims of a major Ukrainian offensive and troop losses "an absolute lie."
In a telephone interview, Cherevatyi said the Russians "understand that we have combat work going on, which will soon be reflected in their position," but suggested that reports of a repelled offensive were meant to "spread distrust in our society about our armed forces."
"There will be an attack, and they will be crushed. And our command knows when and where it will take place," Cherevatyi said. He added that Ukraine's military has "constant combat work going on" and that "soon it will be more visible, but we cannot say in which directions."
Mykhailo Podolyak, an adviser to Ukrainian President Volodymyr Zelenskyy, also dismissed Russian accounts.
Ukraine's deputy defense minister, Hannah Malyar, said in an update on the Telegram messaging application that "in some directions we are moving to offensive actions."
She claimed gains by Ukrainian forces, particularly around Bakhmut, where they were forced out of the eastern city itself but have been pushing Russian troops back on the outskirts.
In a separate message on Telegram late Monday, Zelenskyy hailed "the news we have been waiting for" from Ukrainian troops in the eastern city of Bakhmut, but he did not provide details.
"We witness Russia's hysterical reactions to every step we take, to all our positions," Zelenskyy said. "The enemy knows that Ukraine will win."
Russia claimed a rare victory after it seized the battered city last month, but the front lines have otherwise remained largely static for months. It has long been speculated that Donetsk and Zaporizhzhia — two of four regions annexed by the Kremlin — would be targets for the Ukrainian counteroffensive.
'Plans like silence'
While Russia's Defense Ministry claimed to have repelled the Ukrainian attacks, local officials, as well as some war correspondents and military bloggers — increasingly influential sources of information since the invasion — described new attacks Monday and suggested some may be succeeding.
Vladimir Rogov, a Russian-installed official in Zaporizhzhia, said fighting had resumed Monday after he reported an attempted Ukrainian breakthrough near the regional border with Donetsk on Sunday.
Rogov said Ukraine had thrown "even greater forces into the attack than yesterday, approaching the attempt to break through on a larger scale and in an organized manner."
"There is a fight," he said.
Rogov said later Monday there was still no "full-scale offensive" by Ukrainian troops. Rather, they appeared to be probing the line of defense and the readiness of the Russian army for a bigger attack, he said.
Alexander Kots, a military correspondent with the pro-Kremlin newspaper Komsomolskaya Pravda, reported "active battles" in two directions early Monday near the Donetsk town of Vuhledar, as well as Bakhmut, which Russia recently claimed. 
It appeared that Kyiv had not yet moved its main forces into the battle and that it could introduce them in a completely different area, Kots said.
The prominent Russian military blogger Semyon Pegov, who blogs under the name War Gonzo, said Ukrainian forces were advancing near the village of Novodonetske, north of Vuhledar, and had managed to move more than a mile into Russian-controlled territory.
"There is a tough fight going on," he said, adding that Ukraine was moving reserve units toward the village.
Kremlin spokesman Dmitry Peskov refused to comment on the alleged Ukrainian offensive when he spoke with reporters Monday, deferring to the Defense Ministry.
For months, speculation has been building around when and where Kyiv would launch a broad counteroffensive against Russian positions.
Ukrainian officials have been careful not to give out any details, but they continued to claim a major push was coming in the near future.
On Sunday, the country's Defense Ministry shared a video showing soldiers making a "hush" gesture with a caption reading: "Plans like silence. There will be no announcement of the beginning."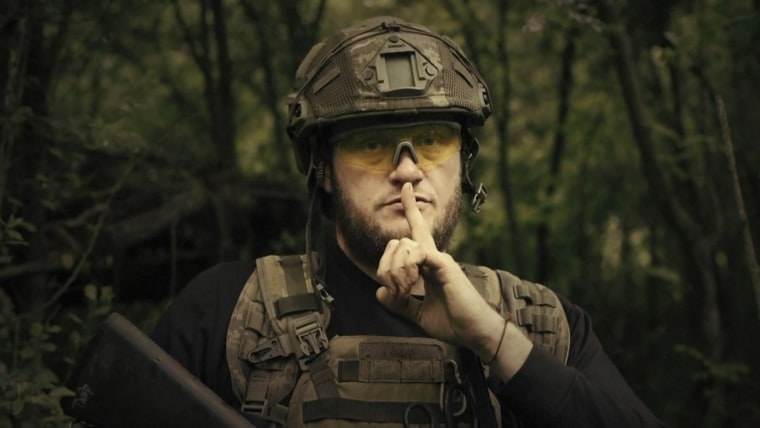 Some military analysts said Monday that it was too early to judge whether the attacks reported by the Russians were, in fact, the beginning of a major counteroffensive.
Whenever it does come, the Ukrainian thrust could prove a decisive moment in Ukraine's bid to repel the Russians and show the world it has put to good use the billions of dollars in military aid supplied by its Western allies.
Though they have seemingly been delayed by winter weather and the need for supplies, Kyiv will enter the battles buoyed by signs of weakness within Russia.
The Kremlin faces a growing incursion from pro-Ukrainian militias as a second major raid into the border region of Belgorod wreaks havoc just days after a drone attack on the capital, Moscow, fueled a growing sense of domestic unease.
Meanwhile, mercenary chief Yevgeny Prigozhin accuses Russia's regular army of shooting at and trying to blow up his force in the latest sign of mounting infighting in the Kremlin's ranks.
Prigozhin also added his voice to those reporting Ukrainian advances Monday, saying Russian forces had partly lost control of the village of Berhivka, just north of Bakhmut. "The troops are slowly running," he said.
NBC News could not verify Prigozhin's claims.