Fighting raged around key cities in Ukraine on Monday as the country's first talks with Russia since last week's invasion concluded with no immediate breakthrough.
Even as Moscow said officials negotiating at the border had "heard" each other, Ukraine said its second-largest city was coming under attack from heavy Russian shelling.
In nearby Kyiv, satellite images captured by an American firm, Maxar Technologies, showed what it said was a roughly 40-mile military convoy approaching Ukraine's capital Monday. Maxar added that a number of homes and buildings appeared to be burning north and northwest of the area where the convoy was traveling.
Fifteen miles north of the capital, a video posted on social media Monday appeared to show the aftermath of an airstrike on a military base in Brovary, the Associated Press reported.
The city's leader, Igor Sapozhko, said the strike killed one person and injured five. NBC News has not verified any casualties.
---
Latest updates on Ukraine:
---
While growing numbers of people have fled the Russian advance, those who stayed were enduring an air assault that Kyiv and international watchdogs said was increasingly hitting civilians.
Russian forces were accused of carrying out massive shelling in Kharkiv, Ukraine's second-largest city. Graphic video shared on social media Monday appeared to show the assault and aftermath. In one video, bodies can be seen on the ground in pools of blood.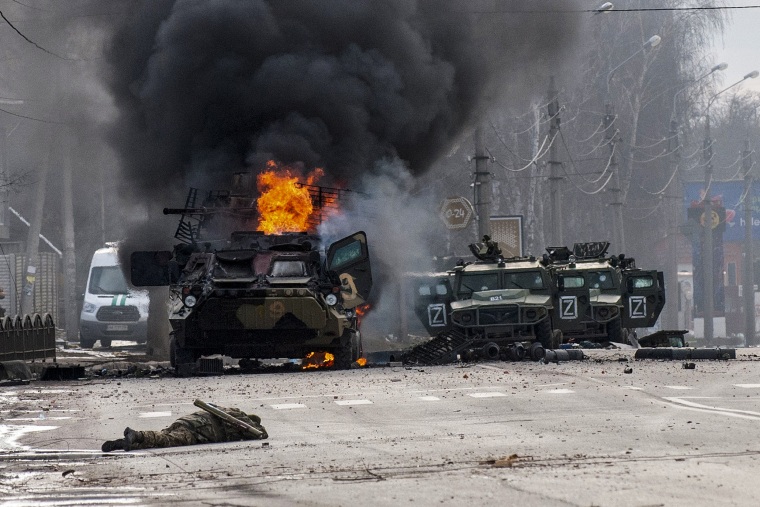 Ukrainian interior ministry adviser Anton Gerashchenko shared video appearing to show flashes in the sky as smoke filled the air and said dozens of people had been killed and hundreds more had been wounded.
"This horror must be seen by the whole world," he said. 
NBC News has verified that the video is authentic, but it has not confirmed reports of any casualties from the incident. Russia has repeatedly denied targeting civilians.
After a classified briefing Monday, Sen. Chris Murphy, D-Conn., said the fight for Kyiv "will be long and bloody, and Ukrainians are rapidly preparing for street-to-street combat."
Speaking to reporters the same day, Ukraine's ambassador to the United States, Oksana Markarova, claimed the Russian military used a "vacuum bomb."
The highly explosive weapon uses air to trigger a blast that is "particularly devastating in confined environments, such as urban areas," N.R. Jenzen-Jones, director of Armament Research Services, told NBC News in an interview.
Markarova didn't say where or when the weapon, also known as a thermobaric munition or fuel-air explosive, was used, nor did she provide evidence to support the claim.
NBC News has reached out to Russia's Defense Ministry for comment. A Pentagon spokesperson said the department was aware of the allegations but declined to comment.
If the weapon was used in a city, it could constitute a war crime because of the indiscriminate effect on civilians, said Matthew Evangelista, a professor of history and political science at Cornell University and author of "The Law, Ethics and the War on Terror."
The International Criminal Court will open an investigation into possible war crimes or crimes against humanity in Ukraine, prosecutor Karim Khan said in a statement Monday.
There is a "reasonable basis" to believe Russia has committed both, Khan said.
U.N. human rights chief Michelle Bachelet said Monday that 102 civilians, seven of them children, have been killed across Ukraine since Thursday. But the figures probably undercounted the full extent of the national death toll, she said.
The head of the U.N. refugee agency, meanwhile, said more than a half a million people had fled the country of 44 million. Others have sought shelter inside metro stations and parking garages while missile strikes and gunfire hit cities.
As Russian troops bore down on the capital, a strict 39-hour curfew that kept people off Kyiv's streets all weekend ended early Monday.
Residents stepped out Monday to replenish supplies and waited in line at supermarkets between the wail of air raid sirens.
"We are calm and do have a lot of resolve," Vadym Khortiuk, 28, said, adding that his hopes had been boosted by the fact that "we have a lot of support from our friends from the West."
The support has taken the form not only of increasing pledges of weapons and other military equipment but also of a concerted effort to make Russian President Vladimir Putin pay for the invasion economically.
Finland, for example, announced Monday that it would ship 2,500 assault rifles, 150,000 bullets, 1,500 antitank weapons and 70,000 food packages to Ukraine.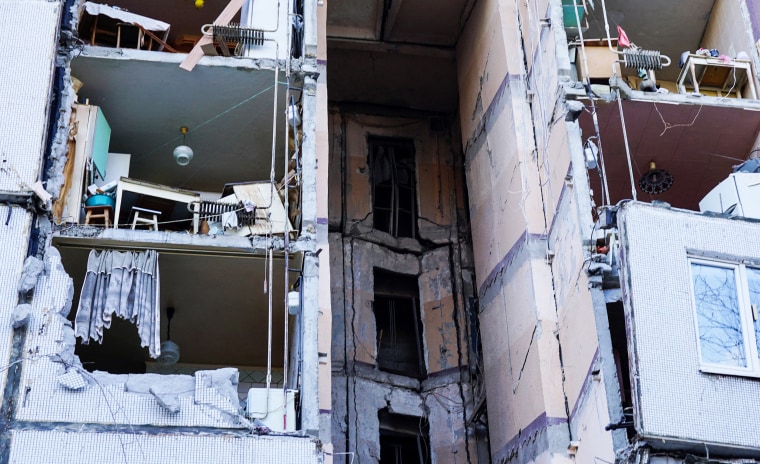 Ukraine sought to tighten its bond with the West on Monday, formally applying to join the European Union. Ukrainian President Volodymyr Zelenskyy posted photos of himself signing the application and appealed to the E.U. to "accept Ukraine immediately."
Crippling sanctions imposed by the U.S. and its allies sent the ruble plunging to record lows early Monday, while Russia's central bank kept the stock market closed and raised its interest rate to 20 percent from 9.5 percent to shore up the plummeting national currency and prevent a run on banks.
The U.S. continued to ramp up the pressure, announcing it would expand sanctions on the country's central bank, which will prohibit Americans from doing any business with it, and freeze any assets the bank holds in the U.S.
The U.S. also has begun expelling 12 Russian intelligence operatives from the Russian mission to the United Nations, White House press secretary Jen Psaki said Monday. 
Psaki said the move, which has been in the works for months, was made because the operatives were engaging in activities she described as "adverse to our national security."
Switzerland, traditionally a neutral party in international affairs, announced that it would sanction Russia, too.
Kremlin spokesman Dmitry Peskov admitted that "Russia's economic reality has changed" because of the "heavy" sanctions, but he said the country was prepared to handle the damage. Putin met with advisers about the economy Monday, calling the West an "empire of lies" in remarks broadcast on state television.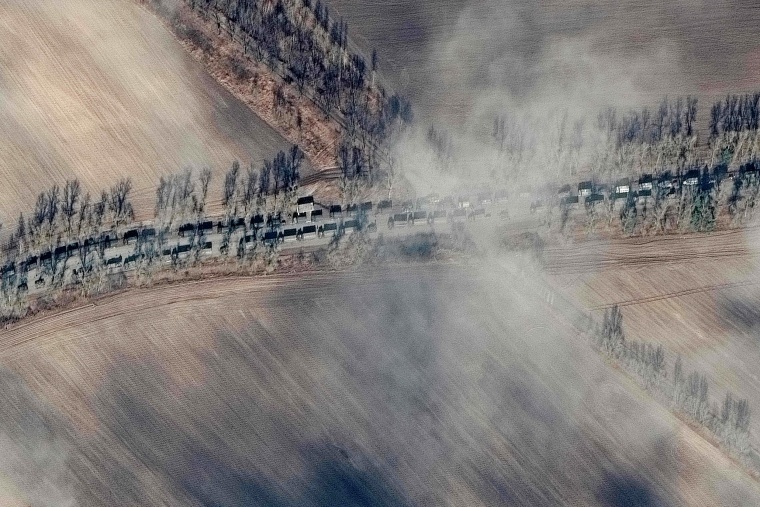 Russia also closed its airspace to airlines from the E.U. and several other countries in retaliation for the bloc's ban on all travel by Russian planes over its airspace.
With that in mind, the U.S. urged its citizens to consider leaving Russia immediately given the dwindling number of commercial options available. Washington also authorized the voluntary departure of nonemergency employees and family at the embassy in Moscow and announced that it had suspended all operations at the embassy in Minsk, Belarus.
With global pressure growing, the U.N. General Assembly held a rare emergency special session Monday with all 193 member states. The U.S. ambassador to the U.N., Linda Thomas-Greenfield, said she hoped to have the body vote on a resolution to condemn Russia's actions as early as Wednesday.
In the wake of the invasion, cultural institutions and sports organizations have moved to isolate Russia. FIFA and UEFA announced that Russian clubs and national teams would be suspended from international and European soccer competitions.
On the same day, World Taekwondo stripped Putin of an honorary grand master black belt, saying that Russia's "brutal attacks" went against the federation's "vision of 'Peace is More Precious than Triumph.'"
Putin, an avid practitioner of judo, was also suspended from his role as honorary president and ambassador of the martial art's world federation.
Russia advances at slower pace
"The bulk of Putin's ground forces remain more than 30 km [18 miles] to the north of Kyiv," Britain's Defense Ministry said in a tweet Monday morning. "Logistical failures and staunch Ukrainian resistance continue to frustrate the Russian advance."
With the operation moving slower than expected, Russia was bringing in more troops, weapons and equipment, NATO Secretary General Jens Stoltenberg said.
"They underestimated the resistance they were going to meet, and that's why they're making less progress," Stoltenberg said in an interview Monday morning in Brussels.
He added that there was "a new wave coming in from Russia and from Belarus" with heavy armor and artillery.
In Ukraine's southeast, officials confirmed that Russian forces had taken control of the city of Berdyansk as they made their way along the coast toward Mariupol, a key port city considered a prime Russian target.
Zelenskyy hailed Ukraine's military in a video statement early Monday, and said 4,500 Russian troops had been killed in the conflict. NBC News has not verified the number of those killed on either side.
Armed with government-issued machine guns, homemade Molotov cocktails and shovels to build barricades, civilians have helped to reinforce their army's desperate but for now effective resistance. They will soon be joined by prisoners with combat experience who will now be released, Zelenskyy added. 
Zelenskyy and Western officials have said Putin intends to remove Ukraine's pro-Western government and possibly replace it with a Moscow-friendly regime, restoring influence as the Kremlin moves to upend the post-Cold War order on the continent.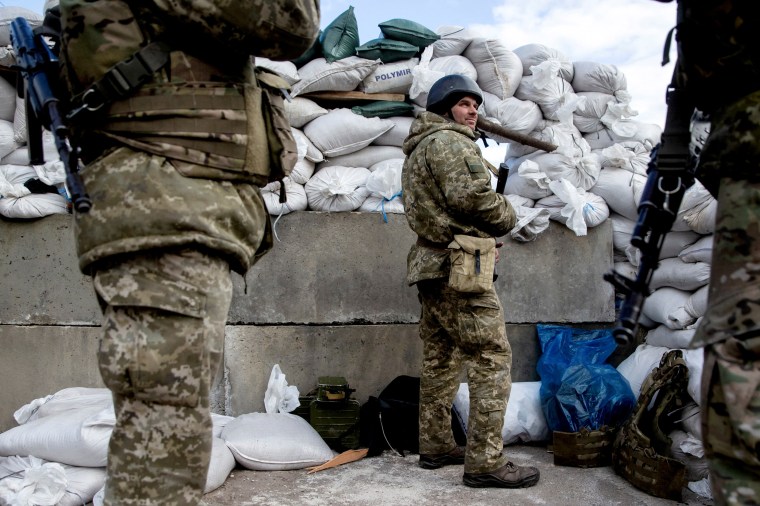 The conflict has left Europe facing its gravest security crisis in decades.
Putin made that even clearer Sunday when he issued a directive to increase the readiness of Russia's nuclear deterrent forces, citing "aggressive statements" by NATO and the tough financial sanctions imposed by the U.S., Europe and others.
Russia, like NATO and the U.S., has thousands of nuclear warheads in its arsenal.
Stoltenberg, branded Putin's move as "reckless and dangerous."
"There's no reason for that. NATO is no threat to Russia," he said.
Although NATO moved to increase its presence in Eastern Europe in the wake of the Ukraine invasion, Stoltenberg repeated that the military alliance had no intention of becoming involved in the conflict itself.
"We have a responsibility to make sure that this doesn't spiral out of control," he said. "That will be extremely dangerous."