RAMSTEIN AIR BASE, Germany — NATO chief Jens Stoltenberg said Friday that the organization would support Ukraine "for as long as it takes" in its war against Russia.  
Stoltenberg, who this week made his first visit to Ukraine since Russian President Vladimir Putin launched the invasion, told NBC News that it would "be a tragedy" if Putin's forces were to win. 
"It will also be dangerous for us, because then the message to all totalitarian leaders will be that when they use military force they get what they want," said Stoltenberg, who has been instrumental in building NATO support for Ukraine. "It will make the world more dangerous and us more vulnerable and therefore it is in our military interest to support Ukraine."
His comments came after a meeting of defense leaders from around the world at Ramstein Air Base, in Germany, in the ongoing effort to coordinate the delivery of weapons and other equipment to Ukraine. The base had been decked out with flags from the nations of those in attendance.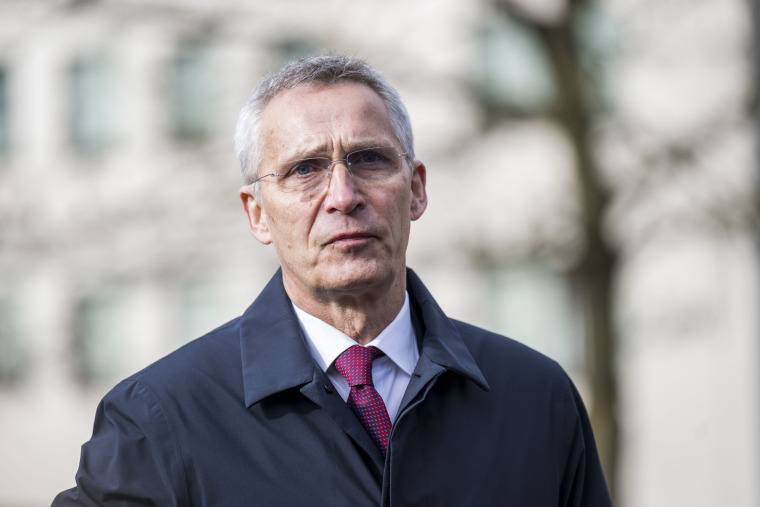 During his visit to Ukraine on Thursday, Stoltenberg, a former Norwegian prime minister, said that Ukraine's "rightful place" was in the military alliance.
Russia has justified the invasion in several ways, but preventing Ukraine from joining NATO is one of the reasons more frequently cited. On Thursday, the Kremlin once again said that Kyiv joining the alliance would be an existential threat for Russia.
On Friday, Stoltenberg said that Putin had "sent hundreds of thousands of troops, battle tanks, planes, missiles into a sovereign, independent country in Europe and killed thousands of civilians." 
He added that NATO supported Ukraine to defend itself. "The right of self-defense is enshrined in the U.N. charter and we help Ukraine to uphold that right." 
Russian and Ukrainian forces have been largely in a stalemate over the winter months, with the fiercest battles taking place around the eastern city of Bakhmut. In the face of dogged Ukrainian defense, Russian attempts to encircle the city have largely failed.  
With both sides expected to intensify their offensive in the spring, Kyiv has redoubled calls for NATO to send weapons and weapons systems, including warplanes, artillery and armored vehicles. 
After the meeting with ministers, Defense Secretary Lloyd Austin told a news conference that the U.S. would begin training Ukrainian forces on how to use and maintain Abrams tanks in the coming weeks. 
He said the delivery of training tanks in the next few weeks represents "huge progress," adding, "I'm confident this equipment — and the training that accompanied it — will put Ukraine's forces in a position to continue to succeed on the battlefield."
German Defense Minister Boris Pistorius told a separate news conference that "air defense was very much in focus," as well as the delivery of tanks to Ukraine.  
Stoltenberg said the conflict had "turned into a war of attrition" and that meant it was "a battle of logistics, meaning that it's not only about what happens at the front line but how we can supply weapons to those at the front line."
He added that NATO allies were working to ramp up production.