In an emotional address to Europeans across the continent, Ukrainian President Volodymyr Zelenskyy slammed NATO for rejecting a no-fly zone, arguing the decision was giving Russia a "green light" to continue shelling Ukraine.
Zelenskyy called on the military alliance of 30 nations, including the U.S., to ban all unauthorized planes from flying over Ukraine.
"For nine days we've seen a fierce war. Our cities are being destroyed," Zelenskyy said early Saturday morning local time, according to an NBC News translation of his remarks. "They are shelling our people, our children, residential areas, churches, schools — everything that provides people with a normal life."
NATO Secretary General Jens Stoltenberg said Friday that while the Russian invasion was "horrific," it was NATO's responsibility to keep its member states safe.
U.S. Secretary of State Antony Blinken echoed Stoltenberg when asked about the no fly zone Friday. "The only way to actually implement something like a no-fly zone is to send NATO planes into Ukrainian airspace and to shoot down Russian planes, and that could lead to a full-fledged war in Europe," he told reporters.
In his video message, Zelenskyy responded by saying NATO would have blood on its hands for not providing more support.
"All the people who will die from this day forward will also die because of you, because of your weakness, your disunity," he said. "All that the NATO alliance was able to do to this day is arrange for the 50 tons of fuel for Ukraine."
Since Russia invaded Feb. 24, there have been 1,006 civilian casualties, including at least 331 civilian deaths and 19 children, the United Nations human rights office said Friday — but noted the "real toll is much higher."
---
Latest developments on Ukraine:
---
Early Friday, Russian forces took control of Europe's largest nuclear power plant after their attack on the site sparked a fire and fears of a nuclear meltdown, but released no radiation.
The blaze at the Zaporizhzhia plant, in southeast Ukraine, was extinguished but not before it spread concerns about the potential for catastrophic fallout across the continent.
Russian President Vladimir Putin, who has raised the specter of nuclear war in Europe, said that he had "no bad intention" toward neighboring countries but warned them against doing anything that might "escalate the situation."
With the invasion in its second week, Putin has intensified his assault on Ukraine and deepened a crackdown on dissent at home, including new restrictions on foreign and independent media. The country announced Friday it would block Facebook, too.
Russian forces made gains in Ukraine's south and in besieged major cities, worsening a grave humanitarian crisis despite some progress in talks between the two countries.
Also on Friday, the U.N. Security Council held an urgent meeting where Ukraine's U.N. Ambassador Sergiy Kyslytsya accused Russia of committing "an act of nuclear terrorism" by attacking the power plant and said several employees were injured or killed during the assault, The Associated Press reported.
Following the meeting, Zelenskyy tweeted that "nuclear terrorism requires decisive action in response."
"At the #UN Security Council meeting, we called for closing the sky over 🇺🇦 and launching an operation to maintain peace and security. The goal is to save hazardous facilities. The world must not watch, but help!" he said in the tweet.
Zelenskyy will meet with U.S. senators and some House lawmakers Saturday morning via Zoom, according to multiple sources and a notice from the bipartisan Ukraine Caucus on Capitol Hill.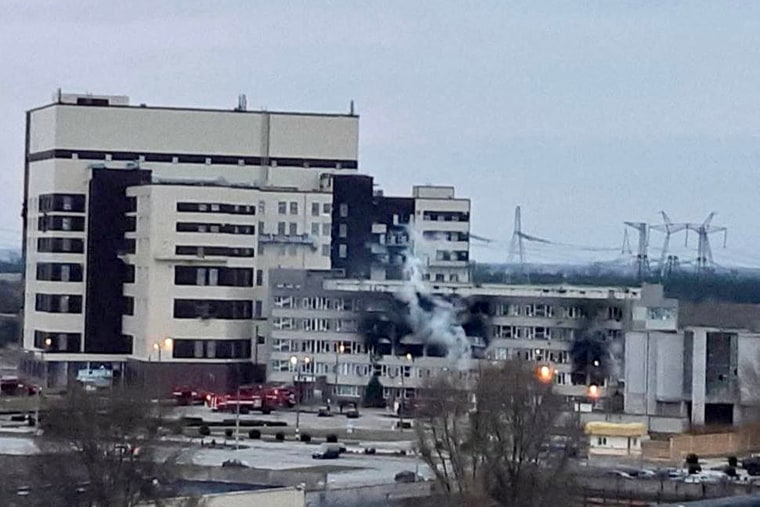 Russia's advances have brought death and destruction to civilian areas across Ukraine, fueling a rapidly growing humanitarian crisis.
Russia has consistently denied targeting civilians.
Enerhodar, the crucial energy-producing city near the Zaporizhzhia plant, was just one of the fronts where Russian forces were advancing in Ukraine's south.
The strategic port city of Kherson on the Dnieper River came under the Russians' control Thursday, the first major city they have seized since launching their invasion last week. Along the coast, Mariupol, a large city on the Azov Sea, remained in Ukrainian hands but was encircled and blockaded by Russian forces. It was facing intense shelling and was without electricity, heat or water.
Ukrainian Defense Minister Oleksiy Reznikov said Friday that the situation in the country was at a "tipping point."
"The situation in the south remains difficult," he said, and hard decisions had to be made about where to deploy the country's forces.
But Reznikov added that a fierce defense in the northern cities of Sumy and Chernihiv, where Russian troops have been bogged down, had spared the capital from coming under siege.
A mileslong Russian military convoy threatening Kyiv has made little progress over the last few days, with Russia's northern advance stalled due to staunch Ukrainian resistance and its own logistical issues.
The nuclear scare came just hours after a second round of talks between Ukrainian and Russian officials ended with the two sides tentatively agreeing to establish humanitarian corridors for the safe evacuation of civilians and the delivery of supplies to those staying in the country.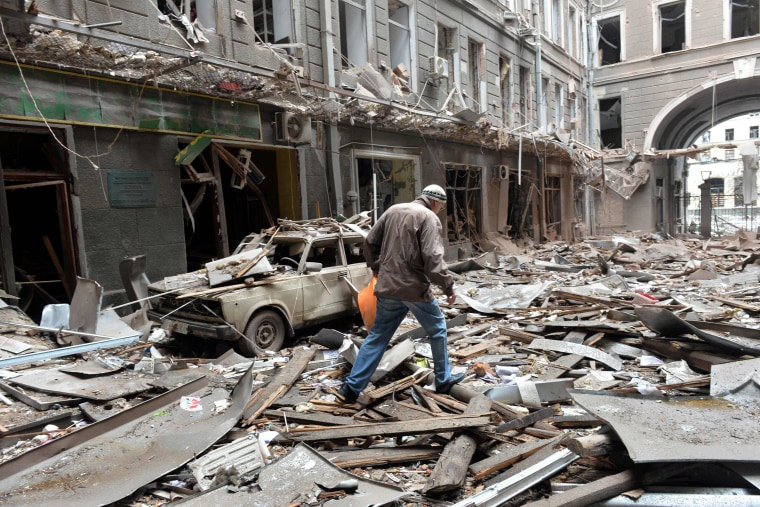 The International Organization for Migration said Friday that as many as 1.25 million people have now fled the country.
UNICEF said that around half of those fleeing are children, with around 500,000 children, including infants, forced to leave their homes behind, according to the agency's estimates. It said the exodus was "unprecedented in scale and speed."
Civilians who have stayed have been forced to shelter in basements and metro stations, while others have taken up arms to join the fight.
Ukrainian Foreign Secretary Dmytro Kuleba, who said he took part in Friday's NATO meeting, issued a fresh call for Ukraine's allies to "act now before it's too late."
In a tweet, he urged the world not to "let Putin turn Ukraine into Syria."
"We are ready to fight. We will continue fighting. But we need partners to help us with concrete, resolute and swift actions, now," he said.
'No bad intentions'
Western officials have warned that the darkest days of the invasion lie ahead, with Putin warning neighboring countries not to intervene in Russia's war.
"There are no bad intentions toward our neighbors," the Russian leader said Friday, "and I would also advise them not to escalate the situation, not to introduce any restrictions."
Moscow says it was provoked by the West and launched the conflict to disarm Ukraine and capture leaders it calls neo-Nazis. Ukraine and its allies say that is a baseless pretext for a war to conquer the country of 44 million people Putin has made clear he sees as rightfully part of Russia.
As Russian forces showed no signs of relenting Friday, Blinken said NATO members continued to provide support for Ukraine.
He also said the alliance was prepared to defend "every inch" of its territory from any attack.
"Ours is a defensive alliance," he said, as he arrived for the meeting in Brussels. "We seek no conflict, but if conflict comes to us, we're ready for it and we will defend every inch of NATO territory."
Ukraine is not a member of NATO. Countries within the alliance have so far sent arms to Ukraine, but have resisted engaging in any action that might bring them into direct conflict with Russia, such as establishing a no-fly zone.
But global condemnation has been allied with crippling sanctions that have sent Russia's economy spiraling.
Washington introduced fresh sanctions Thursday targeting Russian oligarchs and their families.
The Biden administration said the new sanctions would allow yachts, luxury apartments, money and other assets linked to oligarchs to be seized in a bid to increase pressure on Putin to de-escalate the situation in Ukraine.
Companies such as Ikea have shut down their operations in Russia, while the country's stock market remained closed on Friday.
With his global isolation growing, Putin has tightened his grip domestically.
The country's parliament passed a bill Friday introducing sentences of up to 15 years in prison for intentionally spreading "fake" information about military action.
Putin's security services have intensified a crackdown on dissent and moved to quash any protests as well as coverage of the war that doesn't meet the Kremlin's strict requirements.
Russia's communications watchdog has restricted access to the BBC Russian service as well as Voice of America, Radio Liberty and other foreign-based media outlets for spreading what it cast as false information about the conflict, the RIA state news agency reported.
The independent radio network Echo of Moscow and the television station TV Rain also said they were halting operations Thursday.