A former officer with President Vladimir Putin's elite security unit has defected and labeled the Russian leader a paranoid "war criminal" who has lost his grip on reality.
Gleb Karakulov said he served as captain and engineer in a field unit of the presidential communications department, the Federalnaya Sluzhba Okhrany (FSO), or Federal Protective Service, one of the most secretive branches of Russia's security services.
In a sweeping interview released Tuesday, he said that the Russian president has become increasingly paranoid, and that he prefers to avoid airplanes and travels on a train that looks like a regular train but has been adapted for Putin's needs.
Karakulov, the first official of his rank — and with depth of knowledge about Putin's life — to speak on record, told the Dossier Center, a London-based investigative group funded by former Russian oligarch-turned-opposition-figure Mikhail Khodorkovsky, that he fled his homeland in October because of his objections to the war in Ukraine.
The group released on its website a transcript of his interview in Russian, which NBC News has translated.
"I consider this man a war criminal," Karakulov said about Putin. "It's time to end this war and it's time to stop being silent," he added, before explaining that he was sharing his story in the hope that other Russians would speak out, too.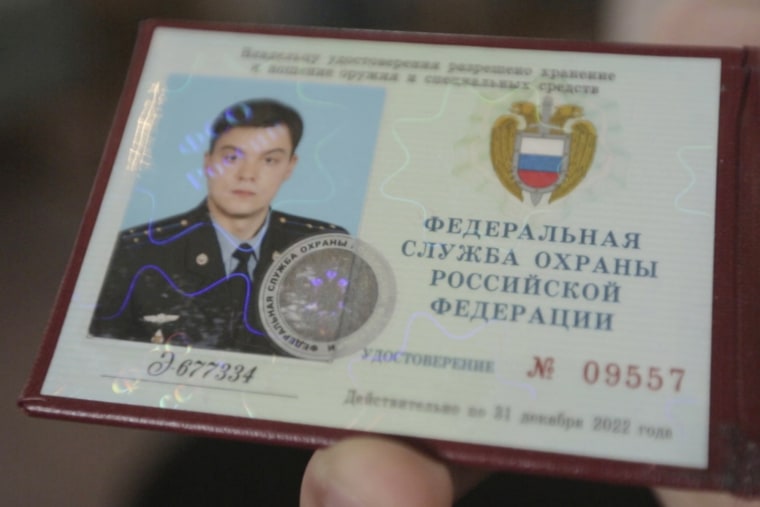 Putin had become "very closed off," shielding himself from the rest of the world and "his perception of reality is distorted," he said, adding that his former boss was living in a "kind of information vacuum," because he does not use the Internet or a cellphone and receives information only from people who are directly close to him. 
He added that the Russian leader had become increasingly "paranoid" about his personal security and used a train that cannot be easily tracked to get around.
Putin, Karakulov said, was still shielding from Covid and made people working with him quarantine and take frequent tests. He added that the 70-year-old was in better health than most people his age.
NBC News was unable to independently verify his account. There was no immediate reaction from the Kremlin and NBC News has requested comment from spokesman Dmitry Peskov's office.  
Karakulov said he served as an engineer in a field unit of the FSO's presidential communications department since 2009, but the "criminal war" in Ukraine became a breaking point and he decided to flee, despite the risks to him and his family.  
He said that he feared that if he quit his job he would be conscripted to fight in Ukraine, so instead he slipped away on the last day of a work trip in Kazakhstan's capital, Astana. He added that his wife and daughter had joined him and they flew to Turkey together with just three suitcases. 
The Dossier Center shared a photo of Karakulov's badge showing his rank of captain with the FSO. It said that his documents had been verified and the authenticity of his badge had been confirmed by a source close to the Russian special services.
The group also shared the materials with The Associated Press, which said it had independently confirmed Karakulov's identity with three sources in the U.S. and Europe who were not authorized to speak publicly. The AP said it had corroborated his personal details but was unable to verify details of his defection. The Dossier Center did not share with NBC News materials that were provided to several other media outlets. 
A spokesman for the group said they were no longer in contact with Karakulov for his own safety. 
He is currently on the wanted list in the publicly available database of the Russian interior ministry, where the charges against him are not specified.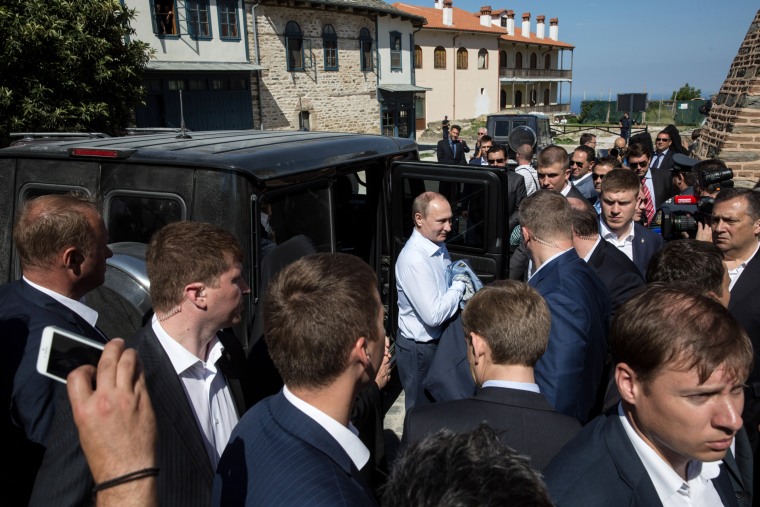 Abbas Gallyamov, a Russian political analyst and former Putin speechwriter, said that although Karakulov's account could be damaging for Putin, the Kremlin would likely try to ignore it or downplay it as much as possible.  
"It's not only about the details of what Karakulov said," Gallyamov said, "but [about] the fact that it shows that, even in the structures as secretive and faithful to the president as FSO, there is a place for disloyalty." 
But some analysts noted there is little sign of a deeper fissure in the Russian elites, and Putin won't lose sleep over Karakulov's comments. 
The Kremlin "doesn't care," said Andrei Kolesnikov, an analyst at the Carnegie Endowment for International Peace. "For them, Karakulov is a traitor and nothing more."
Karakulov, whose interview sheds a rare light on the doubts and hesitations of some people serving in the Russian system, said he could not share his disillusionment with his parents because their minds had been molded by years of watching Russian state television. 
He said he never told them he was leaving.
He also denied he was unpatriotic. "Patriotism is when you love your country," he said. "In this case, our homeland needs to be saved. There is a crazy and terrible war going on."