KYIV, Ukraine — Outraged and anguished after six months of war in Ukraine, Europe is wrestling over a question with deep diplomatic and moral implications: whether to ban Russian travelers.
Kyiv's allies have been aghast at the split-screen juxtaposition of Russian tourists sunning themselves on Mediterranean beaches while many Ukrainians spend some of their summer in bomb shelters, dodging missiles and artillery.
Fueled by a plea from Ukraine's government earlier this month, the debate over visa bans is raging from Brussels to Washington, underscoring longstanding fractures within the West over how aggressively to confront Russia in the war's next phase.
At the heart of the moral question hanging over European capitals is the Russian public's culpability: Whether ordinary citizens, by putting up little visible opposition, are enabling President Vladimir Putin's war.
Europe's struggle to answer that question is pitting competing values against each other: pluralism and fairness versus national sovereignty; accountability for a country's actions versus the moral hazards of "collective punishment."  
"We are not speaking about punishment, we're speaking about restrictive measures which are aiming to end the war," Estonian Foreign Minister Urmas Reinsalu told NBC News via Zoom this week. "The right to enter any particular country is not a human right."
The decision could have significant economic ramifications for the continent. Russian travelers spent $22.5 billion last year in foreign countries, according to the analytics firm GlobalData, and there were some 13.7 million international departures from Russia. Among the most popular destinations for Russians, the group says: Italy and Cyprus.
Kyiv wants that to change and has called for countries in the European Union and the Group of Seven — a club that includes the United States — to ban Russian travelers.
The issue may come to a head next week at an E.U. foreign ministers meeting in Prague, but not all Western nations are on the same page.
Germany is against a visa ban affecting "ordinary Russians," Chancellor Olaf Scholz said recently, adding: "This is Putin's war." The E.U.'s foreign policy chief, Josep Borrell, told a conference in Spain on Monday that it was "not a good idea" and that "we have to be more selective." 
This week, the U.S. also came out against a visa ban.
"The U.S. wouldn't want to close off pathways to refuge and safety for Russia's dissidents or others who are vulnerable to human rights abuses," a State Department spokesman said. "It is important to draw a line between the actions of the Russian government and its policies in Ukraine, and the people of Russia."
Yet, many countries on Moscow's doorstep have led the charge to stop letting in Russians, in some cases citing security concerns given the ongoing war. Finland plans to slash the number of visas issued to Russians by 90 percent. And Poland has said it supports the E.U. denying Russians the Schengen visas, which allow passport-free travel within 26 European countries.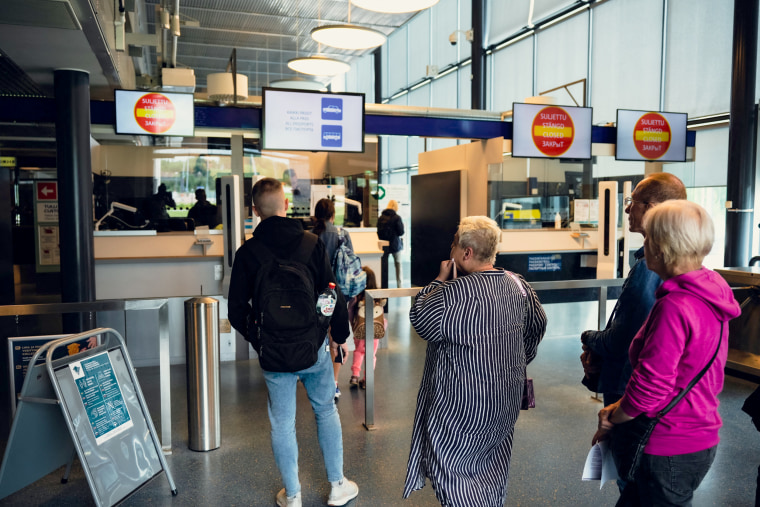 Estonia, which shares a nearly 200-mile border with Russia, has been pleading with other E.U. nations to follow its lead by halting issuance of tourist visas for Russians and invalidating existing ones, a move that took effect last week. Reinslau said the goal of visa restrictions and other sanctions should be to ensure the Russian society feels the war's impact.
"Of course, they do not bear a legal responsibility," he said. "But Russian society bears a particular moral responsibility that their ongoing passivity legitimizes the genocide which happens in the middle of Europe."
Countries bordering Russia are feeling the visa ban debate particularly acutely. Shortly after the invasion, the E.U. banned flights from Russia, forcing Russians seeking to fly to Europe to travel over land borders to countries like Finland, then hop on a flight elsewhere.
Russians who have used Helsinki as a transit hub have shared pictures on Instagram, some joking about the sheer number of fellow Russians waiting for flights from the Finnish capital, with others assuring their followers that they hadn't experienced "Russophobia" on their journeys.
The Kremlin has called any suggestion of Russian visa bans "irrational thinking" from hostile countries, with spokesman Dmitry Peskov saying: "The smell of such initiatives is not very good, to say the least."
Critics of punishing Russians for their government's actions argue imposing collective responsibility upon the public is particularly unfair in a country that lacks free and fair elections to choose its leaders.
It's also notoriously difficult to accurately gauge public opinion in Russia, which lacks free speech protections and has made it illegal to discredit the Russian military's version of events. 
Recent polling from the Levada Center, a nongovernmental research group based in Moscow, found that domestic support for what Putin describes only as a "special military operation" has stayed steady at about 76 percent, with older Russians more likely than younger ones to support it.
"You saw at the beginning of the war this very strong view that this is Putin's war, this is not the Russian people," said Heather Conley, a Europe scholar and president of the German Marshall Fund of the United States, a nonpartisan policy organization. "But increasingly, that separation of Russian people and the Russian government is really getting more difficult to discern."
In the first days of the invasion, there were anti-war protests in dozens of Russian cities that saw thousands arrested, but those demonstrations have mostly faded away.
Andrei Kolesnikov, a Moscow-based senior fellow and Russia expert at the Carnegie Endowment for International Peace, said the lack of visible, public opposition in Russia to the war shouldn't be construed as universal support.
"The political opposition has either left under threat of criminal prosecution or is already in jail. Going out on the street is an arrest," he said. "The one who speaks out in the public space does not know how it will end."
Some nations have advocated a middle-ground position that would impose limited visa restrictions while carving out exemptions for political dissidents and for humanitarian reasons, such as family funerals. 
Former U.S. Ambassador to Russia Michael McFaul proposed requiring all Russians seeking a visa to pay a small, extra fee that would help fund reconstruction in Ukraine of the damage inflicted by Russia's military.
 "You're giving people the choice to travel, but you are forcing them to pay for Ukrainian reconstruction," said McFaul, now the director of the Freeman Spogli Institute for International Studies at Stanford University. "If they don't want to, they can vacation in Belarus. They don't have to vacation in Greece."