KYIV, Ukraine — Ukraine once again finds itself center stage in the drama of American politics.
The looming federal shutdown is being felt in Kyiv, some 5,000 miles east of Washington, as a potential disruption of crucial American aid and argument over whether to support Ukraine at all has heightened concerns ahead of next year's U.S. presidential election.
For Ukraine, a U.S. government shutdown "would be an unpleasant development, to say the least," said Oleksandr Kraiev, a United States foreign policy expert at the Ukrainian think tank Prism who provides consultancy for the government in Kyiv. While the impasse might not present an immediate catastrophe for the Ukrainian military in its war with Russia, this "budgetary skirmish" could be a small dose of what's to come.
"We're having some kind of renaissance right now," Kraiev said. "It's not just the hard-line Republicans, but also the progressive Democrats who are getting more and more against foreign involvement."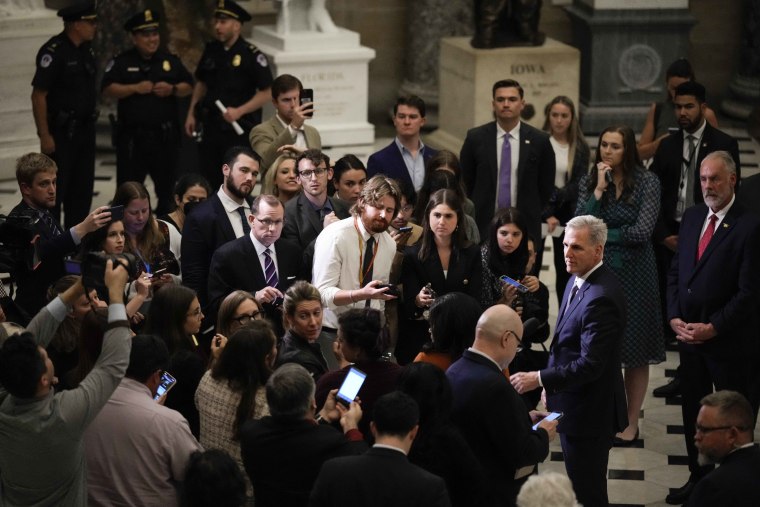 The U.S. has so far provided more than $75 billion in military, humanitarian and financial aid to Ukraine, and President Joe Biden has asked Congress for billions more.
Republican holdouts say they will even oppose short-term legislation, designed to avoid a shutdown, that includes $6 billion for Ukraine. Whatever the immediate consequences for a country battling the Kremlin war machine, this bitter fight is uncomfortable viewing for many in Kyiv, who believe that things will only get worse as the 2024 presidential race heats up.
A shutdown — which looks increasingly likely to happen at 12:01 a.m. ET Sunday — would mean paused paychecks for millions of Americans, closed government offices and disruptions to a number of social services across the U.S. It could also "affect the pace of delivery" of foreign aid and weapons, State Department spokesman Matthew Miller told a briefing Monday without offering specifics.
This is about more than short-term logistics.
One of the underlying reasons for the lawmaker logjam is that some Republicans, as well as wanting slashed spending and tougher border security, are also calling for Ukraine aid to be halted altogether. It's an age-old, anti-interventionist argument: Why spend so much on Ukraine when there are so many problems at home?
"They're picking Ukraine over Americans," House Speaker Kevin McCarthy, R-Calif., said late Tuesday night of Democrats. "If they want to focus on Ukraine and not on the southern border, then their priorities are backwards."
The deep divisions within the GOP were evident at the party's second presidential primary debate Wednesday night. Nikki Haley, the former United Nations ambassador, voiced her continued support for Ukraine, while Florida Gov. Ron DeSantis warned he wouldn't write a "blank check" for Kyiv.
Front-runner Donald Trump was absent, but in the past he has claimed he would end the war "in 24 hours" — without specifying how.
Kyiv is watching all of this at a time of grave anxiety: Its much-anticipated counteroffensive against Russia is struggling ahead of a harsh winter, and it is having to deal with souring relations with Poland, a previously-staunch-ally-turned-antagonist over grain exports and arms shipments.
If Ukraine has any hope of success, Western help will be essential.
Still, for Ukrainians going about their everyday lives and the country's media, the potential shutdown is not front-page news. On one Kyiv morning this week, few passersby were across the minutiae of developments on Capitol Hill — perhaps understandable for a country at war.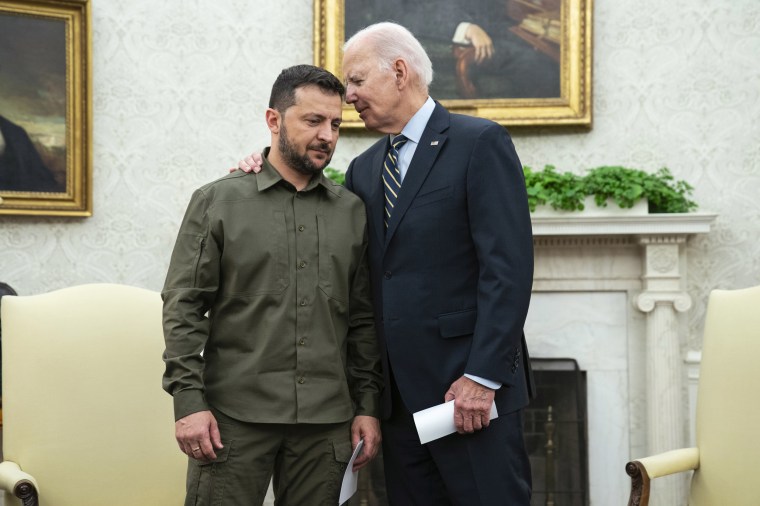 Of those who are engaged, many remain optimistic about the internal machinations of their largest benefactor.
"With presidential elections around the corner, the question of aid for Ukraine will be brought up internally in the U.S.," said Hlib Fischchenko, 24, director of a charity that gives technical and humanitarian assistance to Ukraine's military. "Still, I think that the international policy vector of the U.S. will remain unchanged, and support for Ukraine will continue. I am sure of it."
President Volodymyr Zelenskyy's office declined to comment on the possible shutdown, saying it was a U.S. internal matter. But he has been working tirelessly to make Ukraine's case, including a recent whirlwind tour in Washington to shore up support that seems less ironclad than last year. 
It's not just the Ukrainian military that relies on this support, but the country's economy as a whole.
"Our internal stability — in terms of exchange rates, the banking sector and our budgetary funding — stands on two major contributions we receive" — those from the U.S. and the European Union, according to Dmytro Boyarchuk, executive director of CASE Ukraine, a Ukrainian think tank focusing on economic analysis. "For sure, U.S. support is very important and very critical. But all of us understand the risks related to elections and potential change of this support."
On the battlefield, Ukraine has put up far stiffer resistance than many believed possible, despite its recent counteroffensive going slower than expected.
"A lapse in funding for Ukraine or any significant cut would absolutely have a negative effect on their ability to succeed," John Kirby, strategic communications coordinator for the National Security Council, told "Andrea Mitchell Reports" on MSNBC this week.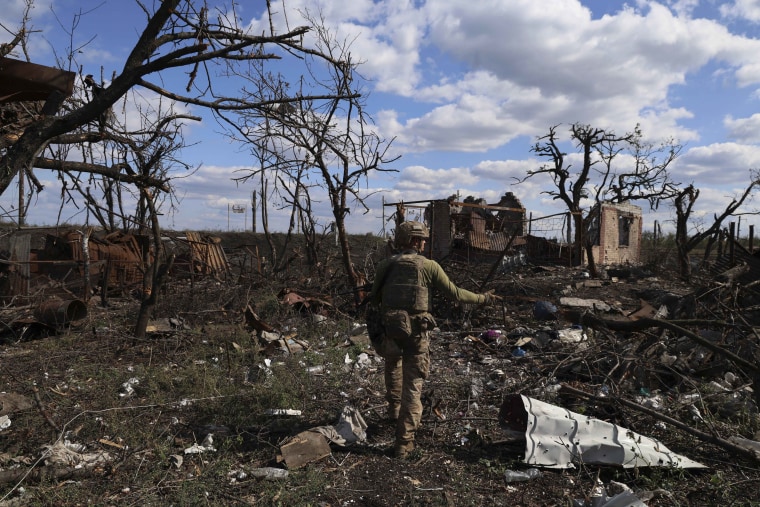 It's not clear how this might play out in practice, but the Pentagon has been explicit in its warnings.
Deputy Defense Secretary Kathleen Hicks, according to a recent Pentagon article, warned that Russia's efforts to conquer Ukraine would not end and said Congress needs to try to avoid a U.S. government shutdown.
Despite the high stakes, many Ukrainians remain upbeat.
While most will politely say how grateful their country is, they also share Zelenskyy's view that this is not about charity but rather Western self-interest.
"There will always be some differences and discussions between different political parties; it is normal for a democratic country," said Vasylisa Lebedynska, 20, a political studies undergraduate student from Kyiv. "Still, I hope that the election campaign in the U.S. will not lead to a decrease in support for Ukraine."
"The democratic and civilized world has to win," she added.
Alexander Smith reported from London. Artem Grudinin and Daryna Mayer reported from Kyiv.