BARAKHTY, Ukraine — He was a quiet man who attended temple regularly, Rabbi Moshe Azman told NBC News last week as he stood next to Zoreslav Zamojskij's coffin.
"I don't understand why they killed this guy," Azman said in the Jewish cemetery on a hill in Barakhty, a picturesque village around 30 miles south of Ukraine's capital, Kyiv. Amid panoramic views of the countryside, he then recited funeral prayers and together with a handful of mourners helped to lower the casket and fill the grave with earth.
It was a sorrowful occasion for Azman on April 15, the first day of Passover, when Jews traditionally celebrate the liberation of their ancestors from slavery in Egypt. 
He was barely able to contain his anger about Russian President Vladimir Putin's claims that his forces were liberating Ukrainians "subjected to bullying and genocide," and the invasion was launched to "denazify" the country and its leadership. 
"I said many times. We here in Ukraine don't need denazification," he said. "Because we are here in a free country, free religion."
Azman, a Russian speaker who was born in the Russian city of St. Petersburg, added that the invasion reminded him of stories he studied in his school days about the persecution of the Jewish community in Europe by Nazi Germany. 
"Now I see the Russians doing it. I can't believe my eyes," he said. 
Massacre victim
Zamojskij, who Azman said had no living relatives, was 44 when he was killed in Bucha, a small town on the outskirts of Kyiv that was held by Russian forces for five weeks until it was liberated by Ukrainian soldiers earlier this month.
Before his death, he posted a series of updates on Facebook describing the sounds of intense battles around his home as he hid underground. His last post, March 4, said: "It's quiet in the street. Only sometimes lonely explosions in the distance. Tanks and other equipment have long gone in an unknown direction. What will happen at night only God knows."
Images that shocked the world have since emerged from the town's streets and homes after the Russian retreat. Some photographs showed bodies in civilian clothes lying on blood-stained pavements, some with their hands tied behind their backs. Ukrainian officials estimate hundreds of civilians were killed in Bucha, and they have accused Moscow of committing war crimes there. 
Jewish burial authorities said Zamojskij, a journalist, had been shot multiple times and that his body bore signs of torture. NBC News has not been able to independently verify this claim.
Russia has denied it targeted the town's civilians and has accused Ukraine of staging the alleged atrocities to discredit its army — a claim that angered Azman. 
"The Russians said that's fake, but what's fake?" Azman said, adding that Zamojskij "was killed while Russian forces were there."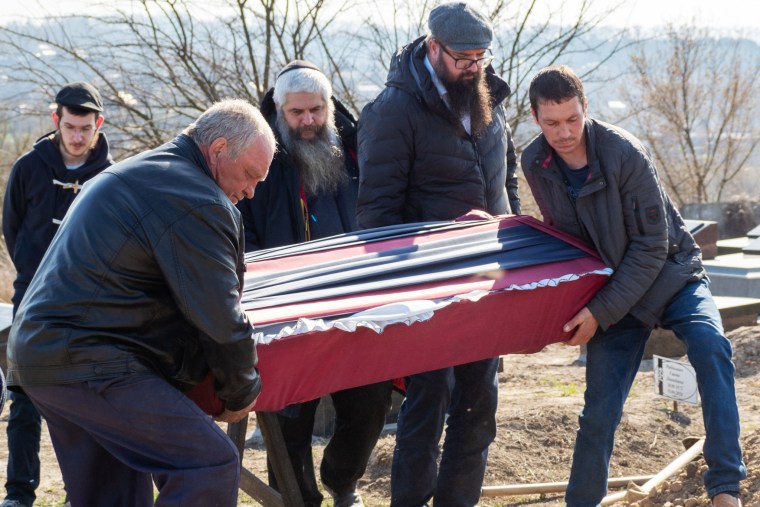 Judaism in Ukraine 
Jewish settlement in Ukraine predates the region's recorded history, according to the Yivo Encyclopedia of Jews in Eastern Europe, which says Kyiv had a Jewish quarter as early as the 11th century. 
For the most part, the community flourished, although it faced periods of persecution and antisemitic discrimination particularly during the Nazi period, when it is estimated that up to 1 million Ukrainian Jews were murdered. 
But before the Russian invasion, Ukraine was home to up to 140,000 Jews, according to the World Jewish Congress, and religion was not an issue before the April 2019 election of President Volodymyr Zelenskyy, a Jew. And for a brief period early in Zelenskyy's tenure, before Volodymyr Groysman was replaced as prime minister in 2019, Ukraine was the only country other than Israel with a Jewish head of state and Jewish head of government.
Passover 2022
Tens of thousands of Ukrainian Jews have fled since the Russians invaded, while about 80 percent remain in Ukraine, according to estimates from Chabad, one of the largest Hasidic Jewish organizations in the world. So many will celebrate Passover, which ends Saturday, away from their homes.  
"Passover for Jewish people means freedom, the Jewish people escape from Egypt slavery. You know, history can come back because the Ukrainian people would like to escape from the Soviet Union," Azman said, echoing some experts who have suggested that the invasion was partly driven by Putin's desire to revive the bloc of 15 republics including Ukraine.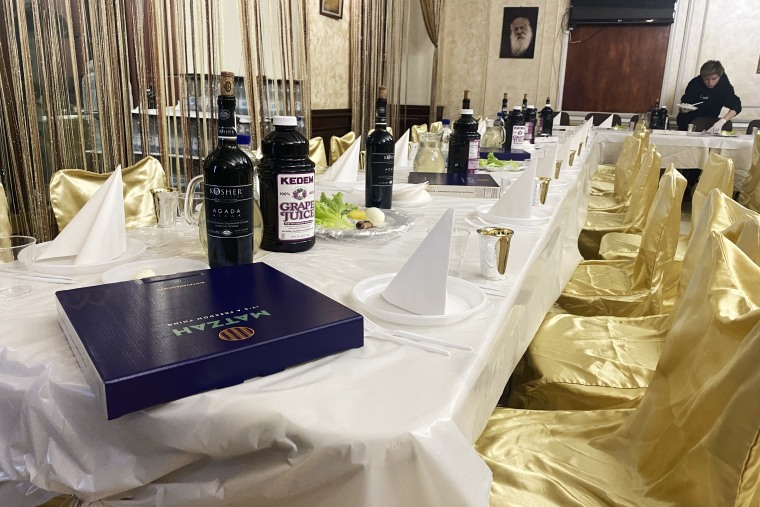 After Zamojskij's funeral, Azman went to Kyiv's Brodsky Synagogue, where preparations were underway for a ceremonial Passover dinner known as the Seder.     
Rows of plates, small cups, boxes of unleavened bread and bottles of kosher wine and grape juice were laid out on long tables flanked by chairs covered with gold cloth.
Volunteer Adel Kontorovich, 20, said it was the first time her family had taken part in a Seder dinner at the synagogue.
"We decided to join this community dinner because of the war," she said, adding that she hoped joining a community Seder feast might help preserve what's left of the local Jewish life.
"This dinner is an opportunity for people to return back to their community. I want it to go back to the busy community that it was before," she said.
"The Seder is about liberation. It's a part of history," she added. "Celebrating this history helps to liberate Ukraine from war."