NEAR DOVHENKE, Ukraine — They don't fight, they find. 
Deep in the woods of eastern Ukraine, the leaves green with the new life of spring, the unit known as On the Shield searches for the country's fallen soldiers.  
"Our guys are here somewhere," its team leader, "Mykha," told NBC News earlier this month. He asked to be identified only by his call sign in accordance with Ukrainian military protocol.
The team focused its search near the village of Dovhenke, the scene of a brutal Russian attack in April 2022, two months after President Vladimir Putin launched his invasion. 
Burned-out cars and tanks were scattered along parts of the road, and most of the buildings looked as if a wrecking ball had been taken to them. Pockmarks from artillery covered the few that remained standing.    
At least five soldiers from Ukraine's 95th Air Assault Brigade that defended the area were still unaccounted for, Mykha said.  
But each day the team's grisly search becomes more difficult, as spring's rebirth has covered clues and made graves, once easy to spot during the cold, hard winter, much harder to find.   
As a result, the bodies that remain from that time are "skeletonized," said Mykah, adding "any signs such as tattoos or other markings are no longer visible."   
The soldiers nonetheless found a military jacket hanging near one of the holes dug by Ukrainian soldiers to sleep in. 
Other things were clearly Russian, like a "telnyashka," a blue and white striped undershirt traditionally worn by members of the Russian military. Nearby, a bulletproof vest with Russian writing on it lay on a tree.   
Mykha said the unit, which is made up of volunteers rather than conscripts, didn't keep count on the number of Russians it had uncovered, but it had "definitely found several hundred."
"When our troops were advancing, it's clear the Russian military also left their soldiers because they had no opportunity to take them," he said. "The very first groups that came in collected them everywhere: on the roads, in houses."
At another site down the road, one of the searchers called out that he'd found bones in a burned-out tank, one of three. One had the letter "Z" painted on the front — a symbol seen on Russian tanks and military vehicles in Ukraine and embraced by supporters of Putin's war.
Pulling on pairs of blue latex gloves, one searcher climbed into the tank closest to the tree line and another mounted the turret as Mykha helped to prepare a body bag.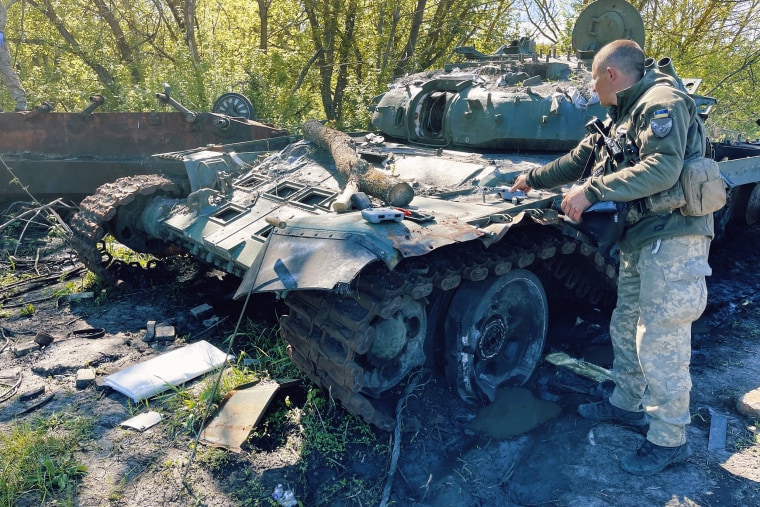 "Is it from the leg or from where?" asked the searcher inside the wreckage as he sifted through the charred debris, occasionally pausing to tap what he found on the side of the tank.
Glass and metal sound different to bone, so the team can tell if it's dealing with human remains.   
"Maybe there is nothing to register," he said, but later he realized he was sifting through the scene of a tragedy.  
"He burnt here," he said, surveying the fragments of what was once a man. "His bones are burnt."
For Mykah and the rest of the On the Shield unit, the man's nationality is not important. Since they're volunteers and not conscripts, they aim to fulfill one of the oldest military mantras — leave no man behind.      
"We are now trying to find everyone, because they are going to be exchanged, and every Russian soldier is practically one of our returned soldiers," Mykha said. 
"In this case, our military is, of course, the priority," he said, adding that it was just as important to his team that the relatives of Russian soldiers "seek some peace." 
"We have no other choice because we are defending our country, but not all of them probably even understand why they came here," he said. 
Their task, while grim, does allow closure for the relatives and friends of the dead. 
After Yurii Roslov and his unit disappeared on a combat mission toward the end of March 2022, his commander in the 95th Air Assault Brigade, who goes by the call sign "Chef," said he "hoped that they were captured but there was no news." 
Months later, On the Shield found the 26-year-old's body buried in a shallow grave near Dovhenke village.
Around 400 miles away in Ukraine's capital of Kyiv, Roslov's family could finally lay him to rest on May 6 at the Mis'Ke Kladovyshche Cemetery.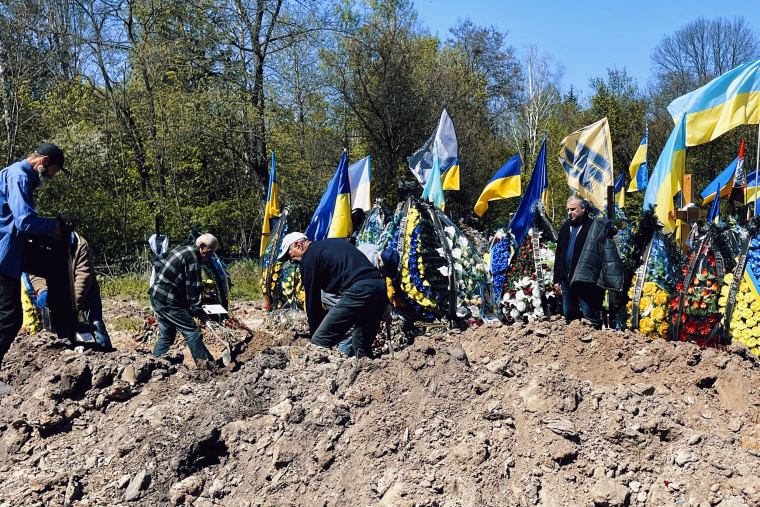 As a bugle played his mother wiped away tears, and the priest began to pray. 
Burying Yurii was "like tearing off a part of myself," his commander said. "And then you start to live again — somehow — knowing that you won't see him anymore, that you won't talk, you won't hear his songs, you won't hear the sound of that guitar."
As the final shovel of dirt covers Yurii's casket, music begins again.