One month ago, Russian President Vladimir Putin went on television to announce he was invading Ukraine and warned the West that attempts to intervene could be met with nuclear retaliation.
In the four weeks since, Russian forces have launched airstrikes, laid siege to its cities, and prompted millions to flee the worst violence Europe has seen in decades. The conflict has reshaped the geopolitical landscape, widening a divide between Moscow and the West redolent of the Cold War. And it has already raised fears of global economic and food crises.
The invasion was predicted for months by Western intelligence agencies and analysts on social media, but while its effects have shaken the world, perhaps the biggest surprise has been a Russian military campaign widely regarded as disastrous to this point.
That's contrasted with a staunch Ukrainian defense, bolstered by support from dozens of allies including the United States, and inspired by the talismanic Ukrainian President Volodymyr Zelenskyy.
The month-old war has posed the biggest foreign policy challenge so far for President Joe Biden, who had hoped to focus on China but instead jetted to Europe on Wednesday to attend an emergency NATO summit. Biden has been tasked with corralling Washington's allies against the Kremlin — but without provoking a direct confrontation with a nuclear power.
Western weapons, many of which have been supplied by Washington, have been key in helping Ukraine to hold firm against the Russian advance. Nevertheless, most experts say victory for either side will be difficult and costly — raising the possibility that the conflict could now descend into an even more violent and attritional new phase.
"The key question is whether Ukraine can hold out for long enough for the Russian onslaught not merely to be stalled, but actually seen to be visibly failing," said Keir Giles, a Russia military expert and a senior consulting fellow at the London think tank Chatham House.
"That will depend not only on the speed with which Western support can be absorbed by Ukraine," he added, "but also the tolerance of Ukraine's population and leadership for the horrors that Russia will seek to inflict to bring the conflict to a conclusion."
The war has conjured specters that Europe had hoped were banished to the past.
Tanks have once again rolled onto the soil of a sovereign democracy; civilians have been torn from loved ones at train stations as they flee bombardment; and an autocrat has used historical fantasy to justify a brutal land grab.
The numbers are striking for a conflict younger than 30 days.
Some 10 million people — nearly a quarter of Ukraine's population — have fled their homes, according to the United Nations, either displaced internally or trekking as refugees to neighboring countries, such as Poland and Moldova.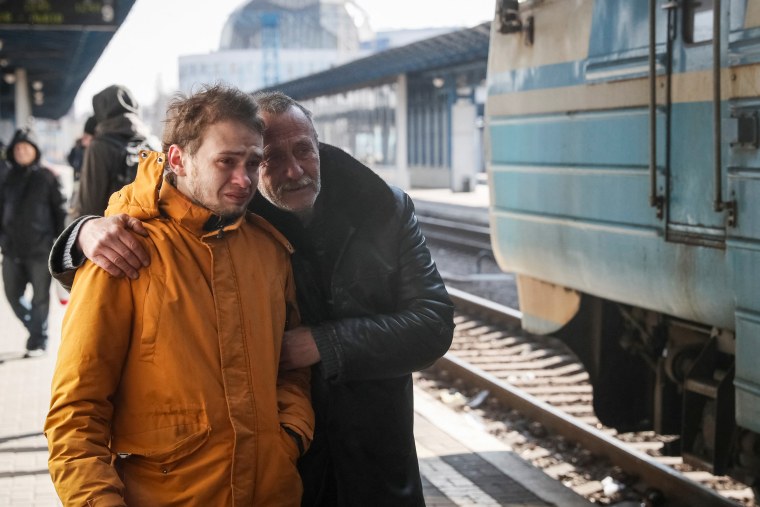 Russia has not released updated figures of its losses, but a NATO official told NBC News that the organization currently estimates that between 7,000 and 15,000 Russian troops have died in the past four weeks of war. Adding in Russian troops who have been injured, captured or gone missing, the number could be as high as 30,000 to 40,000, the official said.
Ukraine has been disfigured by the war. Northern cities such as Kharkiv lie in ruin. Mariupol, in the south, is still under siege.
The United Nations humanitarian office officially confirmed more than 2,500 civilian casualties, including dead and wounded, but acknowledges that the total number is likely much higher.
'This is not collateral damage'
Most experts in the West agree that such a relentless assault was not Russia's original plan, but rather the one it eventually settled on as a product of bad planning and execution by its military.
Having already annexed Crimea and supported separatists in eastern Ukraine in 2014, Putin wanted a swift victory, according to experts analyzing Russia's military moves and his public statements. They believe he intended to quickly seize Ukrainian cities, removing the government and installing a puppet regime.
After five days, it was obvious this was not going to happen, according to Giles and others.
Instead, Ukraine has inflicted heavy losses on a Russian force seemingly underprepared for a long, tough fight.
In response to this struggle, Putin has pivoted to what experts say is a tried, tested and merciless plan B: bombing civilians into submission.
"The Russian brutality has really surprised me," said Hanna Shelest, a director at the Ukrainian Prism think tank, who lives in the southern city of Odesa. "This is not collateral damage; it's deliberate."
The Kremlin rejects this and says its campaign is going well. But it also denies it is waging a war at all, instead calling it a "special military operation" to remove Ukraine's "neo-Nazi" government and prevent a "genocide" of ethnic Russians — neither of which are true.
Some see Moscow entering into peace talks with Kyiv as proof that it is trying to seek an off-ramp to its failed military objectives.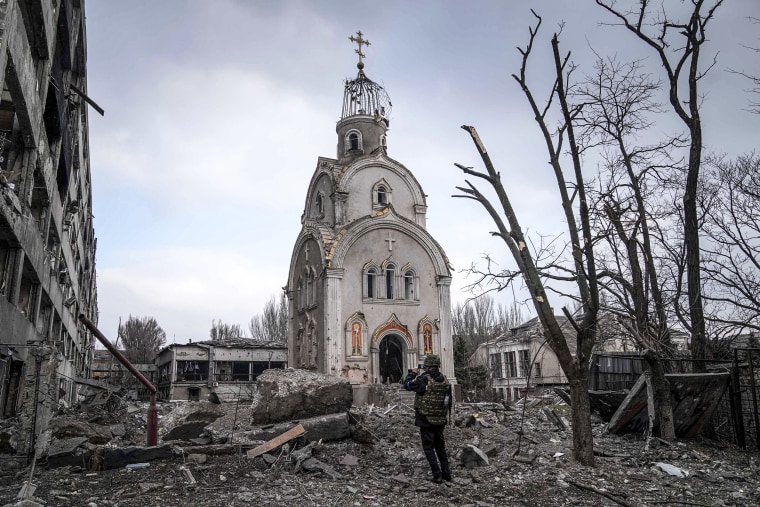 Meanwhile the war has jolted the West out of the torpor into which many observers believe it had slumped. The U.S., Europe and others have hit Moscow with a salvo of sanctions and boycotts that crippled its economy and isolated the Kremlin as a global outcast.
Zelenskyy has become something of a hero in Europe and beyond, broadcasting daily videos from inside Kyiv even as the capital comes under aerial attacks.
By contrast, Putin has responded by doubling down on the oppressive regime that he has been building for 23 years.
His authorities have shuttered independent news outlets, arrested protesters, and threatened anyone who even utters the word "war" with 15 years in prison. That's not stopped the Russian currency from crashing and people panic-buying key goods in grocery stores, according to videos posted on social media and verified by NBC News.
Eager Putin-watchers have been alarmed at what they see as an emotional, angry president — a far cry from the stoic former KGB officer they are used to studying. Still, vastly outmanning and outgunning Ukraine, the Russian leader shows no sign of withdrawing or slowing the violence, Shelest and others believe.
"We are seeing Russians are trying to regroup and there is no feeling that Russia might try to get out," she said. "Their rhetoric has not changed — it's even worse than before."