Russia's defense minister made a rare visit to Ukraine, his ministry said Saturday, as his forces closed in on Bakhmut, the eastern city that has come to embody Kyiv's resistance against Vladimir Putin's invasion.
Sergei Shoigu inspected troops at a forward command post in the eastern Donetsk region, Russia's Defense Ministry said in a Telegram post, adding that Shoigu also presented several awards.
"There is still a lot of work ahead," the ministry quoted Shoigu as saying to troops. "Good luck, wishing you success, and, of course, to come home alive."
Shoigu, who has served as defense minister since 2012, has come under harsh criticism for his performance in the conflict from pro-war agitators.
But his visit — marking a rare appearance on the front line from a top Russian military chief — came as his forces appeared on the brink of capturing Bakhmut.
Russian artillery pounded the last routes out of the city on Friday, aiming to encircle it and secure Moscow's first major battlefield victory in nearly a year.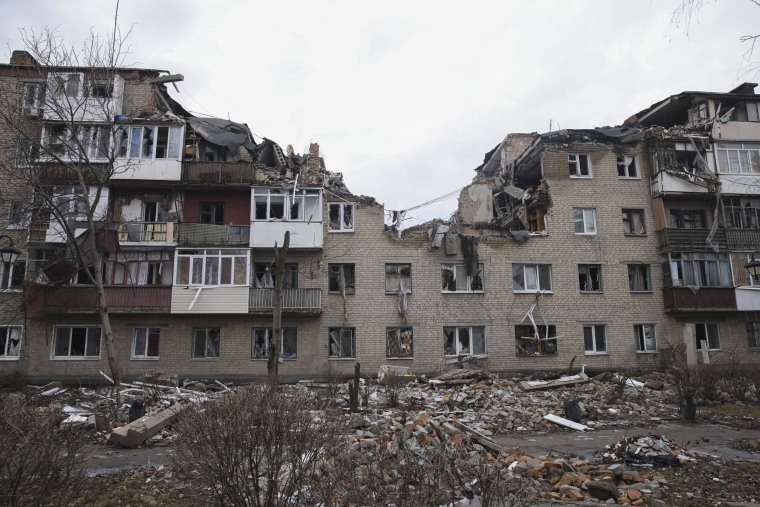 Russia has focused on seizing Bakhmut for a much needed success that could also serve as a stepping stone to the rest of the Ukraine's industrial heartland, known as the Donbas region.
Ukraine has sought to wear down Russian forces by forcing a protracted fight for a city that it has said holds limited strategic value, but on Saturday the country's armed forces said in a Facebook post that "the enemy does not cease attempts to encircle the city of Bakhmut." 
It added that attacks had been repelled in the villages of Ivanivske and Bohdanivka, both of which lie less than 5 miles west of Bakhmut's city center. The capture of those villages, which flank the crucial Bakhmut-Chasiv Yar road on either side, would leave the city on the cusp of total Russian encirclement.
Meanwhile, Britain's Defense Ministry said in its regular intelligence bulletin Saturday that Russian troops had made further advances into Bakhmut, along with forces from the Wagner Group, a private paramilitary contractor.
"Within the last 36 hours two key bridges in Bakhmut have been destroyed," the bulletin said, and that "Ukrainian-held resupply routes out of the town are increasingly limited."
Ukraine's actions suggest that it may be planning to pull out of parts of the city, the Institute for the Study of War, a Washington-based think tank, said late on Friday.
It said Ukrainian troops may "conduct a limited and controlled withdrawal from particularly difficult sections of eastern Bakhmut," while seeking to inhibit Russian movement there and limit exit routes to the west.
Elsewhere, in the southeastern city of Zaporizhzhia, rescuers found the bodies of three more people on Saturday after Russian shelling of a five-story apartment block on Thursday, Ukrainian emergency services said in a Facebook post Saturday.
This brought the total death toll to 10, it said, adding that a child was among the dead.
NBC News is unable to verify the number of dead and Russia denies deliberately targeting civilians and residential buildings, which is a war crime.