Troops paraded through Red Square and President Vladimir Putin exalted his war in Ukraine on Tuesday, but scaled-back celebrations saw Russia's cherished Victory Day showcase its vulnerability and military weakness, rather than its might.
The country's annual holiday marking the defeat of Nazi Germany comes nearly 15 months into its own bloody invasion of its neighbor, and just days after an alleged drone attack on the Kremlin, as well as the public escalation of a bitter feud between top military leaders ahead of an anticipated Ukrainian counteroffensive.
Though Kyiv has denied involvement in the mysterious incident, events across the country were curtailed over security fears and mercenary chief Yevgeny Prigozhin renewed his rhetorical assault on the Kremlin's top brass, ensuring the most sacred day on the calendar for Putin's Russia took place under a growing shadow.
Putin said in his address that "a real war" has been waged on Russia, yet again framing his invasion as a response to the West's "exorbitant ambitions."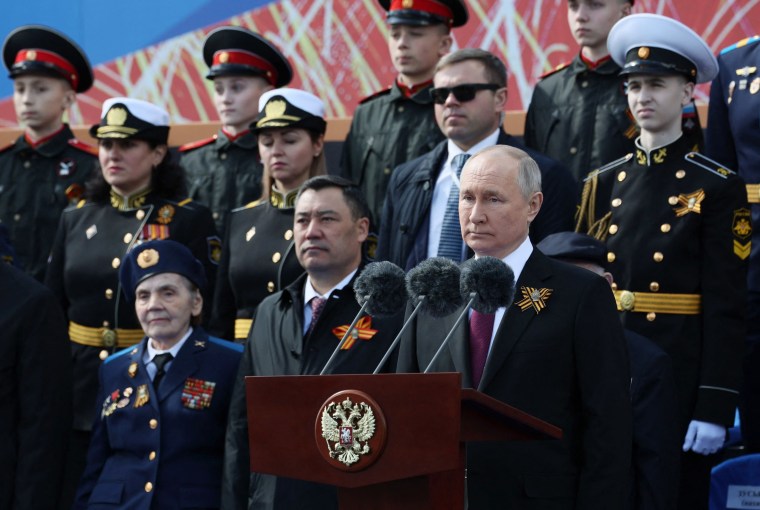 But for all his grandiose language and efforts to rally public support, there were growing signs of disquiet within the Russian ranks.
Shortly after the parade, Prigozhin lambasted the Russian defense ministry for failing to supply his fighters with ammunition, after promising to pull his forces from a key battle last week. He questioned the state's ability to defend the country and the wisdom of holding the celebrations in the midst of a brutal conflict.
The high-profile clash over the struggle to capture Bakhmut illustrates the lack of any symbolic victory from a costly winter push on the battlefield. In addition, a wave of explosions have hit strategic targets deep inside Russia and several prominent pro-war figures in recent months, fueling a growing sense of unease over the security of territory Russia controls — from the capital to Crimea.
It prompted authorities in many regions to scale back or cancel military parades that normally draw huge crowds. 
Red Square was closed to the public for two weeks ahead of the occasion, in an apparent move to stave off any security threats to the high-profile event in the heart of the capital. Moscow also banned the use of civilian drones and ride-sharing services were unavailable in the city center, with security fears given new urgency by what the Kremlin claims was the Ukrainian assassination attempt on Putin.
The "Immortal Regiment" procession, which sees hundreds of thousands of Russians march with the portraits of family members who fought against Nazi Germany every Victory Day, was moved online, with people being asked to share photos of the veterans on social media, buildings and cars instead.
Some activists and analysts have suggested that authorities may also have feared a potent display of the effects of the current war, especially if families brought portraits of the many killed in Ukraine.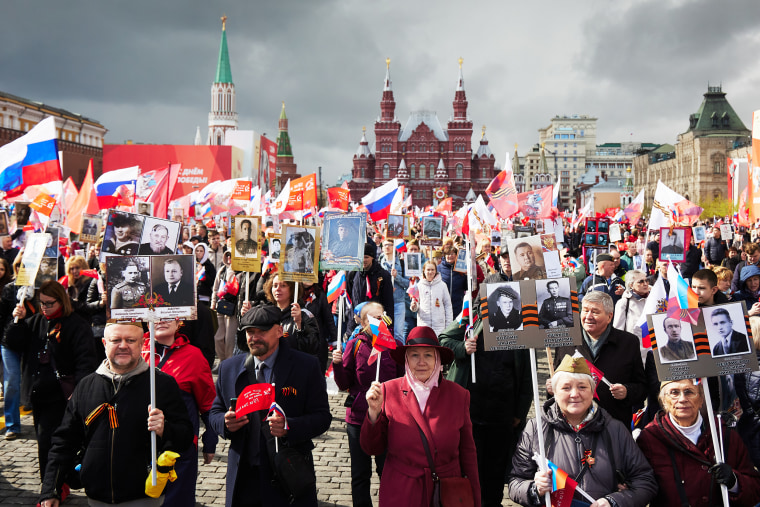 Authorities in Crimea all but canceled Victory Day events "due to security considerations," according to state media, after a series of apparent Ukrainian drone attacks on military bases and fuel depots in the annexed peninsula that Kyiv is determined to seize back. 
"It is better to take precautions," Kremlin spokesman Dmitry Peskov said Monday.
But the war is increasingly being brought home to a population that the Kremlin has worked to insulate from its realities.
"That's a country clearly on edge," Michael A. Horowitz, head of intelligence at the Le Beck consultancy, told NBC News on Monday. "When President Putin steps on the podium, everyone will have in mind the image of the drones striking the Kremlin." 
A limited display of pomp and pageantry took place in Moscow, including a solitary tank and no military aircraft flying over Red Square. For the first time in years, the parade ended in under an hour.
Putin thanked WWII veterans for "saving humanity from Nazism," but stuck to his narrative that the war in Ukraine was necessary to prevent a new attack on Russia, saying that "a real war has been waged against our Motherland again."
Kyiv and its Western allies dismiss these claims, seeing Putin's war as part of his imperialist project to restore Russian prestige and power.
Following a moment of silence, Putin said the safety of Russia and its sovereignty depends on the soldiers fighting in Ukraine, some of whom took part in the parade.
"The whole country has united to support our heroes," Putin added, a narrative that the Kremlin and state media have tried to promote amid an unprecedented crackdown on opposition to the war.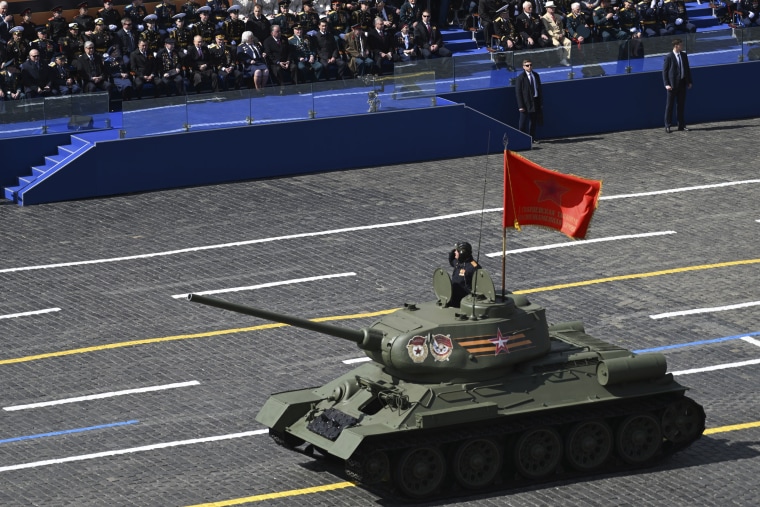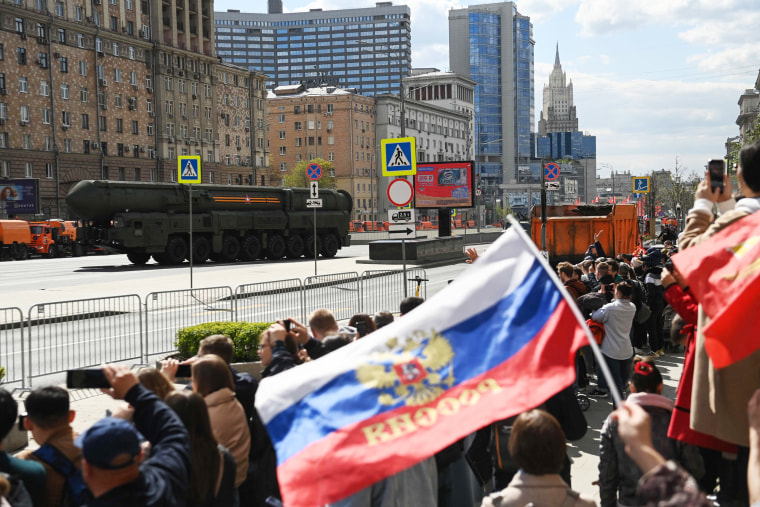 Since the Soviet era, Victory Day has held tremendous sentimental value for Russians, honoring the sacrifice of 27 million people in the fight against Nazi Germany. But in the decades of Putin's rule, the Kremlin has weaponized that memory, using it to demonstrate its military might and send a message to its adversaries.
"Victory Day is central to Putin's narrative," Horowitz said. "In the Russian president's mind, Russia is still engaged in a long battle against 'Nazism' that stretches from 1941 (comfortably skipping Russia's own arrangement with Nazi Germany beforehand), up until today."
But this is also the second Victory Day that Russia marks without any major victories on the battlefield in Ukraine.
Prigozhin, whose Wagner troops have led the assault on Ukrainian defenses in Bakhmut, furiously claimed Tuesday that some army soldiers were "fleeing" the front lines and that military chiefs had been lying to Putin while withholding supplies.
"Happy Victory Day to everyone, celebrating the victory of our grandfathers," he said in a video posted to social media. "Why we celebrate it is a big question. We just need to remember about them and not f--- about on Red Square."
It was expected that Russia would want to claim the symbolic victory of capturing the eastern city in time for Victory Day, but fierce opposition and Moscow's own military shortcomings mean the brutal fight has only added to a sense of frailty.
Underscoring this, Ukraine took another symbolic step to distance itself from the Kremlin.
President Volodymyr Zelenskyy said Monday he had signed a decree to commemorate the defeat of Nazi Germany on May 8, in line with his Western allies. May 9, Zelenskyy said, would be an occasion to observe "Europe Day," which the countries of the European Union mark as a day of peace and unity on the continent. 
The move was swiftly decried in Russia. 
"By canceling Victory Day on May 9, he betrayed his ancestors once and for all," said Russian Foreign Ministry spokesperson Maria Zakharova, while the Moscow-appointed leader of Crimea, Sergei Aksyonov, called it "a vile but expected" decision by Kyiv.