President Joe Biden said Friday night he will move U.S. troops to Eastern Europe and NATO countries "in the near term," without elaborating on the timing but adding that the number would be "not a lot."
Biden has consistently said he does not plan to send troops into Ukraine, and Defense Secretary Lloyd Austin made clear earlier Friday that U.S. troops on high alert had not yet been deployed to the region.
"I'll be moving U.S. troops to Eastern Europe and the NATO countries in the near term. Not a lot," Biden said in response to a reporter's question at Joint Base Andrews after returning from a trip to Pittsburgh.
The comments come on the heels of Russia insisting that it will not start a war with Ukraine after Biden warned there is a "distinct possibility" that Moscow could invade its neighbor in February.
As the West awaited the Kremlin's next move, Russian Foreign Minister Sergey Lavrov said his country did not want war but would not allow its interests to be "rudely attacked" or ignored, either.
"If it depends on the Russian Federation, then there will be no war," he said during a live interview with Russian radio stations early Friday. "But I do not rule out that someone would like to provoke military action [around Ukraine]." 
Tensions have been building for weeks, with Washington and its European allies scrambling to deter a Russian invasion. Moscow has amassed an estimated 125,000 troops on its neighbor's border and issued a series of bold demands, but repeatedly denied planning any attack.  
In his first public reaction to the West's response to those demands, Russian President Vladimir Putin said Friday the U.S. and NATO had not addressed his country's "fundamental concerns."
Putin said he would study the written responses carefully before deciding on next steps, according to a Kremlin readout of his video call with French President Emmanuel Macron.
On Thursday, Biden spoke with Ukrainian President Volodymyr Zelenskyy, whose country has played down the threat even as the West sounds the alarm about the potential for war.
"President Biden said that there is a distinct possibility that the Russians could invade Ukraine in February," White House National Security Council spokesperson Emily Horne said in a tweet Thursday.
Horne said the president had previously said this publicly and that the U.S. had been warning about the possibility for months. 
After the call, Zelenskyy tweeted that the pair had discussed "diplomatic efforts on de-escalation and agreed on joint actions for the future," as well as the possibility of financial support to Ukraine.
Austin said at a Pentagon briefing Friday that Russia has deployed forces to Crimea and along Ukraine's border in Belarus at a "consistent and steady pace." Ukraine's defense minster, Oleksiy Reznikov, told parliament Friday there are now 130,000 Russian troops near the border with Ukraine.
"We don't believe that President Putin has made a final decision to use these forces against Ukraine," Austin said. He added that the Russian president has "multiple options available to him," including seizing cities or significant territories in Ukraine or provocative political acts like the recognition of breakaway territories.
Gen. Mark Milley, chairman of the Joint Chiefs of Staff, said any Russian invasion of Ukraine would "not be cost-free in terms of casualties or other significant effects."
The U.S. has a small contingent of American and NATO advisers and trainers in Ukraine, although no offensive weapons systems or permanent forces in the country, he said.
"We are ready, capable and prepared to uphold our obligation under treaty to NATO, as mentioned by the secretary," Milley said. "An attack against one NATO ally is an attack against all."
Austin made clear Friday that U.S. troops that have been placed on high alert had not yet been deployed, and both leaders emphasized the administration's efforts to resolve the situation diplomatically.
Kristina Kvien, U.S. chargé d'affaires in Ukraine, told NBC News that a further delivery of military aid from Washington was due to arrive in Kyiv later Friday as the U.S. and NATO moved to support Ukraine.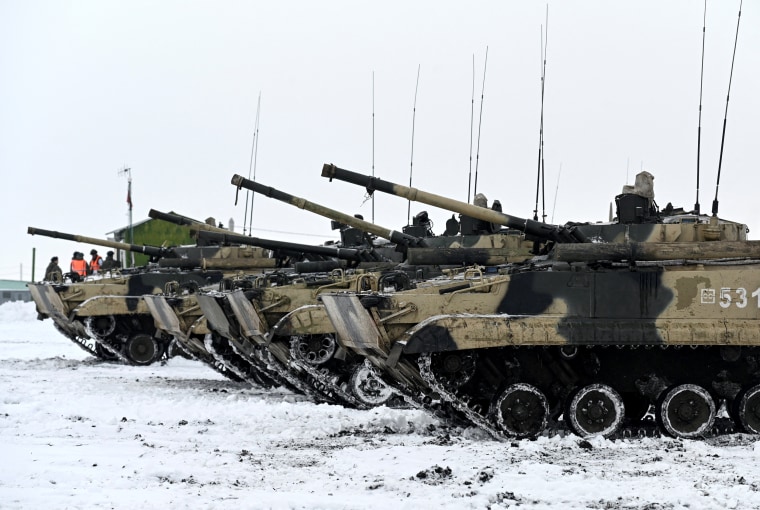 Hopes for a diplomatic solution to the crisis have been dimmed by a lack of progress and escalating rhetoric, but Lavrov did say the U.S. response to Russia's security demands was more promising than the one sent by NATO and could provide room to negotiate on some issues.
He added that he expected to meet again with Secretary of State Antony Blinken in the next couple of weeks.
The Kremlin has urged NATO to deny membership to Ukraine and other former Soviet countries and to roll back its military deployments in central and Eastern Europe. Moscow has warned of "retaliatory measures" should there be "no constructive response" from the U.S. and its allies, but has denied planning any attack.
John Sullivan, U.S. ambassador to Russia, said Friday that Moscow's protestations that it was not seeking war rang hollow given it has "put a gun on the table" with its military buildup, according to Reuters.
Russia indicated it saw little grounds for optimism in the letter delivered by Sullivan earlier this week, which Blinken said he hoped would offer a "serious diplomatic path forward" to avoid a devastating new conflict in Europe.
Now the U.S. and its allies must wait as they prepare for the worst. 
Tatyana Chistikova reported from Moscow, Saphora Smith from London and Rebecca Shabad from Washington.