MOSCOW — Colossal wildfires in Russia have burned an area the size Vermont and Delaware combined, Greenpeace said Tuesday, amid fears the country could suffer its worst wildfire season in more than 100 years.
The season is still in its early stages, but wildfires blazing across the country's far east have already scorched through more than 11,500 square miles, according to the environmental charity.
The largest area burned in a single wildfire season in the 21st century was 50,000 square miles in 2013 — around the size of Alabama.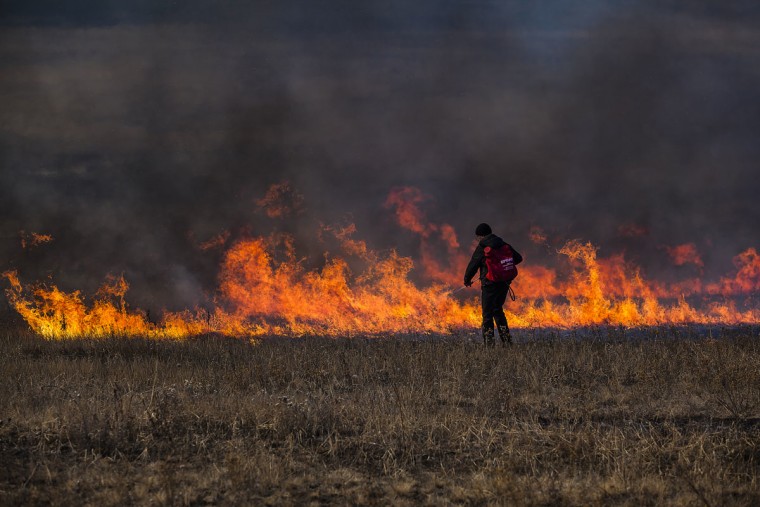 Alexey Yaroshenko, the head of Greenpeace Russia's forest program, said that this year may top that figure.
"Most of these wildfires are man-made," he told NBC News by phone.
Many of the blazes are started by villagers who are torching the previous year's grass make way for new growth. But the practice often backfires. This year alone, four settlements have been forced to evacuate before being engulfed by fire, although no casualties have been reported.
Related: Fire Evacuation Orders Lifted North of Fort McMurray
Greenpeace and the Russian government disagree about the extent of the fires.
The Federal Forestry Agency told NBC News less than 2,000 square miles has burned so far this year.
It said in a statement that Greenpeace's figures were overstated because they are based on satellite monitoring footage, which it said is unable to differentiate between fire and smoke-engulfed, but otherwise safe areas.
The agency added that state statistics also omit controlled fires started by foresters. But Yaroshenko said these fires were important to include as they often spiral out of control. Earlier this month, Russian President Vladimir Putin admitted that not enough is done to fight or prevent blazes.
In the 19th century, wildfires routinely destroyed up to 46,000 square miles each year, largely due to human neglect and slash-and-burn agricultural technology.
The figure was curbed in Soviet times, but has bounced back in the past decade and keeps on growing, according to Yaroshenko.
"We're getting to the point where more forest burns than is grown back," he said. "We're losing the forests."