Russian airstrikes are doing little to help ordinary Syrians, residents of the war-torn country's northwest told NBC News.
Locals say they have grown used to seeing "a swarm" of up to six planes carrying out as many as 10 strikes per day in western Idlib province since Moscow started bombing earlier this month, emergency response volunteer Mohammed Khdeir said.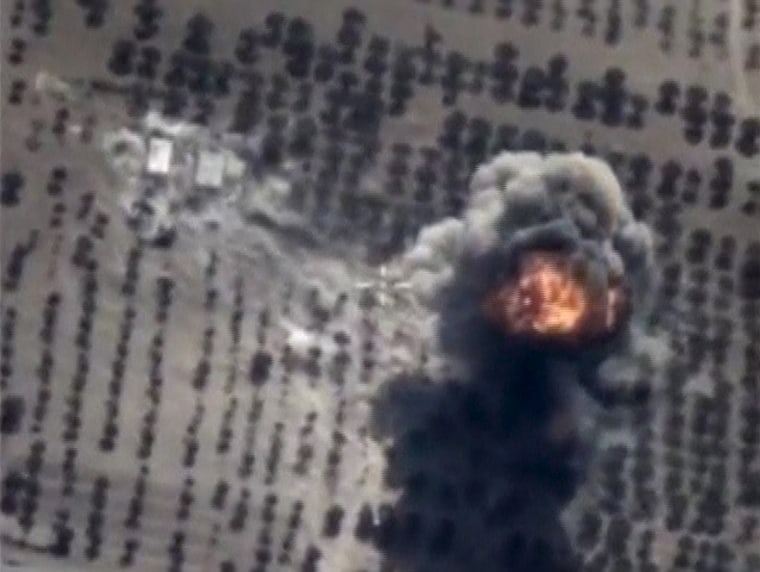 The 23-year-old, who lives in Jisr al Shughour, said rescue operations were being carried out every day in the area.
"Airstrikes are daily whether it's Syrian or Russian," Khdeir said. "Russian strikes are also more powerful, and their area of destruction is bigger compared to the Syrian air force."
He added: "Honestly, it's very hard. There is no life inside the city at all. No electricity, no water … People are scared of sending their kids to school."
Khdeir is a volunteer with Syrian Civil Defense, an emergency response service also known as the "White Helmets." The group's mission is "to save the greatest number of lives in the shortest possible time," according to its website.
Jisr al Shughour has been on the front line of fighting between rebels — including the Free Syrian Army and militants affiliated with al Qaeda — and the Syrian army, which is loyal to President Bashar Assad.
Elsewhere in Idlib, anti-regime activists opposed to Assad told a similar story.
"The air force is soaring inside the city … They virtually have not left the city skies," Othman al Khani told NBC News by Skype from the town of Khan al Shaykoun. "We also see massive destruction due to concentrated strikes with a large number of weapons, including various aircraft simultaneously."
Russian President Vladimir Putin has said that his country's involvement in the Syrian civil war — a four-and-a half year conflict that has killed more than 200,000 people — is an effort to bolster the fight against terrorism.
The Kremlin's pro-Assad intervention has put Putin at odds with Western powers who are carrying out a separate airstrike campaign against ISIS in Syria and Iraq. Western officials have questioned Putin's motives, accusing him of targeting non-ISIS enemies of Assad and "making the situation worse."
Mustafa Ghareeb, a 35-year-old media activist based in Maarat al Numan, said that the number of airstrikes in Idlib had more than doubled since the Russians joined forces with the Syrian regime.