Vitaly Churkin, the tough-talking Russian ambassador to the United Nations, died suddenly Monday after falling ill at his country's consulate in New York City.
Churkin, 64, was working at his desk when he collapsed, the Russian Foreign Ministry confirmed. The ministry gave no other details.
"A prominent Russian diplomat has passed away while at work," the ministry said in a statement on its official website. "We'd like to express our sincere condolences to Vitaly Churkin's family."
The New York City Medical Examiner's Office confirmed it was investigating the death.
"Once we have had an opportunity to examine the decedent, we will share the cause and manner of death when it is available," spokeswoman Julie Bolcer said in a statement.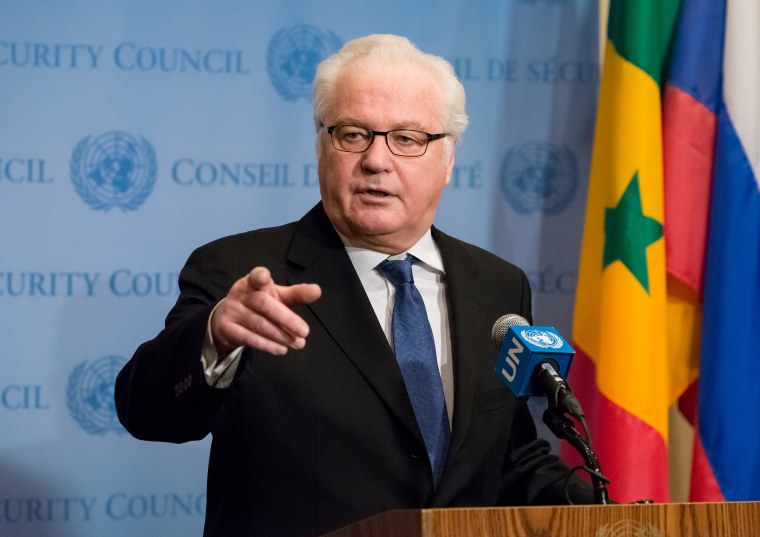 Born Feb. 21, 1952, in Moscow, Churkin died a day before his 65th birthday. And he was mourned by the diplomats with whom he had sparred.
Nikki Haley, the U.S. ambassador to the United Nations, called Churkin "a gracious colleague."
"We did not always see things the same way, but he unquestionably advocated his country's positions with great skill," Haley said in a statement. "We send our prayers and heartfelt condolences to lift up his family and to the Russian people."
Former U.N. Ambassador Samantha Powers tweeted her condolences, calling him a "diplomatic maestro."
Churkin was a fierce defender of his country's policies, including Russia's invasion of Ukraine and its much-criticized bombing last year of the Syrian city of Aleppo to oust rebels opposed to President Bashar Al-Assad.
During the presidential election, Churkin raised eyebrows by lodging a complaint about a U.N. official's criticism of Donald Trump, The Associated Press reported.
It's not clear whether Trump was aware that Churkin rose to his defense, but the Senate and House Intelligence committees are both investigating possible Russian interference in the presidential election.
Churkin began his 42-year diplomatic career in 1974 when Russia was still the driving force of the Soviet Union, according to a U.N. biography.
Fluent in English and French, Churkin was a child actor who appeared in pair of Communist-era movies about V.I. Lenin before he set out to become a diplomat.
Before arriving in New York City, Churkin was ambassador-at-large at the Ministry of Foreign Affairs of the Russian Federation from 2003 to 2006. He was his country's ambassador to Canada from 1998 to 2003 and to Belgium from 1994 to 1998.
Prior to that, Churkin was deputy foreign minister of the Russian Federation from 1992 to 1994. And before that, he headed the Information Department at the Foreign Ministry in the Soviet era.
Churkin made his first mark on the world stage in 1986, when, at age 34, he became the first Russian diplomat to testify before a U.S. congressional committee. He was questioned about the Chernobyl nuclear accident and asked to explain why Moscow waited for days before alerting its neighbors about the disaster.
It did not go well, as the Chicago Tribune reported in a story headlined "Soviet Envoy Does Dance For Congress."
"The world is appalled, Mr. Churkin, and they want to know why you didn't warn them," said Rep. Edward Markey, D- Massachusetts.
"We are certainly well aware of our responsibilities," Churkin replied. "We have been very forthcoming. It is my understanding that no harm was done — real harm — in those countries which are adjacent to the Soviet Union, to the people who live there."