Ukrainians were confronted Thursday by the force of a deadly Russian onslaught, which turned weeks of quiet fears into reality.
Air raid sirens wailed across Ukraine's capital, Kyiv, and explosions boomed and flashed in cities across the country minutes after Russian President Vladimir Putin authorized a military action against its western neighbor.
Long lines snaked outside of ATMs, supermarkets and gas stations in cities such as Kyiv and Mariupol as people scrambled to prepare for what was coming. 
Photos and video from the capital showed a huge traffic jam as residents struggled to flee west toward the Polish border. Others took refuge in the capital's subway stations.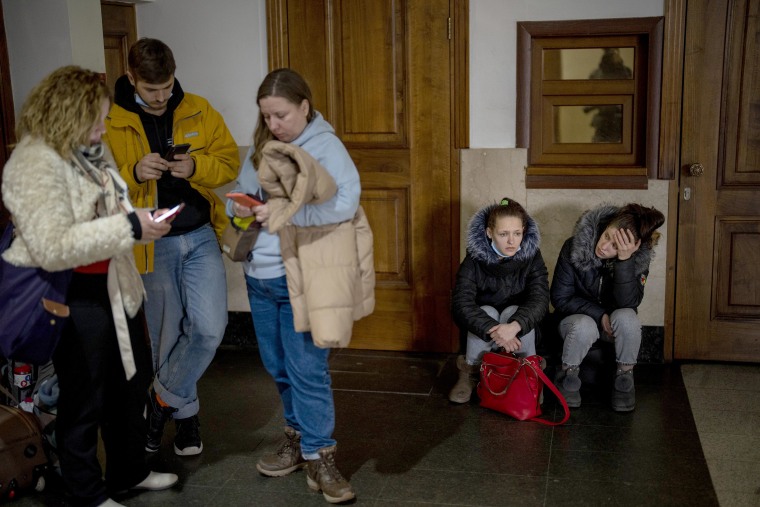 Just the night before, the city of some 3 million was still a bustling hub of activity.
Their lives turned upside down overnight.
"I'm scared," Alisa Rodionova, 20, told NBC in the Telegram messaging app from her mother's apartment. "People are just in a severe panic right now."
Rodionova, a hotel management student, said she heard sirens going off around 5:30 a.m. local time (10:30 p.m. E.T.) and heard explosions at around the same time. She and her mother are now thinking of trying to get to Lviv, a city in western Ukraine near the Polish border. 
In Vinnytsia, 120 miles southwest of the capital, Maria Demyanova, said there were huge lines near ATMs, shops and pharmacies as people stocked up on cash and essentials. 
"We get all the necessary things and will wait for some recommendations on what to do," Demyanova, 19, said. 
In the southeastern port city of Mariupol, Russian-speaking Ukrainians were also stocking up on food and cash. They told NBC News' Richard Engel they don't need Putin to "protect" them with an invasion. The Russian leader claimed in his speech that the military operation in Ukraine was intended to protect civilians.
"He is not helping," Tatyana, who did not give her last name, said as she waited to take out money at an ATM. "We don't need destruction."
Tatyana said she was still trying to come to terms with what was happening as she has family in Russia, but was prepared to defend her city.
"You believe this is happening, but then you don't," Tatyana, 55, added.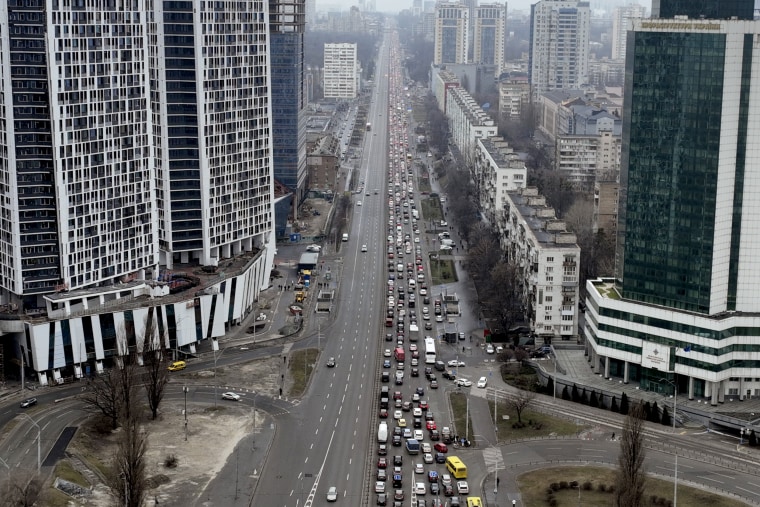 In northeastern city of Kharkiv, just 25 miles from the Russian border, Mikhail Shcherbakov told The Associated Press that a missile fragment had pierced the ceiling of his apartment. 
"I heard noise and woke up. I realized it sounded like artillery," Shcherbakov told the new agency. He jumped from the couch and ran to wake his mother, and something exploded behind him, Shcherbakov said. The missile left a nearby computer and teacup shrouded with dust.
NBC News correspondent Matt Bradley, who is in Kharkiv, tweeted that a series of explosions was heard in the city later on Thursday, a lot closer to its center than before.
But he said people were not fleeing the city and instead were hunkering down. The streets are almost empty, most shops are closed and there are lines of cars and customers at gas stations and grocery stores.
By around 9 a.m. local time (2 a.m. ET), NBC News' Erin McLauglin reported that Kyiv was quiet and that they had not heard any explosions for about two hours. 
"There has been an element of disbelief up until this point that the Russians would go after the capital," McLaughlin said. 
For months Russia has been amassing tens of thousands of troops on Ukraine's borders. Still, many Ukrainians had remained stoically calm in the face of warnings from the United States and its allies that Moscow was readying an attack. Ukrainian officials initially appeared to play down the warnings, but have been sounding more concerned in recent days as Russia recognized two breakaway republics as the country's east. 
An emotional President Volodymyr Zelenskyy addressed the nation early Thursday, declaring martial law across the country. In a later video message, he urged Ukrainians, who had long braced for the prospect of an assault while never knowing precisely when it would come, to stay home and not panic. 
His message was echoed by Ukraine's emergency service, asking civilians to remain calm. 
"Pack your valuables, warm clothes and be ready to to act accordingly to the official orders," its message read.
In Kyiv, city officials announced that as a result of martial law, schools and kindergartens would be closed, while hospitals and the entire medical system in the capital would be working in "intensified mode." 
Capital officials asked people who were not involved in the city's critical infrastructure to "stay home" and prepare to go to bomb shelters if sirens went off, with a reminder that shelters are marked on a map of the city. 
Kyiv Mayor Vitali Klitschko, a former professional boxer, said officials continued to ensure "the functioning of the city."
UNICEF said Thursday they were concerned about the well-being of the country's 7.5 million children, warning that tens of thousands of families could be forcibly displaced.
Meanwhile, the State Department warned U.S. citizens in Ukraine to shelter in place in an alert sent Thursday morning, warning that "further Russian military action can occur at any time without warning."