SAYLYUGEMSKY NATIONAL PARK, Russia — If you fly to the most remote corner of Siberia, drive for nine hours, cross another 60 miles of ice and hills in a sturdy Soviet jeep and climb a mountain, you just may see a snow leopard. Or maybe its footprint.
The endangered snow leopard is one of the most elusive and understudied of all big cats on the planet.
But this may change, thanks to a pioneering survey launched last month that aims to compile an exact headcount of all snow leopards in Siberia, down to the last cub.
It could be a crucial step in saving the felines, which are threatened by shrinking habitats, poachers' snares and guns and Asian traditional medicine.
"All of us like cats, of course. But it's not just a cat, it's an indication of the health of an ecosystem," said Dmitry Burenko, director of development at WWF Russia, speaking to NBC News in the Saylyugemsky National Park in the Altai mountains.
If that's true, the ecosystem of Altai — a Russian republic in southern Siberia — is definitely in trouble.
Its arid, windswept ridges host a population of 200,000 people in an area the size of Indiana. It is a UNESCO World Heritage site, and one million tourists flock here every year to ride horses, kayak or hike.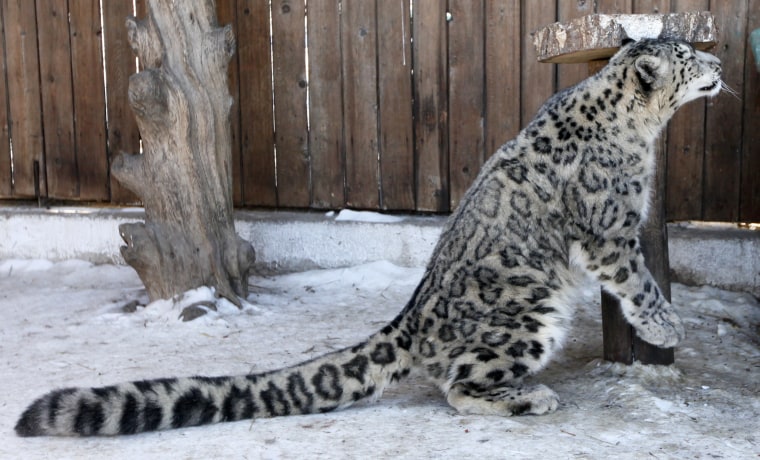 But between winter temperatures of minus 40 degrees, cutting winds and elevation of up to 14,000 feet, it's an inhospitable place for humans — which is exactly how the snow leopard likes it.
"The leopard favors hard-to-reach areas," said Alexander Karnaukhov, a leading expert with the World Wildlife Fund Russia.
The big cat is found in 12 countries but there are only an estimated 3,000-6,000 worldwide. The biggest populations are in China and Mongolia. Russia, the northernmost edge of the habitat, is thought to have no more than 60-70.
"No exhaustive surveys are held, and many countries exaggerate their numbers," Karnaukhov said.
The Science of Poop
Conservationists have been complaining for years about the lack of reliable leopard numbers. Countries use different counting methodologies, including the counting of traces which are easy mixed up with lynx and wolverines, and the figures are never compatible.
The Russian method being tested in the Altai starts with careful computer modeling of potential habitats.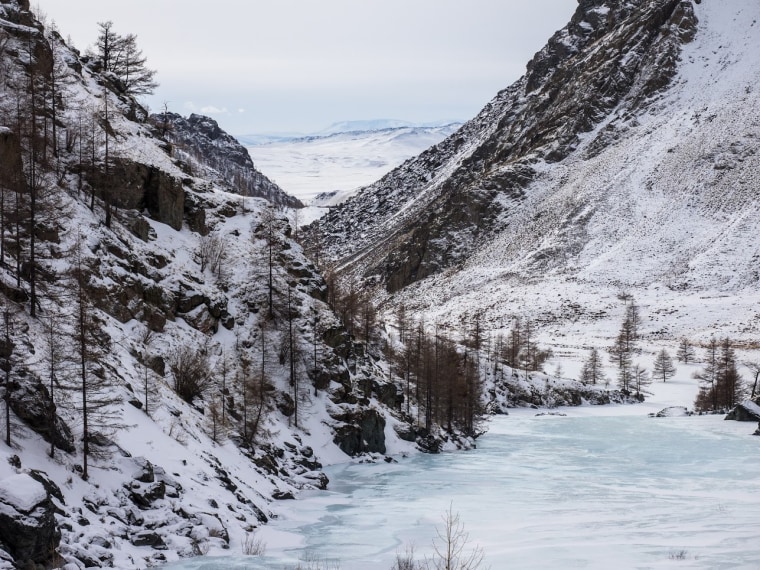 Rangers, who know area well, place cameras on game trails. This is far more dangerous than it sounds: The snow leopard prefers the tops of mountain ranges, from which it can see its prey — ibex and argali sheep.
An NBC News crew following a ranger to one camera location had to scramble 700 feet up a frozen mountain river where one misstep would send climbers sliding down to the steppe on the horizon.
The most important part is not pictures, but poop. Leopard excrement collected and placed into "zip bags" on game trails is analyzed for DNA that identifies not only individual leopards but their kinship.
"They never attack, never."
The method is not entirely unique — it is being used in another form to track tigers in India — but Russian scientists hope to perfect it so that it can be used for all snow leopard surveys from China to Tajikistan.
"We'll hold an international meeting on this method in May, and hope that other countries will adopt it," WWF's Karnaukhov said.
Ensnared Cats
Humans have been killing off snow leopards for a century, though not always deliberately.
Climate change affects some habitats and hunting remains a problem, though poaching is low in Russia, said Denis Malikov, deputy director of the Saylyugemsky National Park.
Leopards can also incur the wrath of sheep herders if they target flocks, though locals interviewed by NBC News said there were no problems.
"They never attack, never," said Petr Kundyanov, a proud owner of 600 sheep, the youngest of which he keeps in his living room. "They do no harm."
He has seen a snow leopard once in his 47 years in Altai, and that was through binoculars.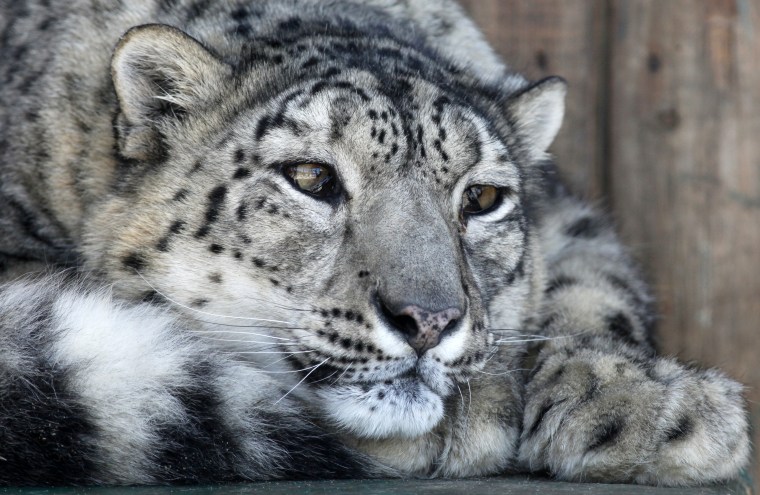 Finding food is another matter. While ibex sheep are still plentiful, the argali sheep is on the endangered list and still attracts hunters, sometimes in helicopters.
But most leopards in Russia die as collateral damage from poachers seeking musk deer, prized in Chinese medicine. Snares placed on game trails can trap and kill all animals, even the snow leopard.
"In the neighboring Sayano-Shushensky nature reserve, we had about eight leopards," Karnaukhov said. "Now, thanks to poachers, there's only one male left."
An exact headcount would help define and map habitats, paving the way for the expansion of protected areas that have greater controls against poachers.
The environmentalists have powerful backers: Russian President Vladimir Putin has his own leopard conservation program and personally rode a snowmobile in 2011 to check out a snow leopard captured in southern Siberia.
"The protected areas here are not located in snow leopard habitats," Karnaukhov said. "So for now, this work gives no result for snow leopard conservation."