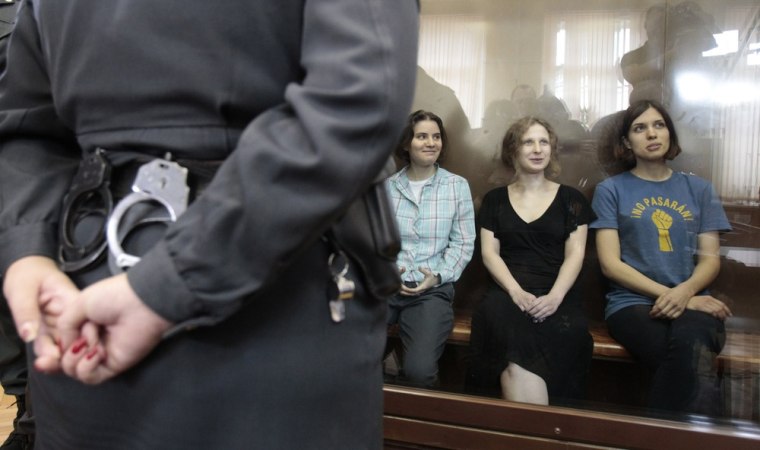 MOSCOW -- A Russian court ruled Thursday that video footage of the Pussy Riot punk group protesting against President Vladimir Putin in a church was "extremist" and should be removed from websites.
The demonstration last February offended many Russian Orthodox Christians. But Putin has been criticized by U.S. and European leaders over what they saw as disproportionate jail sentences imposed on three Pussy Riot members.
Their trial was also seen by Putin's critics as part of a clampdown on dissent.
'Mass disorder'
The Moscow court said it had based its ruling on conclusions by a panel of experts who studied the video, showing band members in colorful mini-skirts and ski masks dancing in front of the altar of Moscow's main Russian Orthodox cathedral.
Judge Marina Musimovich said the footage "has elements of extremism; in particular there are words and actions which humiliate various social groups based on their religion." She said it also had calls for mutiny and "mass disorder."
The verdict said that free distribution of the video could ignite racial and religious hatred.
The court's ruling applies to other videos released by the band, including a performance in Moscow's Red Square, where calls for mass disorder could be heard. Such calls were not made inside the church.
The websites are now likely to be included in a state register and could be blocked if the banned content is not removed.
The Russian communications regulator Roskomnadzor said that once the court decision takes effect it will monitor how it is implemented.
Russian female punk rock protester moved to solo cell after tensions
Three members of Pussy Riot convicted in August of hooliganism motivated by religious hatred for their "punk prayer," which the Russian Orthodox Church has cast as part of a concerted attack on the church and the faithful.
The women said the protest, in which they burst into Christ the Savior Cathedral and called on the Virgin Mary to rid Russia of Putin, was not motivated by hatred and was meant to mock the church leadership's support for the longtime leader.
Russian whistleblower dies in strange circumstances
Band members Nadezhda Tolokonnikova and Maria Alyokhina are serving two-year jail sentences over the protest last February. A third member, Yekaterina Samutsevich, walked free last month when her sentence was suspended on appeal.
"To me this is a clear attribute of censorship -- censorship of art and censorship of culture, of the protest culture which is very important for any country, let alone for Russia," Samutsevich told reporters outside court.
"Now of course the fact that they will be blocking all Pussy Riot videos as I understand, all photos -- this is horrible. Naturally, I will lodge an appeal and I will try to do it today," she added.
Freed Russian scientist: 'Nothing has changed'
Putin, a former KGB officer who has cultivated close ties with the Orthodox church over 13 years in power, has rebuffed Western criticism about the prison terms meted out.
More world stories from NBC News: