Tensions in the Sea of Azov have been simmering for months and this weekend its waters came to the boil.
Russian ships opened fire at three Ukrainian naval vessels Sunday after they attempted to enter the sea.
Ukrainian media reported that 23 crew members were detained, including six who were injured, and the vessels seized.
Kiev's navy is hugely outgunned and outnumbered by Moscow. Ukraine responded by putting its forces on high alert.
Some Western experts say the Kremlin's tactics in the Sea of Azov are straight out of the Kremlin playbook.
Analysts have been warning for months that the Azov, which is just under half the size of Lake Superior, is the latest example of Russia carrying out "creeping annexation" — where borders are subtly shifted to take territory, or in this case waters, from former Soviet allies.
The sea is technically shared by Ukraine and Russia as part of a 2003 agreement. That was before Russia annexed Crimea in 2014, a move denounced by the U.S. and its European allies as an illegal occupation.
This gave Moscow control of the Kerch Strait, the only maritime entrance into the Sea of Azov, which it literally cemented by opening a huge, low-lying bridge in May. Ukraine lost many of its naval ships when Crimea was annexed.
Ukraine has accused Russia of using this chokepoint to delay and block shipping. It also says Russia has been building up its naval presence there. Russia has countered by saying their actions are permitted under the terms of the 2003 treaty. The Kremlin says any additional ships its brought into the region are only there to guard the new bridge against attacks.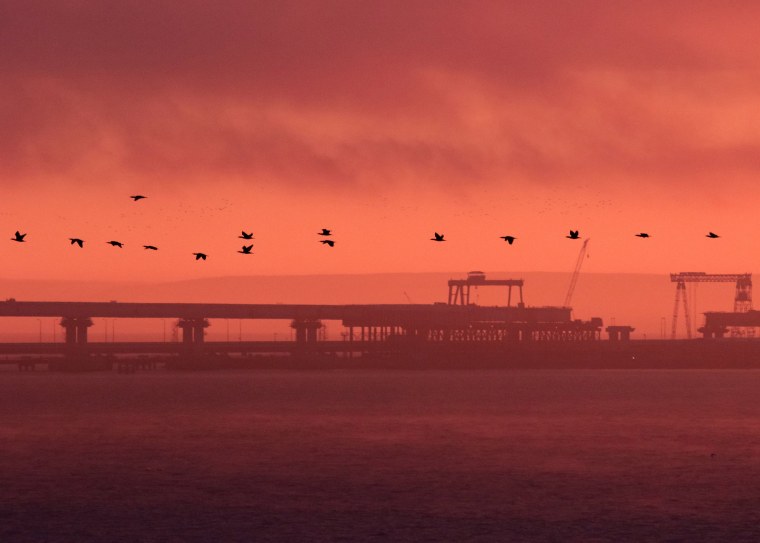 Cutting off Ukraine's access to these waters would isolate half of the country's coastline, including the economically important port city of Mariupol, and effectively turn the Sea of Azov into a Russian-controlled lake.
"Russia sees the Sea of Azov as an area where it can impose huge pressure on Ukraine," said Michael Carpenter, a former deputy assistant secretary of defense at the Pentagon.
Maxim Tucker, an expert on Ukraine with the Open Society Foundations, said the Sea of Azov incident represents a "dramatic" escalation.
"It is the first time the Russian military has openly fired on the Ukrainian military and claimed responsibility for it," he told NBC News.
In the east of the country, Ukrainian forces are still fighting Russian-backed separatists in a four-year conflict that has claimed more than 10,000 lives.
Michael McFaul, a former U.S. ambassador to Moscow, wrote in Foreign Affairs magazine this summer that "no theater in the fight to contain Russia is more important than Ukraine."
Ukrainian President Petro Poroshenko called Sunday's incident "a brutal violation of international law" and demanded the sailors' release.
'Military hysteria'
Russian Foreign Minister Sergey Lavrov on Monday called the situation "military hysteria" and accused the Ukrainian government of trying to score political points ahead of presidential elections in March.
Russian state media echoed the government's statement that Sunday's incident was a "provocation" by Ukraine. Its FSB security service, which guards the strait, said it was not notified that the small Ukrainian flotilla would try to pass through, and that the ships were maneuvering dangerously inside its waters.
But the explanation by President Vladimir Putin's government runs into several problems, according to Valentin Schatz, a research associate in public international law at Germany's University of Hamburg.
He said under the 2003 agreement, Ukraine "did not need Russian permission" to pass through the Kerch Strait. However, it could be argued it had an obligation to notify and cooperate with the Russian authorities controlling it, Schatz added.
Ukraine said it informed Russia; Russia denies this. If Ukraine is correct then blocking its ships' passage was "clearly illegal," Schatz said.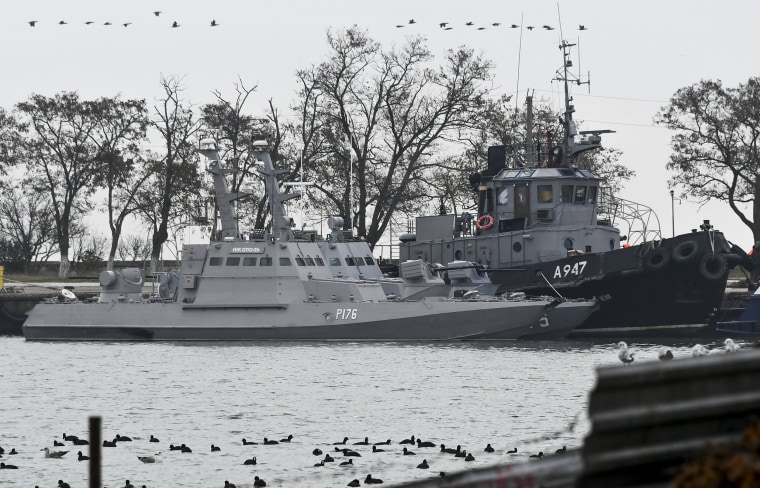 The use of force as a means to protect coastline can only be used in "exceptional circumstances" under international law, he said, and "foreign warships cannot be detained for trying to pass through a strait."
In any case, if the Russian objection was that the Ukrainian ships were in Crimean waters, Russia's annexation of that peninsula is not recognized under international law, "rendering any Russian enforcement action illegal per se," he said.
Kurt Volker, Washington's special representative for Ukraine who previously served as U.S. ambassador to NATO, also questioned Moscow's account of Sunday's incident.
Open Society Foundations' Tucker described the sea clash as "the latest episode in Putin's aggressive, expansionist military doctrine, which, ever since he ordered tanks into Chechnya in 1999, has sought to distract from the lack of any meaningful domestic reform."
Martial law
Some experts said that both Poroshenko and Putin might find the situation useful.
On Monday, Poroshenko signed a draft declaration imposing martial law until January, sending it to parliament, which approved it later in the day.
Poroshenko faces an election in four months and is behind in the polls. Martial law could give him the power to postpone this vote, offering up a political lifeline.
Putin's approval ratings have taken a hit as Russians have been feeling the economic pain from sanctions and his government's hugely unpopular decision to raise the retirement age.
"This may be a convenient political tool for both sides," said Matthew Rojansky, director of the Kennan Institute at the Woodrow Wilson International Center for Scholars, a Washington think tank. "Putin could use a patriotic distraction," he added, while "Poroshenko is in really dire straits."
He added: "I can't help thinking this is the real story here, and the onus will be on Ukraine's frail democratic institutions to resist essentially a power grab by the president himself."
Yevhen Filindash, a Kiev-based independent political analyst and former member of Ukrainian parliament, pointed out that Ukraine did not impose martial law after the annexation of Crimea, nor when fighting broke out in the east.
"It's quite transparent," he said. "They don't want the election because they know they are going to lose."