A single father who was sentenced to jail for discrediting the Russian army was on the run Wednesday after he fled detention, a dramatic twist in a case that emerged out of a drawing by his 13-year-old daughter and has highlighted the depths of the Kremlin's crackdown on free speech.
Alexei Moskalyov, 54, from the small town of Yefremov, south of Moscow, was convicted Tuesday over social media posts that were critical of the war in Ukraine and sentenced to two years in prison. His daughter, Maria, whose anti-war drawing at her school first drew authorities' attention and who was taken from her father when he was detained this month, wrote a supportive letter praising him as her hero. 
The case had already drawn media attention, as well as criticism from rights groups, before court officials in the Tula region revealed that he had escaped house arrest the night before the verdict. Now, with his whereabouts unknown, even some Russian hard-liners are expressing misgivings about the severe nature of the case.
Vladimir Biliyenko, Moskalyov's lawyer, said by phone Wednesday that he doesn't know where his client is or how he had apparently fled house arrest.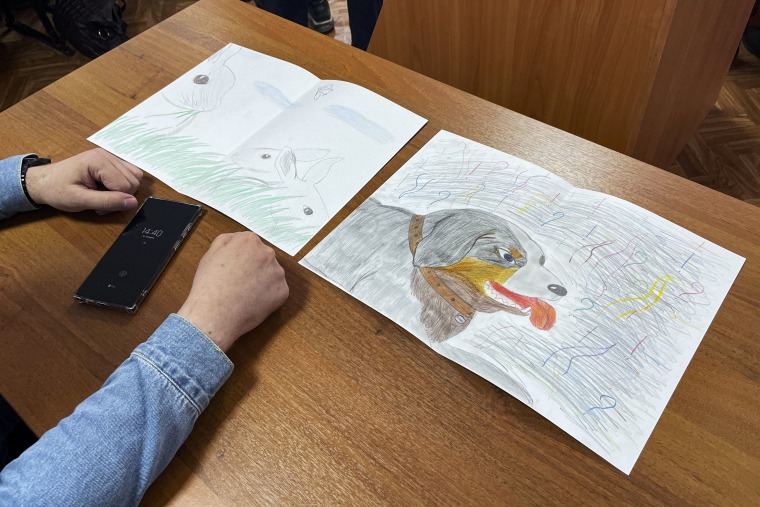 He said the Moskalyovs were a typical Russian family until Maria's anti-war drawing last April prompted concerns from school officials and drew interest in their lives from the Russian authorities. He added that his client had not pleaded guilty and said they plan to appeal his sentence.
Biliyenko said investigators opened a criminal case against Moskalyov in December for "discrediting Russian armed forces" based on his social media activity around the war in Ukraine last year. He was detained March 1, and his daughter was taken away to a social rehabilitation center for minors, Biliyenko said. Moskalyov was officially charged the next day and confined to house arrest, he added. 
Biliyenko said he tried to see Maria on Tuesday but was told that she was away taking part in a children's contest. He said he was given two drawings she had made for her dad and was allowed to take a photo of a personal letter she wrote to her father, in which she calls Moskalyov her "hero."
"The flywheel of repression is spinning out and reaching a new level."
— Russian political analyst ABBAS GALLYAMOV
"Know that we will win, that victory will be ours, no matter what happens, we are together, we are a team, you are the best," Maria wrote, according to the letter. Biliyenko confirmed its contents after another lawyer who said Moskalyov forwarded it to him released the letter publicly.
Her father was first investigated after school officials told police that Maria had drawn a picture during an art class that depicted missiles flying over a mother and a child, as well as Russian and Ukrainian flags with the words "No to war" and "Glory to Ukraine."
The draconian law used in the case was introduced just days into the invasion, criminalizing any criticism of the Russian army as President Vladimir Putin sought to stamp out dissent at home. 
The law, which threatens prison sentences for repeat offenders, has forced Russia's last remaining independent media to shut down and regular Russians to think twice before they speak out. In a crackdown not seen since the Soviet era, even using the word "war" instead of the Kremlin-sanctioned "special military operation" could land people in legal trouble. 
The prominent rights group Memorial, which won the Nobel Peace Prize last year and has been banned, said it considers Moskalyov "a political prisoner," calling the charges against him "anti-legal in nature," created to "carry out political repressions against critics of the Putin regime."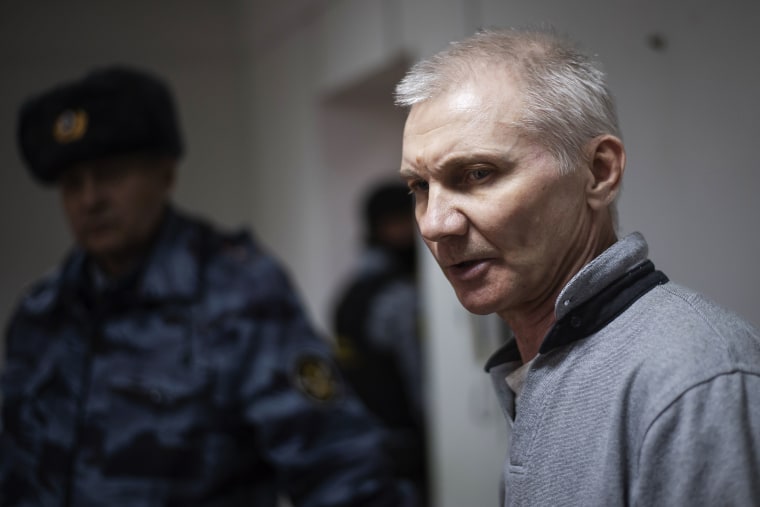 The group added in a statement that his case was a warning "to intimidate all opponents of the war not only with prison terms, but also with the destruction of their families and putting pressure on children."
Even some of the Kremlin's hard-liners appear to have found the case went a step too far.
Yevgeny Prigozhin, the founder of the Russian mercenary company Wagner Group, called the verdict "unfair" and asked that it be checked for its "legitimacy" in a letter addressed to the Tula region's prosecutor. The letter, which appealed to the fact that Moskalyov's daughter would be forced to grow up in an orphanage, said his Wagner mercenaries are "fighting with evil for the future of our children."
Prizoghin's mercenaries have taken on some of the most grueling fighting in Ukraine's east, elevating his profile in recent months. Once known as Putin's "chef" for catering state events, he has also publicly criticized the actions of Russia's top military brass, accusing them of mismanaging the Kremlin's campaign in Ukraine. 
Kremlin spokesman Dmitry Peskov refused to comment on Moskalyov's case when asked by reporters Wednesday, deferring to the court's decision. But he said the state was worried about what he called "a very deplorable state of fulfillment of parental duties and of provision of the living conditions for the child," referring to Moskalyov's daughter. 
Involving children in such cases works against the Kremlin, said Abbas Gallyamov, a Russian political analyst and former Putin speechwriter.
The peculiarities of Moskalyov's case and his daughter's role in it are "too much" and unacceptable, even for the loyalists of the Putin regime, he said, so it's not accidental that "an odious person like Prigozhin has spoken out." 
"The flywheel of repression is spinning out and reaching a new level," Gallyamov added.