On an early February morning, Russian opposition journalist and activist Vladimir Kara-Murza woke up in shock.
"The heartbeat was just getting faster and faster and I could feel it," he told NBC News in an exclusive interview. "I started having trouble breathing and it was very painful. It felt like no air is coming out, like I was suffocating."
Heart racing and sweating profusely, his body was quickly deteriorating. Within 15 minutes of waking up, he said, he could barely stand. He knew immediately what it was: He'd been poisoned — and it wasn't the first time.
"I knew straightaway what it was because this was the second time in two years that this happened, and it, and it began almost identically in the same way," he said.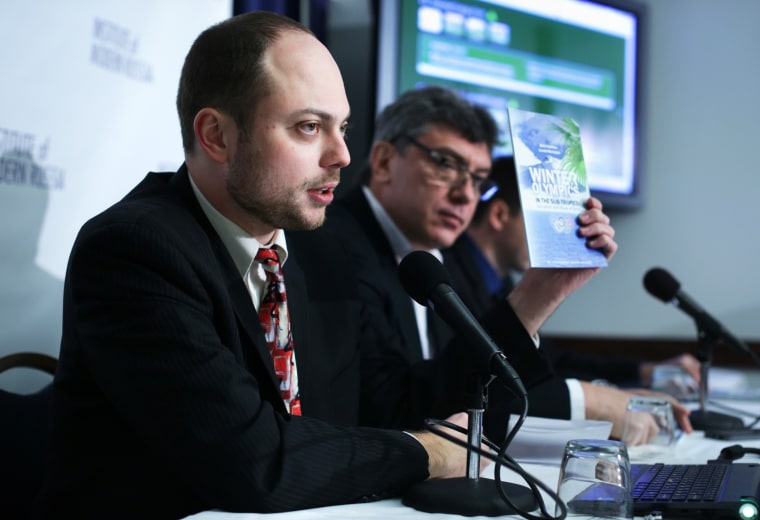 Kara-Murza was rushed to a hospital in Moscow, barely maintaining consciousness long enough to call his wife, Evgenia Kara-Murza, who was in the United States in Virginia, where she lives with their three children. Evgenia immediately called the same Moscow doctor who had treated her husband when he was poisoned in 2015.
"Their job was to save my life and they've done it twice in two years and I'm eternally grateful. There are no words to express how grateful I am to that team of doctors," he said.
When Kara-Murza was stable enough to travel, his family transferred him to America for more treatment and recovery. Toxicology labs in three countries are working to identify the poison, he said.
Related: Alexei Navalny: Russian Court Convicts Main Opposition Leader
"There are still many consequences. I feel like any 85-year-old man when I walk, but I've still got to walk," he said. "I'm really weak."
Kara-Muzra is a well-known critic of the Kremlin and President Vladimir Putin. At the time of his most recent poisoning, Kara-Murza was promoting a documentary about his late friend, a fellow activist named Boris Nemtsov. Kara-Muzra said doctors told him the substance he was poisoned with the first time was unidentifiable — and it's unclear to him how or when the toxins entered his body.
Nemtsov, a former deputy prime minister, was shot dead in February 2015 on a bridge across from the Kremlin.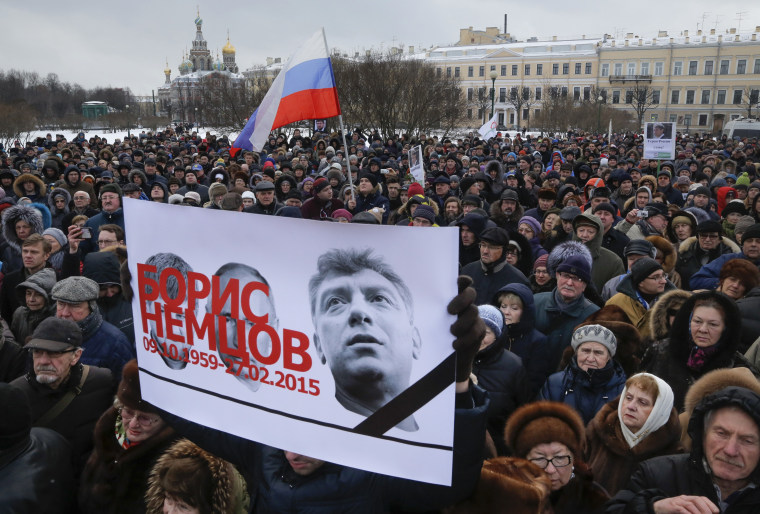 Kara-Muzra has long campaigned against Putin and his inner circle. He was a driving force behind the Sergei Magnitsky Rule of Law and Accountability Act.
The act, named for a lawyer who was allegedly tortured and beaten to death in a Russian jail, targets individuals involved in corruption or human rights abuses. It's been used to sanction several influential Russians.
"It is similar to what we had back in the Soviet days. We have media censorship. We have no free and fair elections in our country. We have political prisoners in Russia," Kara-Murza said. "But there's also one major difference: The members of the Soviet Politburo did not send their kids to study in the West. They did not store their money in Western banks. They didn't buy yachts and cars and real estate in Western countries."
And that's why Kara-Murza — just weeks after waking up from the coma of his second poisoning — says he's vowed to get back to work as soon as he feels healthier.