Russia's "Gen. Armageddon" seems to be missing no more.
A new photo appears to show Sergei Surovikin, a top general who was seen as close to Yevgeny Prigozhin and disappeared from public view after the Wagner mercenaries' mutiny.
The photo published Monday, as well as reports in Russian and foreign media, follow months of speculation about his fate. 
"General Sergei Surovikin is out. Alive, healthy, at home, with his family, in Moscow," read the caption on the photo, which was posted to the Telegram messaging app by a news outlet run by Ksenia Sobchak, a prominent Russian journalist and former presidential candidate.
The outlet added that the photo was taken Monday. NBC News could not verify that claim or whether the man in the photo is, in fact, Surovikin. The outlet did not elaborate on how the photo was obtained. 
The man who Sobchak says is Surovikin can be seen in the photo walking with an unidentified woman. He is wearing blue jeans, a gray shirt, a dark baseball hat and a pair of wide sunglasses — a departure from Surovikin's normally austere, uniformed appearance. 
Surovikin, known as "Gen. Armageddon" for his brutal military tactics, has not been seen in public since Prigozhin led a short-lived rebellion against the country's military leadership in June before he struck a deal with the Kremlin and stood down. 
Prigozhin was killed in a plane crash last month, Russian authorities said. The exact circumstances of his death remain unknown.
Surovikin is believed to have been close to Prigozhin, and it was alleged in the early days of the mutiny that he may have had advance knowledge of the mutiny, which presented the biggest challenge to President Vladimir Putin's rule in decades. The Kremlin dismissed the reports as "speculation and gossip" at the time. 
Surovikin was last seen in a video released hours into the rebellion, asking Prigozhin and his mercenary fighters to abort their mutiny. Since then, his fate remained a mystery amid Russian and foreign media reports that he had been arrested.
Last month, Russian state media reported that Surovikin had been fired as head of the country's aerospace forces. 
Aleksei Venediktov, a prominent Russian journalist and former head of Ekho Moskvy, an independent radio station authorities shut down within days of the Ukraine invasion, also said late Monday that "Surovikin is at home with his family." Venediktov has been reporting on Surovikin's fate since the mutiny. 
Surovikin is "on leave and at the disposal of the ministry of defense," he said in a post on Telegram. Venediktov did not share any visuals of the general, and he has not commented on the photo Sobchak shared.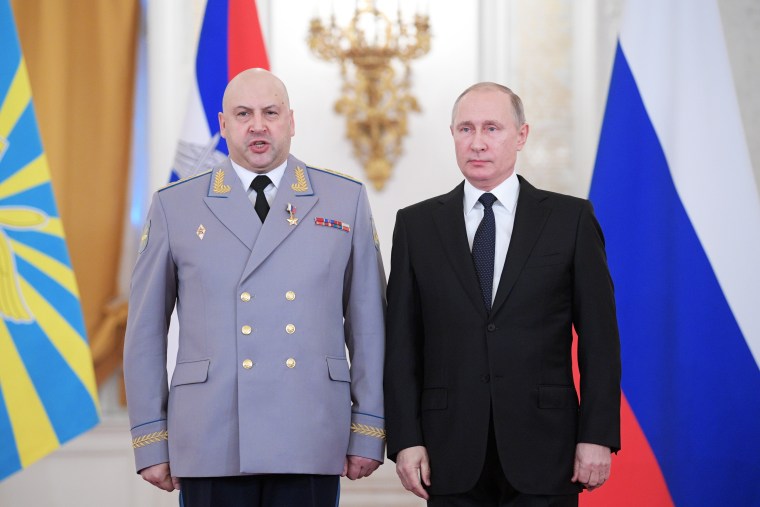 The New York Times also reported Monday, citing two U.S. officials and a person close to the Russian Defense Ministry, that Surovikin had been released. It said he has retained his rank and is technically still an officer in the military, but it's unclear whether there are any remaining restrictions on his movements or any other limits imposed by Russian authorities. 
Surovikin is a career soldier. He had commanded Russia's Aerospace Forces since late 2017 and was appointed as the overall commander of Russia's forces in Ukraine last fall, before he was replaced in January. He is widely considered one of the most effective Russian generals. 
The rumors about Surovikin's arrest and possible role in Prigozhin's rebellion have remained unconfirmed by officials in Moscow. Kremlin spokesman Dmitry Peskov declined to comment on his fate again Tuesday.