Syrian militants downed a Russian fighter jet and killed its pilot in northwest Syria on Saturday, the Russian Ministry of Defense reported.
The pilot flew a fighter jet, known as a Su-25, over the Idlib province when he was hit by a portable anti-aircraft missile system, Russia's news agency TASS reported the defense ministry saying.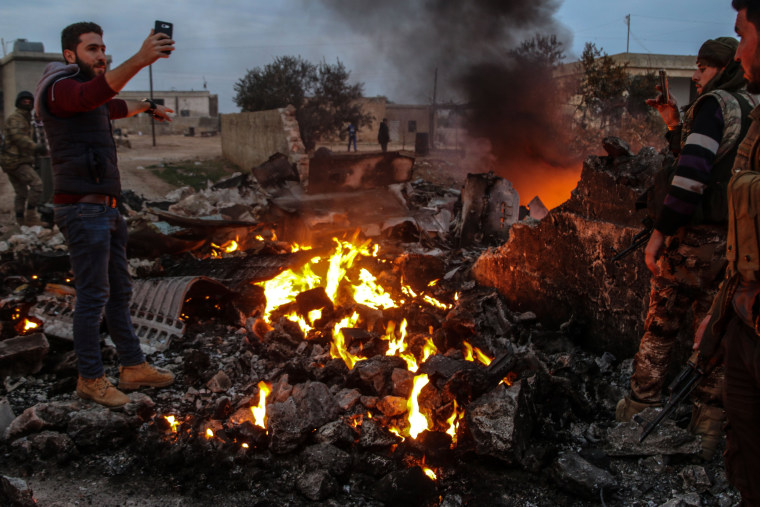 According to the Russian Defense Ministry, the pilot ejected from the plane before it crashed but was later engaged and killed by terrorists.
The successful downing of a Russian warplane by Syrian militants is considered to be quite rare.
Related: U.S. extends protected status for Syrians but caps enrollment
Shortly after the crash, Syrian militants released a video of them by the plane's wreckage and allegedly the Russian pilot's body. They claimed responsibility for downing the jet.
The details of that video were not independently verified by NBC News.
A commander of the al-Qaeda linked group Tahrir al-Sham in a statement claimed the group shot down the plane with a shoulder-fired missile in rural Idlib province, according to security consulting firm and NBC News partner Flashpoint Intelligence. The group did not provide further evidence to support its claim.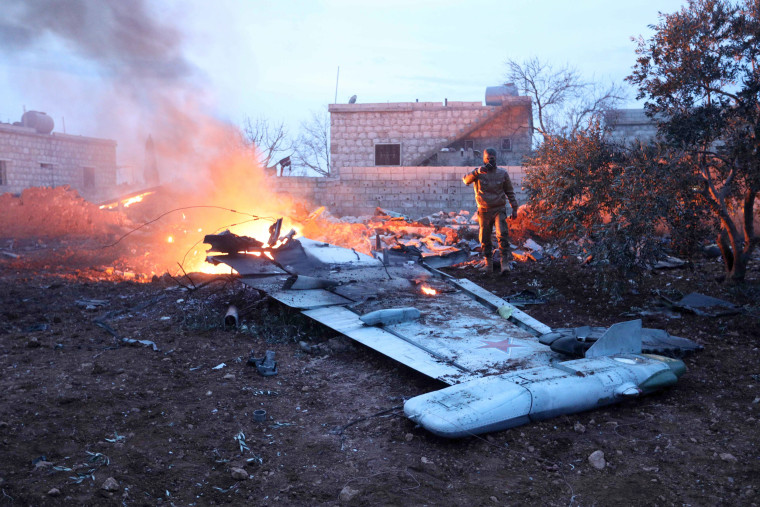 The U.S. State Department said it has seen reports that the plane was shot down and allegations that the United States provided MANPAD missiles to groups in Syria, and denied the claims.
"The United States has never provided MANPAD missiles to any group in Syria, and we are deeply concerned that such weapons are being used," State Department spokesperson Heather Nauert said in a statement.
"The solution to the violence is a return to the Geneva process as soon as possible and we call on Russia to live up to its commitments in that regards," Nauert said. She said "the United States is not involved in any way with respect to hostilities in northwest Syria."
Idlib province where the plane crashed is located southwest of the Syrian city of Aleppo, which has been ravaged during the ongoing civil war in Syrian.
Russia and Turkey are "taking measures" to return the body of the pilot, Russian media reported.
Russia carried out strikes in the area from where the missile was launched that killed 30 militants, Russia's defense ministry said according to TASS.