Ukraine said it feared scores of civilians might be dead or injured after a Russian missile strike hit a crowded shopping mall in the center of the country Monday.
More than 1,000 people were inside at the time of the rocket attack, President Volodymyr Zelenskyy said.
"The number of victims is impossible to imagine," he added in a post on the Telegram messaging app, sharing video that showed plumes of smoke rising above a building consumed in flames as people and first responders ran in front of it.
The attack hit a shopping center in Kremenchuk, a city in the Poltava region on the banks of Ukraine's Dnieper River.
Serhiy Kruk, the head of Ukraine's emergency service, said that so far 16 people have been confirmed dead and 59 injured.
Standing inside the rubble of what was once a supermarket, Anton Herashchenko, an adviser for the Ministry of Internal Affairs, said rescuers were digging to find potential survivors.
"Rescue workers are underway to save people who just came to buy groceries," he said, lifting the camera to show dozens of people frantically shoveling and sawing in to the blackened debris.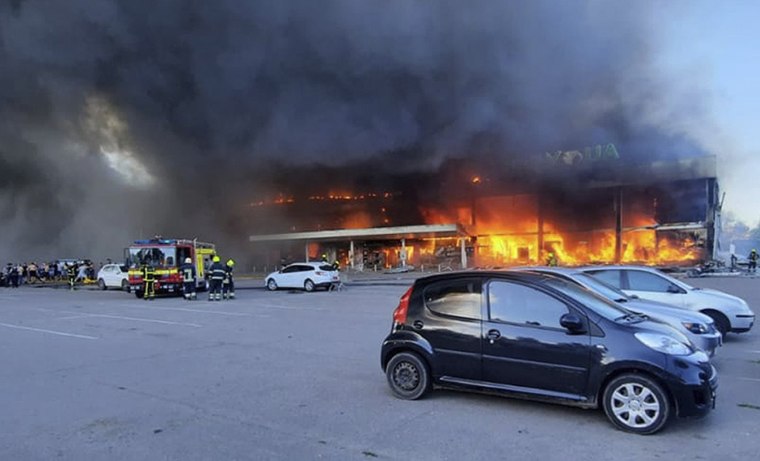 The Ukrainian Air Force Command reported that the missiles were fired from long-range bombers that took off from a Russian air base north of Ukraine.
NBC News has not verified that claim or the death toll. The Russian Embassy in the United States did not immediately respond to a request for comment.
At least one Russian official appeared to make the claim that the missile strike was a false flag. Dmitry Polyansky, Russia's deputy permanent representative to the U.N., called it a Ukrainian "provocation" on Twitter and mentioned Bucha, a suburb of Kyiv where hundreds were found in mass graves after Russian occupation.
The country has alleged in the past that the mass killings of Ukrainians in Bucha and other locations were manufactured by Ukraine. That claim was made despite evidence shared by residents, journalists and experts from organizations such as the United Nations and Human Rights Watch, as well as investigators from multiple countries, that Russian armed forces had committed numerous war crimes since the invasion began.
Zelenskyy said the site did not present any danger or strategic value for the Kremlin and alleged that it contributed to a pattern of horrific Russian acts.
"Russia continues to take out its powerlessness on ordinary citizens. It is useless to hope for adequacy and humanity on its part," he added.
The Ukrainian president addressed leaders at the Group of Seven summit Monday, pleading for more military support such as "additional air defense capabilities that could shoot down missiles out of the sky," according to national security adviser Jake Sullivan.
The U.S. is preparing to send a medium- to long-range surface-to-air missile system, Sullivan said in a briefing with reporters.
Later in the evening, Zelenskyy mentioned the attack as he further argued in a video statement that "the Russian state has become the largest terrorist organization in the world" and continued to advocate for countries across the globe to abandon the use of Russian oil and other financial ties. Multiple U.S. lawmakers, Republicans and Democrats, have joined Zelenskyy in calling for President Joe Biden to designate Russia as a state sponsor of terrorism.
As details filtered through from Kremenchuk, Ukrainian Foreign Minister Dmytro Kuleba said that the response from the world should be "more heavy arms for Ukraine, more sanctions on Russia and more businesses leaving Russia."
The strike took place just before 4 p.m. local time (9 a.m. ET), according to Ukraine's State Emergency Service, which said that recovery efforts were ongoing with the help of 115 rescuers and 20 pieces of equipment. Efforts also continued to extinguish the flames, which covered more than 110,000 square feet and had filled the one-story building that houses the shopping center.
Mayor Vitalii Maletskyi said the city had turned a local hotel into a contact point for those who had not heard from friends and relatives. A hotline number was created, as well.
National police chief Igor Klimenko said that he had deployed police forensic experts along with war crimes investigators to begin collecting evidence.
Though Monday's toll remains unclear, the incident carried echoes of some of the worst alleged atrocities of the war.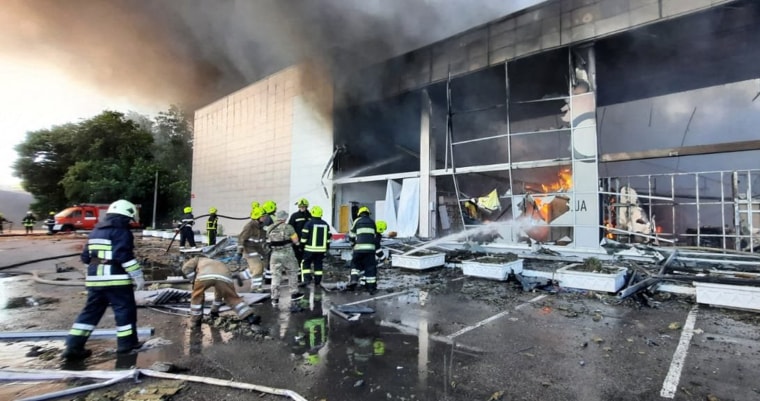 In April, a missile attack on the Kramatorsk train station in Ukraine's east left 50 civilians dead, including five children, as many sought to flee the conflict. A month earlier, a Russian strike on a theater in Mariupol where civilians had been sheltering is estimated to have killed hundreds.
The Kremlin has consistently denied targeting civilians.
Russian forces also appear to have shelled the northeastern region of Kharkiv on Monday, according to local Ukrainian officials, who reported that five people were killed and 30 people, including five children, were injured. That number, authorities said, is also expected to rise.
The strikes come just a day after Ukrainian officials blamed Russia for hitting two residential buildings in the capital, Kyiv, killing two people and signaling that Moscow was not limiting its assault to the eastern Donbas region where the fighting has been focused in recent months.