The American warships that launched cruise missiles at Syria last week were sailing in waters experiencing levels of Russian naval activity not seen since the Cold War, a top U.S. military official said.
The USS Ross and the USS Porter fired 59 Tomahawk missiles from the Mediterranean Sea, which separates Europe, the Middle East and North Africa.
Navy Admiral Michelle Howard said those waters, as well as other seas around Europe, have experienced a worrying spike in Russian naval activity in recent years.
"We're seeing activity that we didn't even see when it was the Soviet Union," Howard told Reuters in an interview late Saturday.
This build-up has coincided with a rapid deterioration in Washington-Moscow relations following Russia's annexation of Crimea and alleged backing of pro-Russia rebels in eastern Ukraine.
"They're a global navy, I understand that. But the activity in this theater has substantially moved up in the last couple of years," she told the news agency.
Howard is NATO's Allied Joint Force Command in Naples and commands U.S. naval forces in Europe and Africa.
Her comments came after the U.S. launched cruise missiles against a Syrian airbase it said was involved in a chemical attack on civilians that left dozens dead.
Early Saturday, around 36 hours after the American strike, the Russian military announced it had diverted one of its own cruise missile-armed warships from naval exercises in the neighboring Black Sea to join its battle group in the Mediterranean.
"The ship will operate in the region in accordance to the changing military situation," according to the state-owned news agency Sputnik. Its deployment meant there were now around six Russian warships and three or four support vessels in the Mediterranean, according to the news agency.
The ship, named the Admiral Grigorovich, was previously part of a group of Russian vessels, led by Russia's sole aircraft carrier, the Admiral Kuznetsov, which bombed Syrian rebels from the Mediterranean last year.
Russia's intervention in the war has helped turn the tide in favor of President Bashar Assad.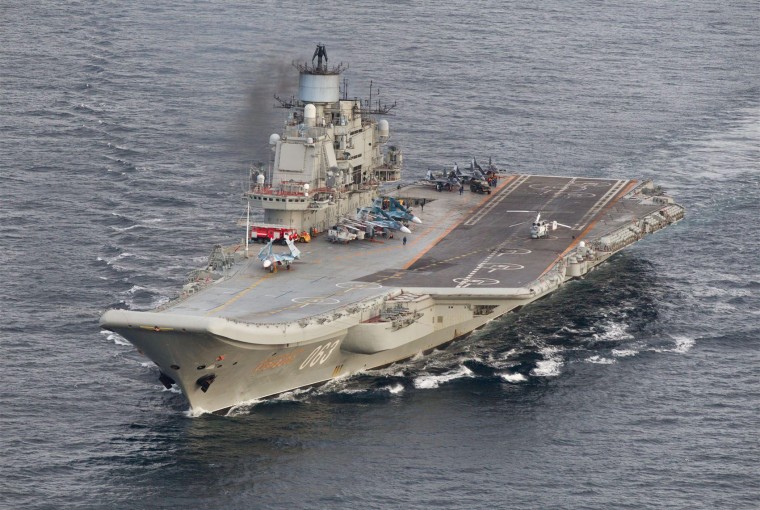 Russia's navy is smaller now than during the Soviet era, but Howard said that it had increased patrols in the north Atlantic and Arctic regions as well as in the Mediterranean and stepped up submarine deployments.
These movements have coincided with cyber attacks and a series of dangerous fly-bys of U.S. and allied ships, she said.
She said there was a danger that the heightened activity would cause NATO members to focus on areas close to them and lose sight of Russian activity in other regions — possibly leaving their allies exposed.
"When ... you think about what happens when they move forces around, you look at the alliance and they end up splitting and distracting the view of the alliance," she told the news agency.
NATO has built up forces in Poland and the Baltic states to levels not seen since the Cold War. It says its allies face destabilizing threats from Russia, but Moscow views the NATO build-up as a provocation.
President Donald Trump caused alarm among NATO states after suggesting he would not protect its members unless they agreed to meet suggested spending targets.