A Russian pilot was killed Tuesday while parachuting from his downed plane and so was a Marine dispatched to save him.
The doomed pilot was one of two Russians who ejected from their aircraft after it was struck by a Turkish missile, Lt. Gen. Sergei Rudskoy said in a statement.
The Russian Marine, whose name also was not released, was aboard one of two Mi-8 helicopters Moscow dispatched to a contested area along the Turkish/Syrian border to find the downed pilots, Rudskoy said in a statement.
"In the course of the operation, one of helicopters was damaged by small arms fire and performed an emergency landing in the neutral area," his statement read. "One contract serviceman — member of Marine Troops — was killed."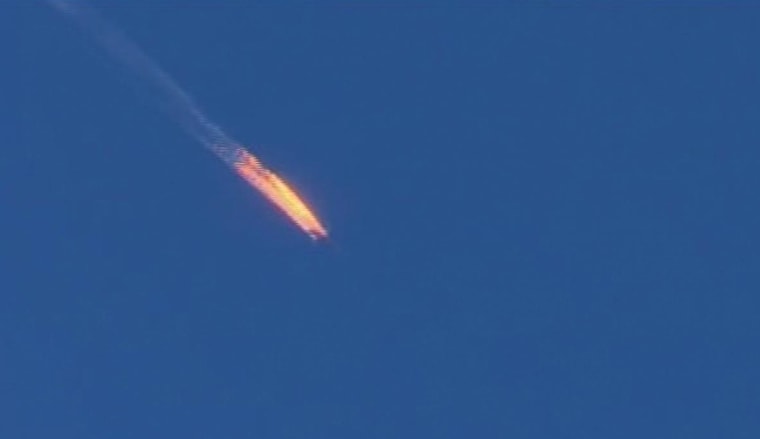 Rudskoy said one of the choppers "was destroyed by mortar fire conducted from the territory controlled by illegal armed groups."
The slain Marine and the rest of his crew were evacuated to the Hmeymim airbase, Rudskoy said. He did not address the fate of the second pilot.
Already furious with the Turks for shooting down their warplane, Rudskoy closed by declaring that "contacts with Turkey will be terminated at the military level."
Russia will also beef-up defenses at their Latakia air base in Syria and deploy the guided missile cruiser Moskva off the Syrian coast, Rudskoy vowed.
"We warn that every target posing a potential threat will be destroyed," Rudskoy said during the briefing.
The Turks claim they shot down the Russian warplane after it violated their airspace, and after they repeatedly warned the pilots.
Rudskoy said the Turkish missile struck their plane "over the territory of Syria."
"The objective monitoring data shows that the Russian aircraft did not cross the Turkish borderline," Rudskoy insisted. "Data received from the Syrian Air Defense Forces confirmed this fact as well."
It was the first time a NATO member downed a Russian or Soviet military aircraft since the 1950s and it strained the already tense relations between Russia and the West.
President Obama said Turkey had a right to defend its airspace but Russian President Vladimir Putin called the downing of the jet a "stab in the back by terrorist helpers."
The Russians along with Iran are the chief protectors of Syrian despot Bashar Assad and have been accused of using their military might to wipe out Assad's opponents instead of ISIS.
The Russian pilots landed north of Latakia in an area controlled by rebels fighting to topple Assad, Syrian fighters on the ground and Turkish sources told NBC News earlier.
After an emergency meeting, NATO Secretary General Jens Stoltenberg called for "calm and deescalation" of the angry rhetoric flying between Moscow and Ankara. But he said they believe their Turkish ally.
"I have previously expressed my concerns about the implications of the military actions of the Russian Federation close to NATO's borders," he said. "The information we have from other Allies is consistent with what we have got from Turkey."