A wave of Russian missile strikes hit critical infrastructure across Ukraine on Monday, leaving most of the capital without water, after Moscow blamed Kyiv for an attack on its Black Sea fleet and said it had pulled out of a crucial deal to allow grain shipments.
Mayor Vitali Klitschko said 350,000 homes in Kyiv lost power and 80% of the city, with a prewar population of nearly 3 million people, was without water because of damage to infrastructure facilities caused by the strikes. Klitschko said later in the afternoon that 270,000 homes remained without power, and 40% of residents still did not have water.
Already reeling from weeks of sustained attacks on energy facilities, the country was hit by a new barrage that knocked out power in regions from Kharkiv in the east to central Cherkasy and farther west, officials said.
The Kremlin's targeting of critical infrastructure has driven Kyiv to enforce tough restrictions on energy use as temperatures drop. But as fears mounted that the war would leave civilians in Ukraine and beyond facing a bleak winter, Moscow appeared to have stopped short of reimposing the grain blockade that threatened to exacerbate a global hunger crisis.
Ukraine said 12 ships carrying agricultural products had left three of its Black Sea ports, even though Russia said it had suspended its involvement in the United Nations-brokered deal to allow exports of grain from the war zone.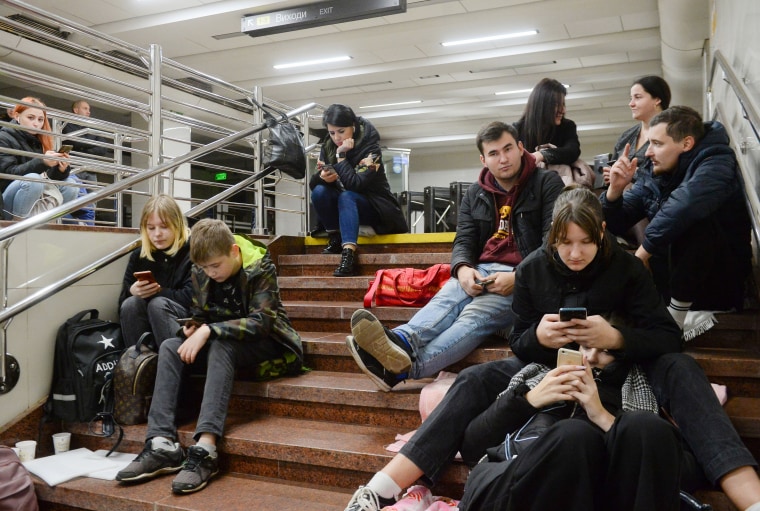 Residents of Kyiv woke up to the loud blasts across the capital as air raid sirens blared and people ran into shelters.
Part of the Kyiv region also lost all electricity, authorities there said as they warned residents it could be a while before the power came back on. Regional Gov. Oleksiy Kuleba said that residential buildings were also hit and that there were injuries.
Ukraine's army said more than 50 cruise missiles were fired by aircraft from within Russia on Monday, 44 of which were intercepted. Prime Minister Denys Shmyhal said Russian missiles and drones hit 10 regions, damaging 18 infrastructure sites, most of them energy-related.
The U.S. ambassador to Ukraine, Bridget A. Brink, said that like millions of Ukrainians, embassy staffers in Kyiv were "once again taking shelter as Russia continues its callous and barbaric missile strikes on the people of Ukraine in an effort to leave the country cold and dark as we approach winter."
'Russia fights civilians'
Ukrainian Foreign Ministry spokesman Oleg Nikolenko said the strikes causing electricity and water outages showed that "Russia is not interested in peace talks, nor in global food security. Putin's only goal is death and destruction," he said in a tweet.
The Russian Defense Ministry said Monday it carried out precision strikes on Ukraine's military and energy sites in a statement that echoed the one it issued Oct. 10, when Russia launched its first mass strike on critical infrastructure across the country.
That wave of attacks unleashed the biggest airstrikes on Kyiv and other Ukrainian cities since the start of the war, in what Russian President Vladimir Putin said was a direct response to a blast on his bridge to Crimea.
Over the weekend Russia accused Kyiv of attacking its Black Sea fleet in a Crimean port with 16 drones. Ukraine has not taken responsibility for the incident.
"Another batch of Russian missiles hits Ukraine's critical infrastructure. Instead of fighting on the battlefield, Russia fights civilians," Ukrainian Foreign Minister Dmytro Kuleba said in a tweet Monday.
"Don't justify these attacks by calling them a 'response.' Russia does this because it still has the missiles and the will to kill Ukrainians."
Russia and Ukraine are among the world's biggest food exporters, and a Russian blockade of Ukrainian grain shipments helped stoke a global food crisis this year.
In his daily video address Sunday, Ukrainian President Volodymyr Zelenskyy accused Russia of "blackmailing the world with hunger." Moscow was, once again, "putting the world on the brink of a severe food crisis," he said.
Among the vessels held up was one carrying tens of thousands of tons of wheat, chartered by the U.N. World Food Program for an emergency response in Ethiopia, he added.
Ukraine's Infrastructure Ministry said Monday that 12 ships had left three Black Sea ports despite Moscow's apparent withdrawal from the July deal, which requires Russia and Ukraine to coordinate inspections and transit of ships through the Black Sea with the U.N. and Turkey acting as mediators.
The U.N. said the deal had indirectly prevented 100 million people from falling into extreme poverty, and Secretary-General António Guterres expressed "deep concern" about Russia's decision.
President Joe Biden on Saturday called Russia's move "purely outrageous" and said it would increase starvation. Secretary of State Antony Blinken accused Moscow of weaponizing food.
Later, Russia called the movement of ships along the Black Sea corridor "unacceptable."
"The Ukrainian leadership and the command of the Armed Forces of Ukraine use it to conduct military operations against the Russian Federation," the Defense Ministry said in a statement.
"Under the current conditions, there can be no question of guaranteeing the security of any object in the indicated direction until the Ukrainian side accepts additional obligations not to use this route for military purposes."
The statement added, however, that Russia was not withdrawing from the deal, only suspending it.
Earlier Monday, Kremlin spokesman Dmitry Peskov said the implementation of the grain deal without Russia's participation was "hardly possible," making it riskier because Moscow could not guarantee navigational safety in the area. Peskov added that it was Kyiv's actions that put the deal in jeopardy, the Russian state news agency Tass reported.
The grain deal was a rare example of a negotiated settlement involving Kyiv and Moscow, with peace talks long since halted as Ukraine seeks to press forward with counteroffensives in the south and the east that have dealt damaging setbacks to Putin's war — now at the 250-day mark.
Russian state media reported shelling of cities under Russian control in eastern Ukraine. Tass quoted the mayor of Alchevsk in Luhansk as saying more than 10 residential buildings were damaged. The agency also reported seven explosions in the occupied city of Donetsk.
NBC News could not independently verify the claims.