LVIV, Ukraine — At least seven people were killed Monday after missiles struck the western Ukrainian city of Lviv, Ukrainian officials said.
The attack was a deadly extension of Russia's war into a city that has become a refuge for thousands fleeing from farther east as well as a major supply and logistics hub. It served as a grave reminder that Russian forces would continue to threaten all of Ukraine even as the Kremlin refocuses its military campaign on the country's east.
Ukrainian officials said missiles struck three military targets and a fourth hit a tire-fitting garage. At least seven people were killed and 11 were injured, according to the regional governor, Maksym Kozytskyy. One child was among the victims, he said, adding that the facilities were severely damaged.
NBC News heard two of the missile strikes and saw two others, but has not verified the numbers of people killed or the number of missiles used.
The first indication of the missiles was the sound of jets, which was unusual as few aircraft have flown over the city since the start of the war. The missiles that NBC News were able to see looked almost like two planes falling out of the sky until dull explosions could be heard and smoke poured from the blast sites.
Emergency services worked quickly to extinguish the fires, though the sudden sense of unease brought by the strikes still lingered.
Lviv Mayor Andriy Sadovyi told a news conference that there were now "no safe or unsafe locations in Ukraine," highlighting that the Russian missiles struck a civilian garage, as well as military targets.
"All the cities and villages are in the same situation," Sadovyi said. "The aggressor is committing acts of genocide. They are killing innocent civilians."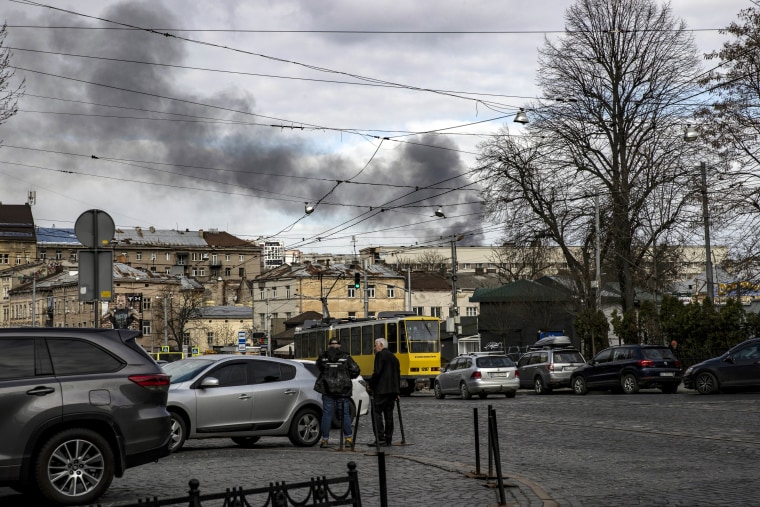 Moscow has said it intends to step up its attacks on Kyiv and supply lines across the country as the war on the ground shifts east, where Russian forces look set to launch a major offensive in the Donbas region that forms Ukraine's industrial heartland.
In Mariupol, Ukrainian defenders were making a last stand in a situation that President Volodymyr Zelenskyy called "inhumane." He vowed the last pocket of resistance in the strategically vital port city would "fight absolutely to the end" after weeks under siege.
Russian airstrikes disrupted the Easter holiday in other Ukrainian cities such as Kyiv and Kharkiv, where officials said 13 people died and dozens were injured in shelling since Sunday night.
Moscow has said the renewed aerial bombardment is retribution for alleged Ukrainian attacks on Russian soil, though it also comes after the sinking of its Black Sea flagship, the Moskva.
"The Russians continue barbarically attacking Ukrainian cities from the air, cynically declaring to the whole world their 'right' to … kill Ukrainians," Mykhailo Podolyak, a key adviser to Zelenskyy, said on Twitter.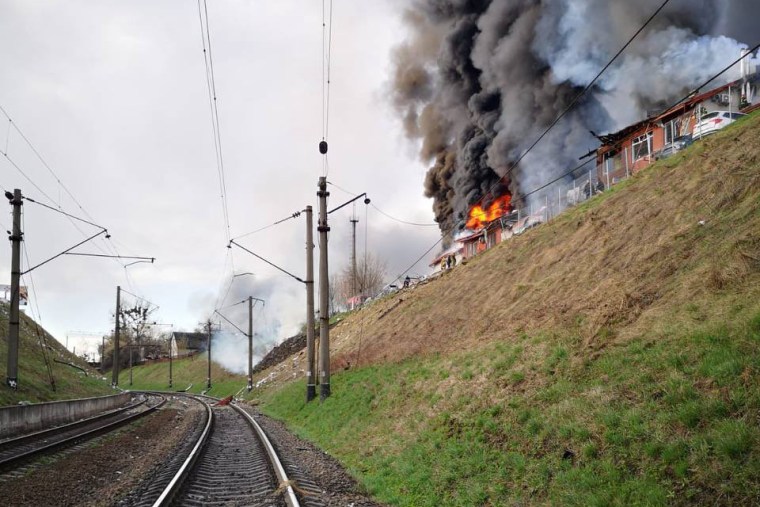 Lviv, however, had been a relatively peaceful haven during nearly two months of brutal conflict. "People are relaxed, the sun is shining [and] people can have coffee outside," the mayor said, explaining that he understood the false sense of security that had been shattered early Monday.
But the city, now home to an additional 200,000 displaced people, is also an essential point of Ukrainian resistance.
Close to the border with Poland, a NATO ally, it is crucial to supplying forces farther east and also serves as a transition point for Ukrainian civilians as well as a hub for journalists, Western officials and humanitarian workers.
It appeared that the missiles had struck near the Lviv train station, which has become the heart of Ukraine's mammoth effort to move supplies and people through the country and beyond.
Thousands have amassed at the railway station each day since the start of the war, many either waiting for a train heading west to start their lives as refugees, or to meet loved ones coming to join them in Lviv, where life until now has been relatively peaceful.
Oleksandr Pertsovskyi, the head of the Ukrainian Railways, told reporters that he could not speculate about what exactly the Russians were targeting, but said it did not appear to be the railway. "Some sites neighboring the railroad were hit," he said, though he added that he hoped any damage to the railway infrastructure would be fixed by Monday evening.
A few trains were rerouted and others were held up momentarily. Though passengers temporarily escaped to shelters, the railway station reopened quickly and trains began to run normally again even as sirens continued.
Air raid sirens often go off in Lviv, but locals had begun to ignore them and go about their days.
Monday's seemingly deadly attack, however, brought a new edge to those blaring warnings as many looked to the sky for more strikes on a city that they had believed was safe from Russian aggression.