MOSCOW — It is by now a familiar pattern: Russian troops mass near the Ukrainian border, triggering ratcheting rhetoric and jitters across Europe and the United States that war might be imminent, before a flurry of diplomacy calms nerves.
Officials and experts say that this time is different — and there are several clues giving them genuine concern that the current gambit by Russian President Vladimir Putin might be for real, and the start of a conflict that could drag in Europe and even the U.S. itself.
Putin has deployed more than 90,000 troops along Russia's border with Ukraine, matching the force that he sent and withdrew in the spring. But whereas those troops maneuvered in open daylight, now they have mostly been far less showy, moving under the cover of darkness.
And Moscow's rhetoric has noticeably hardened in recent months, saying it will not accept what it sees as a deepening of ties between Ukraine and the West.
"Moscow is so positioned that they can move with very little warning," said John Herbst, a former U.S. ambassador to Ukraine who is now a senior director at the Atlantic Council, which describes itself as a nonpartisan think tank. "They're certainly threatening. And they're in a position that if they want to, they can do it."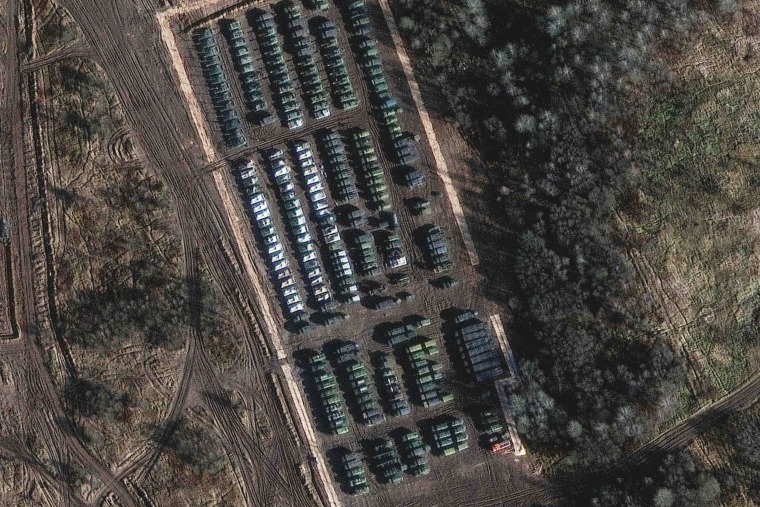 Few people, if anyone, outside Putin's inner circle know what he's planning. Analysts say this could be another attempt to gain leverage over Ukraine, and a warning to the West not to meddle in the Kremlin's strategic and spiritual backyard. But some reckon war is far from impossible.
"We're deeply concerned by evidence that Russia has made plans for significant aggressive moves against Ukraine," Secretary of State Antony Blinken said Wednesday in Sweden ahead of a meeting of the the Organization for Security and Co-operation in Europe, an international security organization.
"We don't know whether President Putin has made the decision to invade," he added. "We do know that he's putting in place the capacity to do so in short order should he so decide."
He added that he thought it was "likely the presidents will speak directly in the future."
Kremlin spokesperson Dmitry Peskov said Saturday that Biden and Putin have plans to hold a video call on Tuesday. "The presidents will decide for themselves" the length of their conservation, Peskov added.
NATO Secretary-General Jens Stoltenberg on Tuesday warned Russia would pay a "high price" if it invaded.
Blinken met Russian Foreign Minister Sergey Lavrov on Thursday at the sidelines of the OSCE meeting in Stockholm. Blinken is also meeting Ukrainian Foreign Minister Dmytro Kuleba.
Download the NBC News app for breaking news and politics 
Such an incursion is not hypothetical. In 2014, Russia invaded the Ukrainian peninsula of Crimea, while supporting separatists fighting a war in eastern Ukraine that has since claimed 14,000 lives.
Russia's fixation with Ukraine is as much about nationalist emotion as it is about strategy. In July, Putin published a 5,000-word essay arguing Ukraine is part of "historical Russia" and that the two countries were "essentially the same historical and spiritual space."
Putin has previously called the collapse of the Soviet Union, of which Ukraine was a part, "the greatest geopolitical catastrophe of the century."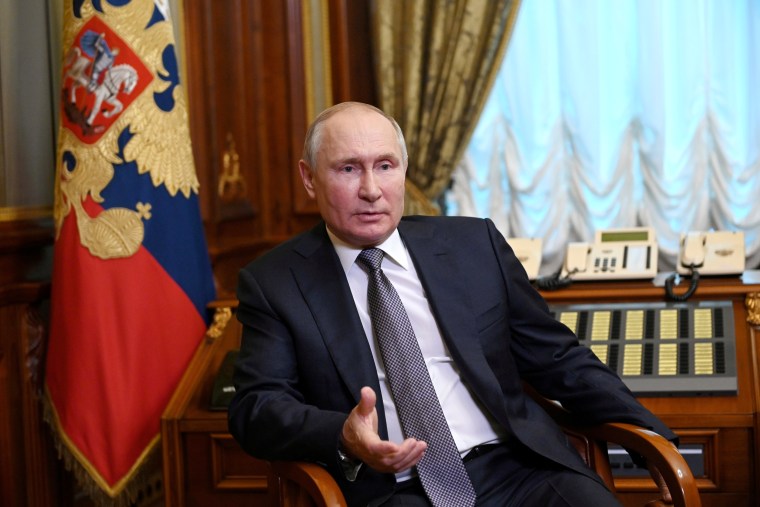 Russian officials deny they are planning an invasion, saying the troops are deployed for military exercises. The Russian Foreign Ministry, which has previously criticized NATO for military drills in the neighboring Black Sea, accused Ukraine on Wednesday of sending 125,000 troops to the border region.
These tit-for-tat exchanges are commonplace. But what has changed is Putin's rhetoric. Previously, he has opposed Ukraine joining NATO, something that country has wanted to do for years but has faced opposition from the alliance, which says Kyiv has not done enough to fight domestic corruption.
On Tuesday, Putin said he had new "red lines" — Washington and its allies must not deploy missiles in Ukraine capable of hitting Moscow. "What are we to do in such a scenario? We will have to then create something similar in relation," he told an investment forum in the Russian capital.
This is "no longer just about Ukraine joining NATO," Vladimir Frolov, a foreign policy analyst in Moscow, said. Russia is trying to prevent Ukraine from "becoming a NATO aircraft carrier," he said.
The U.S. has committed $2.5 billion assistance for Ukraine's military since 2014. The most significant weapons are anti-tank Javelin missiles, given on condition they be stored hundreds of miles away from the front lines.
Still, Putin is operating from a position of relative strength. Constitutional changes in April eliminated Russia's conventional term limits and will allow him to rule until 2036. His domestic approval rating, which soared after the invasion of Crimea, is lower now but still sits in the high 60s, according the Levada-Center, an independent Russian pollster.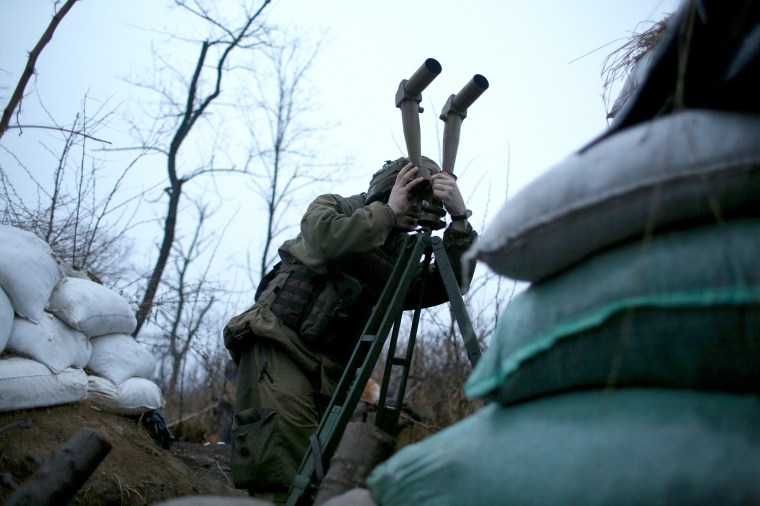 By contrast, the U.S. has made it clear that China now ranks far ahead of Russia in its priorities. And European countries remain divided on how harshly to treat Moscow, with some cautious not to jeopardize their economic ties with Russia and its dominance over the continent's gas supplies.
Another dynamic that has changed is Ukraine's claim that Russia is waging an "energy war," as Ukrainian Deputy Energy Minister Maxim Nemchinov described it to domestic TV in November.
He accused Russia of blocking Ukraine's thermal coal imports from Kazakhstan. Kyiv also has a long-running grievance that the Nord Stream 2 pipeline between Russia and Germany will circumvent Ukraine as the main gas route into Europe, depriving the country of lucrative transit fees.
Most officials and experts agree war cannot be ruled out.
The State Department "can't speak to Russia's intentions," Karen Donfried, assistant secretary of state for European and Eurasian affairs, told a briefing last week.
And Washington isn't the only one kept guessing.
"Anyone who claims they can read Putin's mind is selling you something," said Michael Kofman, a senior research scientist at CNA, a research group based in Virginia.
There is just as much chance that this is only another Putin ploy: To gain leverage in Ukraine's stalled peace talks, to deter the West, and to win another summit with President Joe Biden.
War would come at a huge cost for Russia. Fighting a highly improved Ukrainian army would incur deaths and inevitable Western sanctions. Putin "pays no price for simply bluffing. Whereas he pays a price if he actually goes in," Herbst said.
Still, given the buildup of troops and increasingly hardening rhetoric from Moscow, "you can't operate under the assumption that they are bluffing," Kofman said.
Matthew Bodner reported from Moscow, Dan De Luce and Abigail Williams reported from Washington, Alexander Smith reported from London, and Veronika Melkozerova reported from Kiev.