Russian women are posting selfies on social media showing their faces covered in fake cuts and bruises to protest Russia's lax domestic violence law, under which abusers face just a $500 fine or two weeks in jail.
The campaign was started by prominent human rights activist Alena Popova and social media influencer Alexandra Mitroshina, who say it was in response to the recent death of Oksana Sadykovu, a Russian woman whose husband killed her in front of their eight-year old child after she filed for divorce.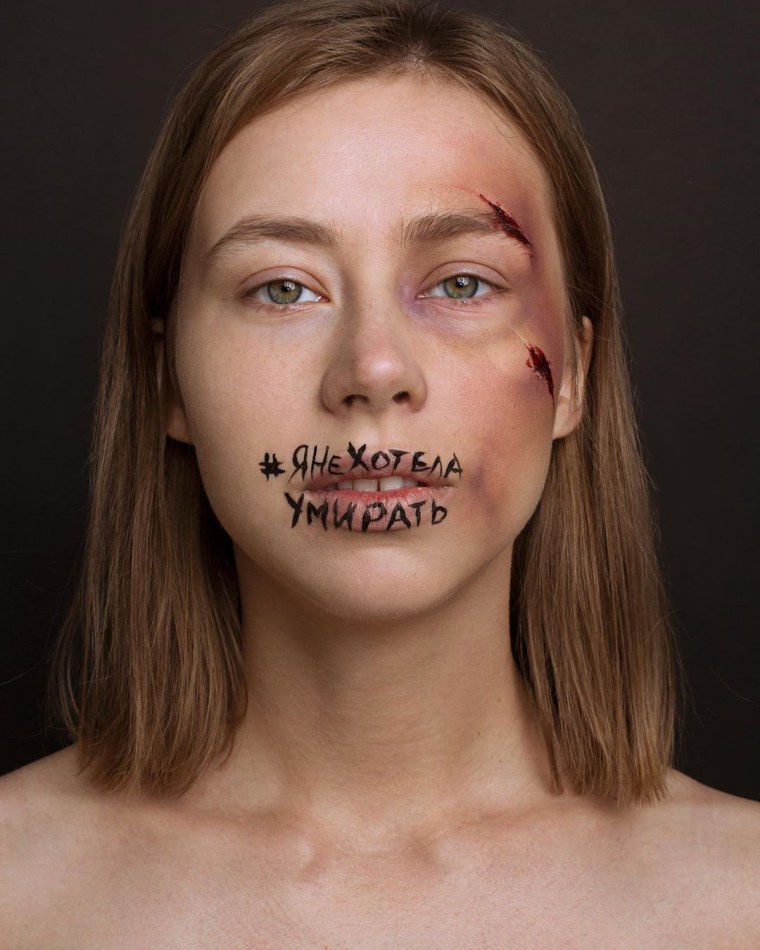 Mitroshina launched the campaign on July 20, posting a photo of herself on Instagram with a black eye and two gaping wounds around her left eye. On her lips was a slogan written in black eyeliner that translates as #IDidn'tWantToDie.
The visual was created with the help of a make-up artist and photographer, Mitroshina said, but the problem is very real.
"About 12,000–14,000 women die from domestic violence in Russia every year," she wrote. "In America, where the system of prevention and combating domestic violence is highly developed, it's 3-4 times less, even though their population is twice the size of ours."
Mitroshina asked her 1.8 million Instagram followers to take a photo of themselves holding a sign bearing the hashtag or writing it on their skin. They could also use make-up to create the semblance of injuries for the photos if they wished, she said.
Since then, Russian women have publicly posted photos of themselves on social media, including over 8,000 on Instagram, some with fake injuries, others with just the hashtag and harrowing accounts of their own experiences of abuse.
"Once, my brother got bad grades and [my father] beat ALL of us with a dog leash," wrote one woman. "Another time, he beat my sister into a concussion."
Russia decriminalized some forms of domestic violence in February 2017, when the upper house voted in an amendment that removed criminal liability for first-time assaults on family members that do not cause "serious harm requiring hospital treatment," according to Human Rights Watch. The punishment is a fine of less than 30,000 rubles ($500) or a 15-day arrest.
As part of the campaign, activist Alena Popova has started a petition demanding new legislation against domestic violence, which has so far gathered 60,000 signatures.
Their movement is "dedicated to women who were killed by domestic violence, and also for women who are currently sitting behind bars for killing their partners who subjected them to violent domestic abuse,'" Mitroshina explained in her post.
"In other words, 'I didn't want to die and that's why I defended myself against the aggressor'."