Frustrated Russians worried about the economic impact of coronavirus lockdowns have found a creative way to protest without leaving their houses: by leaving comments on popular online maps.
On Monday, residents of Rostov-on-Don, a city of more than a million people in southern Russia, took to the virtual streets of a popular mobile navigation app to protest against a stringent lockdown, which began in Moscow on March 30 and has since spread to multiple regions. They also protested what they see as a lack of state economic support.
Yandex.Maps and Yandex.Navi, Russian-made services similar to Google Maps, allow users to drop comments in the form of little speech bubbles on city maps to help travelers navigate unforeseen traffic jams or other hazards.
Over the course of several hours, Rostov residents used the speech bubbles to leave comments outside the digital map versions of the city's municipal buildings to register their displeasure. The messages ranged from "we want to eat!!! no work!!!" to "stop choking small business!!!"
Political protests are not uncommon in Russia, especially over the past year as public frustration with economic and political stagnation has flared, particularly in Moscow. But the authorities are often quick to disperse any unsanctioned rallies, sometimes violently.
The virtual protests this week were, in their own way, no different. Yandex quickly deleted the comments, and those that were not deleted have since timed out and are no longer visible on the services.
Virtual displays of dissent are also not uncommon, especially on the Yandex.Navi service. Moscow drivers often use the feature to vent when official Kremlin motorcades see central roads closed, sparking gridlock that quickly reverberates throughout the city.
The Rostov virtual demonstrators called on the government to declare a state of emergency – which would oblige them to offer more money to support out-of-work citizens and struggling small businesses – or end the lockdown.
Russian authorities were slow to implement strict measures aimed at curbing the spread of the virus, but even after imposing a nationwide stay-at-home order nearly a month ago, Russian President Vladimir Putin has refrained from declaring a formal state of emergency.
Since then, regional governors and city mayors have taken things further. In Moscow, Mayor Sergei Sobyanin has implemented a strict lockdown with no clear end date, regulated by an electronic pass system.
The legality of these orders, without an accompanying state of emergency declaration, have been questioned. But that has not prevented them from being emulated around the country. And authorities have been reticent to provide large-scale stimulus packages to small-business entrepreneurs.
"Small and medium-sized businesses are like aliens to this regime," says Andrei Kolesnikov, a political analyst at the Carnegie Moscow Center, a think tank, "despite the fact that they are paying taxes to them."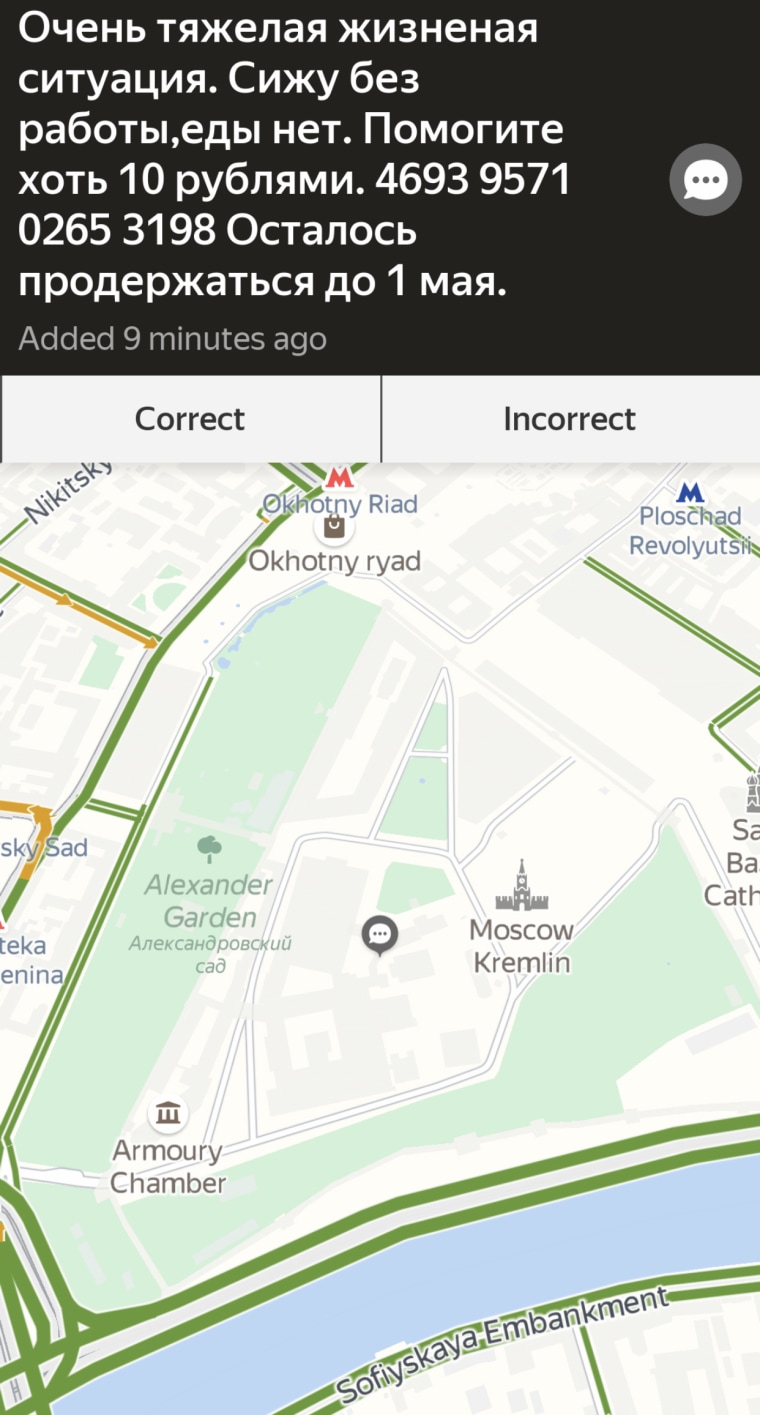 Instead, government stimulus efforts have been focused on larger state-owned enterprises, which still dominate the Russian economy. Meanwhile, some of Russia's most successful oligarchs and state-companies have been footing some of the bill.
But, with no end to the nationwide lockdowns in site, and Russia's caseload rising, the potential for more online protest is growing. Russian stimulus measures aimed at helping businesses pay worker salaries -- though just around $150 per worker -- don't begin until May.
"The example of these virtual protests will spread now with the speed of the infection," Kolesnikov says.
By the end of Monday, the virtual protestors of Rostov had inspired similar – and in some cases much larger – demonstrations in Russia's largest cities, including St. Petersburg and Moscow, where chat bubbles littered Red Square.
"Listen to us!" one user pleaded, "We are scared and have no money!"
These comments were quickly deleted by Yandex, which said in a statement that any nontraffic related messages are promptly removed.