CHASIV YAR, Ukraine — At 9 months old, baby Alyona has lived through nothing but war.
Such is the threat from constant Russian shelling; she rarely gets to leave the cramped, dark basement in the small eastern Ukrainian town of Chasiv Yar that she, her parents and five other adults call home.
While they have enough food and water, their lives are on hold, their exhausted minds on constant alert. The street next to theirs was recently hit by a bomb, the shrapnel ricocheting off their building. Windows are blown out across the town, glass strewn all over the frozen ground.
Nearby, a burned-out five-story apartment block is now a brick shell showing hardly any signs that it was once inhabited. Hit by a rocket strike in July, 48 people including one child were killed, the Ukrainian State Emergency Service said at the time.
"I have to be careful," Alyona's father, Artem, 36, told NBC News as his oblivious daughter played with a rattle. "I'm responsible for the life of my wife, of my kid, and now the kid is living in the condition that she doesn't see the sunshine and sometimes there are days that she doesn't go out. Only when I'm sure that there will be no shelling here."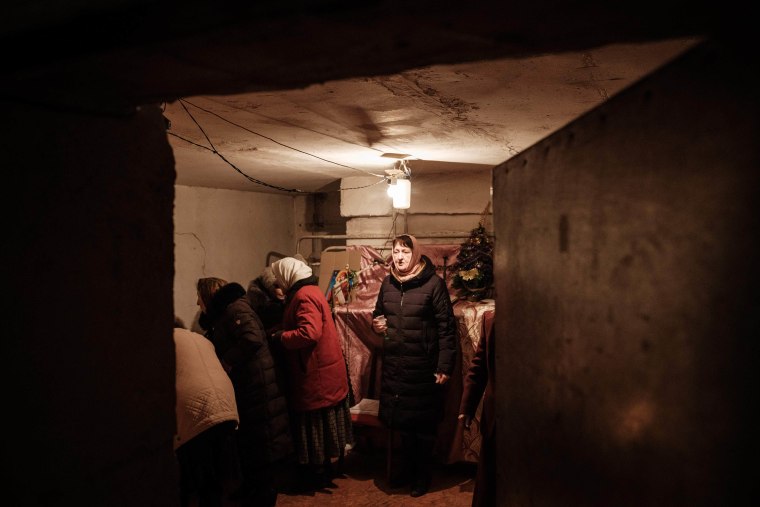 Now the widely anticipated Russian offensive on eastern Ukraine has begun, and the front line's drawing ever closer.
A huge barrage of missiles and drone attacks targeting towns and cities set off air raid sirens across the country Friday, after days of intensifying ground attacks along the front lines in the east.
"There is a daily escalation, and Russian attacks are becoming active throughout the region," Pavlo Kyrylenko, the governor of Donetsk, said Friday. As with previous large-scale bombardments, energy facilities were targeted causing localized blackouts. For now, for most people, the lights are still on.
But for the thousands of Ukrainians who either can't leave or refuse to leave homes in the firing line, there is no end in sight to the waking nightmare of war.
Chasiv Yar is in the Donetsk region, which is largely held by Russian forces, just a few miles west of Bakhmut, the war-torn city that's become a symbol of Ukraine's defiance.
Analysts have warned that Moscow's forces, pushing for a high-profile victory to coincide with the Feb. 24 anniversary of the invasion, could finally be on the brink of taking Bakhmut as Russia looks to push further west to consolidate its hold on Donetsk and neighboring Luhansk, which together make up the Donbas region — known before the war as the home of Ukraine's industrial heartlands.
Leaving is often easier said than done.
Artem and his wife, Oleksandra, 26, traveled around 155 miles west to the city of Dnipro to apply for temporary displaced status. But the small handouts they were given and the difficulty of finding work proved all too much. So despite the dangers, they returned to Chasiv Yar. Like so many, they have older relatives nearby.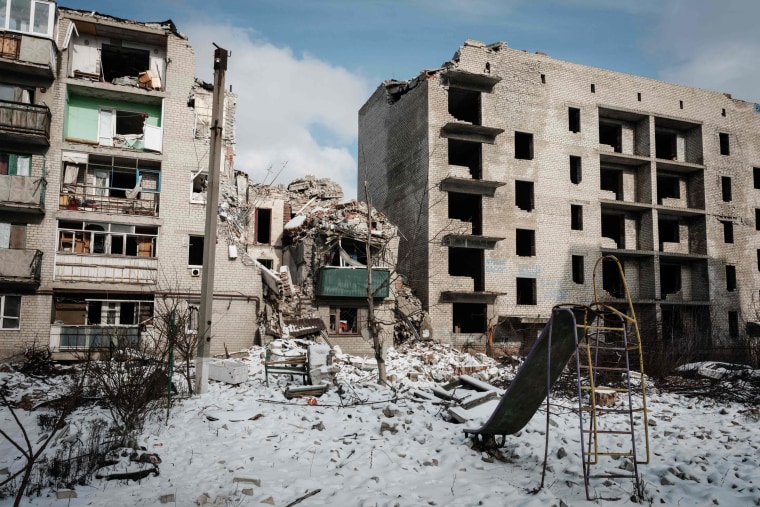 Ludmila, 63, who lives in the basement with them, is a former nurse who has lived in the town all her life and now cares for her 88-year-old father, who is blind and diabetic. She makes borscht, the hearty beetroot soup much-loved across Ukraine, by candlelight. A cat and dog give the shelter a semblance of domestic normality.
NBC News has chosen not to use Artem's, Oleksandra's and Ludmila's last names because they said they feared for their safety.
Despite her limited resources and her reliance on handouts to survive, Ludmila insisted that NBC News sit down with her to share the meal.
"Those who have never lived through this will never understand it, trying to live in these conditions," she said. "People who haven't lived it might think it's so easy, you just go to the basement and light a few candles. But it's not like that. Most people could not imagine."
While some are unable to leave, people such as Ludmila refuse to.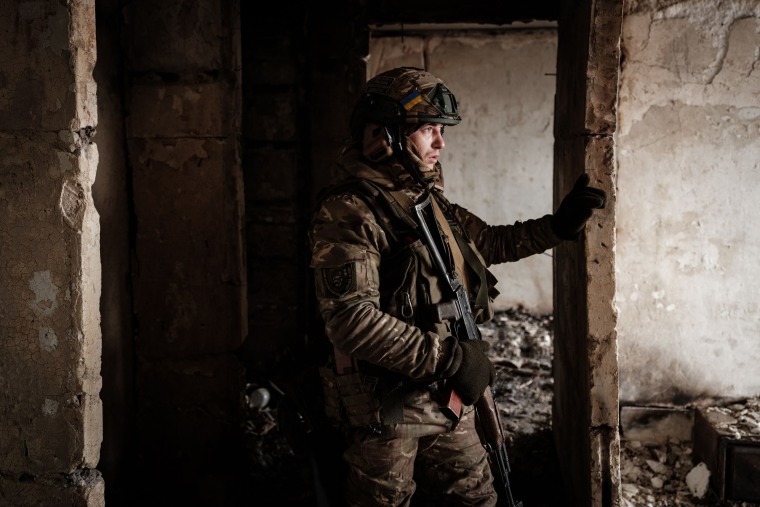 "I was born here, I spent all my life here, I don't want to leave. People here know me and say, 'Hi.' I feel something inside that doesn't let me leave," she said.
Nearby, Nadiya Polehina, 76, looks after her grandson, Kirill, 9, who has a disability after experiencing brain damage at birth. His huge boosts of energy and ebullience as he runs and shouts through the snow are at odds with his surroundings — he doesn't fully understand there is a war. Translated from Ukrainian, Nadiya means "hope."
"We want peace — just peace. So many people have died, I'm sorry for everybody," she told NBC News in a local warming center, where people come to thaw hands and receive help. She has come for the company rather than the heat, she said. She was an orphan herself; her mother died at a young age, she added.
Her daughter is in a hospital in Kyiv. Asked why she is still here in harm's way, she breaks down in tears and explains she has nowhere to go.
"I talk to God every day. I pray every day. I pray for peace and for everybody to be alive," she said.
Richard Engel and Marc Smith reported from Chasiv Yar. Patrick Smith reported from London.