The war of words over North Korea's nuclear weapons and missile program has been as dramatic as it has been concerning.
Kim Jong Un's regime has said the entire United States is in its sights. Not to be outdone, President Donald Trump has promised "fire and fury" in a departure from the more measured tones of previous U.S. presidents.
The increasing pattern of threat and counter-threat has led some to worry about potential miscommunication or miscalculation that could lead to armed conflict.
But the heated language has generally met with a cooler response on the streets of cities and towns across the Asia-Pacific region.
That's despite people there potentially being in the firing line should the rhetoric escalate to military action.
South Korea
"It doesn't impact our everyday life and things that happen on a daily basis," said 31-year-old Paul Rader, a teacher in Seoul's international school.
"The kind of tension around in the city among people is nonexistent here," Rader adds. "Those of us who've been here for a long time, we tend to think it's saber rattling."
Not everyone in South Korea is so laid back, however.
Thousands took to the streets of Seoul Tuesday to protest against joint U.S. and South Korean military drills and the deployment of the THAAD missile system in the country.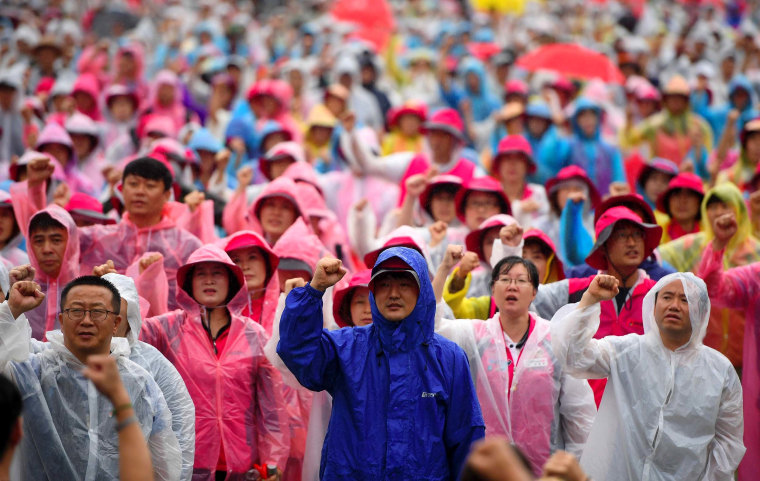 Seoul is situated just 35 miles from the border with North Korea, well within range of its neighbor's artillery.
More than 23,000 U.S. troops are also stationed in South Korea.
While most experts agree the U.S. and its allies would likely win any war with North Korea, doing so would almost certainly cost thousands of lives and cause huge destruction.
However, South Korea's president, Moon Jae In, said Tuesday that any "military action on the Korean peninsula can only be decided by South Korea and no one else."
Japan
In Japan, the entirety of which is within the range of North Korea's weapons, leading politicians have spoken of "a new level of threat" in recent weeks.
Two North Korean intercontinental ballistic missiles (ICBMs) landed off the coast of Japan last month.
Japan is also the only country to ever have nuclear weapons used upon on it, when the U.S. did so in Hiroshima and Nagasaki at the end of World War II.
On the streets of Tokyo, feeling was mixed over the level of threat currently posed.
"What if North Korea misfires? There's the possibility that a missile could fall into offshore territory or onto our land itself," said one man who declined to give his name. "I'm a bit nervous."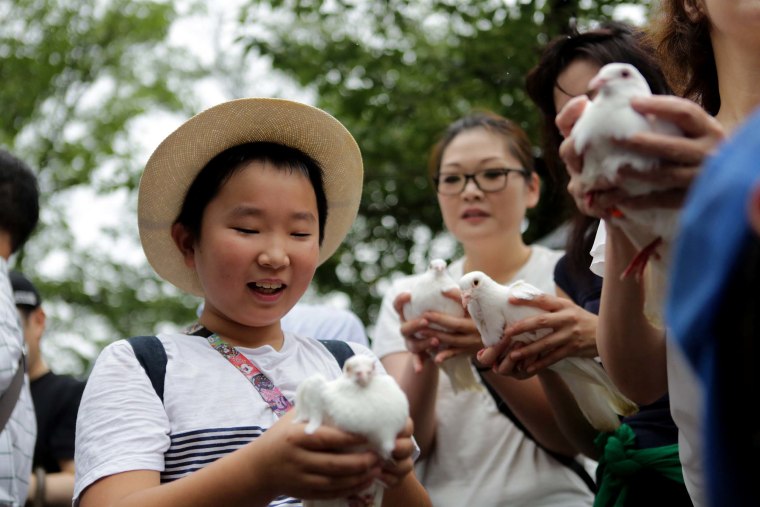 However, another chimed in with: "I'm a little scared but the situation doesn't really concern me."
American Michael Wright, who lives and works in Japan with his family. says he is unfazed by the situation and has no plans to leave.
He said: "They've [Japan] have been under threat for a long time so it doesn't matter. The Chinese are flying planes in here, you know, a thousand times, the Russians are flying in, so they've been under this mode for a long time," he added. "I think there is heightened awareness. But like I said, they've been living this way for a while now."
Fellow U.S. citizen Karen Brady moved to Japan with her husband and one-year-old daughter. She too was unconcerned: "If the threat was for Japan, we wouldn't have come," she added. "I mean my concerns personally are if my daughter is having a good day at daycare and when the next earthquake's going to be, because it kind of freaks me out."
China
In the Chinese capital, Beijing, the threat of impending war was widely dismissed.
China is North Korea's primary ally and not a target for the Kim Jong Un regime. But President Donald Trump has looked to Beijing to rein in North Korea and its weapons program.
"I don't think it's going to have an impact on my life at all," said Xiaoxiao Zhan, a 25-year-old student at Beijing Foreign Studies University.
Businesswoman Laura Wu, 52, said she was not nervous as there was no war. Even if there was, "the war will not be in China," she added.
Guam
The U.S. Pacific territory of Guam, however, has been the subject of more specific threats of action.
North Korea has said it was giving serious consideration to a plan to fire missiles at Guam.
On Tuesday, two radio stations on the island accidentally played an emergency civil danger warning — the same warning that would sound in the event of an impending nuclear attack.
Guam's homeland security office later issued a statement on Facebook saying that they will work with radio stations to ensure such human error does not occur again.
On one of Guam's many picturesque beaches Tuesday, however, one holidaying American was unconcerned about the threat of conflict.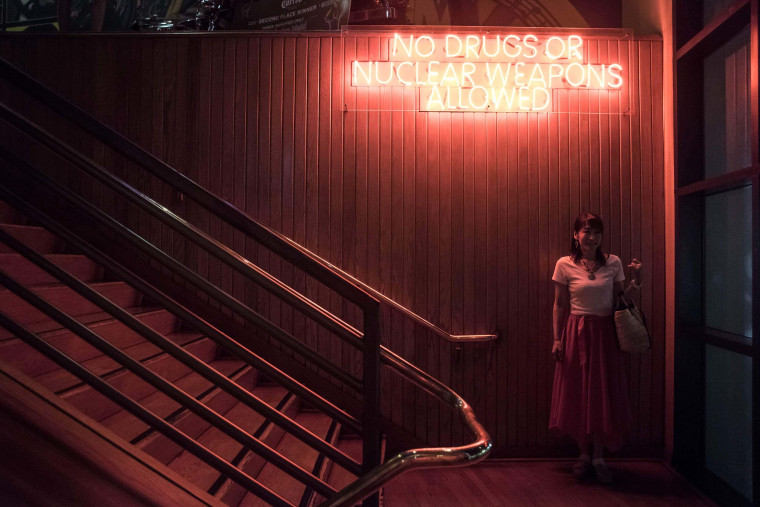 Eugene Gutierrez, a 59-year-old expat who has lived in Manila for 10 years told NBC News that he tended not to believe the "rhetoric and words" that have been prominent in news broadcasts recently.
He added that he also trusted the U.S. government to "let us know" if there "things that are threatening to us."
Back in Seoul, Rader believes each side is aware that the cost of military action will be high meaning it's unlikely North Korea will push the envelope too far.
"If they preemptively strike … [it's a] huge disaster for both sides, so I don't see what they gain from that," he said.
"I'm personally not afraid of what they might do because they would lose everything."
And if he's wrong and the worst does happen?
"We don't have a plan," he says. "We're gonna hop on the moped and get out of the city I guess."
Eoghan Macguire reported from London, Shaquille Brewster reported from Guam, Arata Yamamoto reported from Tokyo and Paul Goldman reported from Seoul.