A British woman has reportedly sent a not-so-sweet note to the makers of Kit Kat bars after discovering there were no wafers in her pack of chocolate treats.
Saima Ahmad, 20, a law student in London, is so upset about the missing wafers that she is demanding a lifetime supply of Kit Kats from Nestle, which produces the bars in Britain, and she is threatening to sue if she doesn't get it, according to British news outlets.
"The failure to take due care in the manufacturing process resulted in a product being defective. As a result I feel as though I have been misled to part with my money and purchase a product that is clearly different from what has been marketed by Nestle," Ahmad wrote in a letter, according to British newspaper Metro.
The second-year law student at King's College London went on to demand a "full refund of the defective pack" and a lifetime supply of Kit Kats so she could "act as a means of quality control."
"It appears you need me more than I need you," she wrote.
NBC News was not able to independently verify the travesty of the alleged missing wafer. A spokesperson for Nestle UK told NBC News that a "Kit Kat finger without wafer does leave our factory from time to time but is extremely rare and we have checks in place to try to prevent it happening as far as possible."
"If a consumer finds any issue with a Nestlé product we would encourage them to get in touch with us online, by phone or by post so that we can investigate and put things right for them," the Nestle spokesperson said.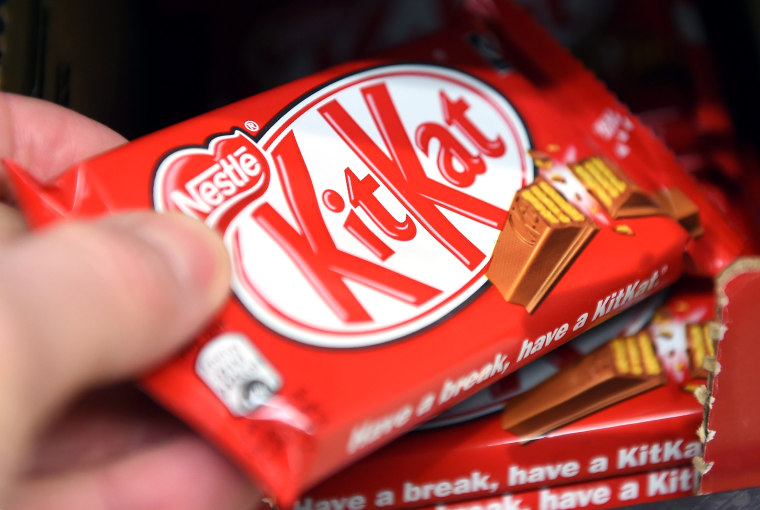 Ahmad was not the only unsatisfied customer. Others posted on Twitter that their chocolate bars also lacked the signature wafers.
"We have a problem," one wrote.
Kit Kat is a popular brand: According to Nestle, about 650 Kit Kat fingers are consumed globally every second. It's also the number one selling chocolate bar in Japan, where just this week, sake-flavored Kit Kats premiered.
Nestle handles global production of Kit Kats, but in the U.S., they are manufactured by Hershey.