DENVER -- Sandy Dahl, wife of the pilot who captained United Airlines Flight 93, which crashed into a Pennsylvania field after being taken over by terrorists on Sept. 11, 2001, has died at age 52.
A fundraising group she founded to honor her husband's memory, the Captain Jason M. Dahl Scholarship Fund, announced on its website that Sandy Dahl died in her sleep Friday from natural causes near Denver.
"Her guiding light will be missed," the group said.
Dahl, a former United flight attendant, became a public face for 9/11 families.
She had told the Denver Post the heroism of Jason Dahl and many others aboard Flight 93 was not forgotten.
"They did what would almost never be asked of anyone," she had said.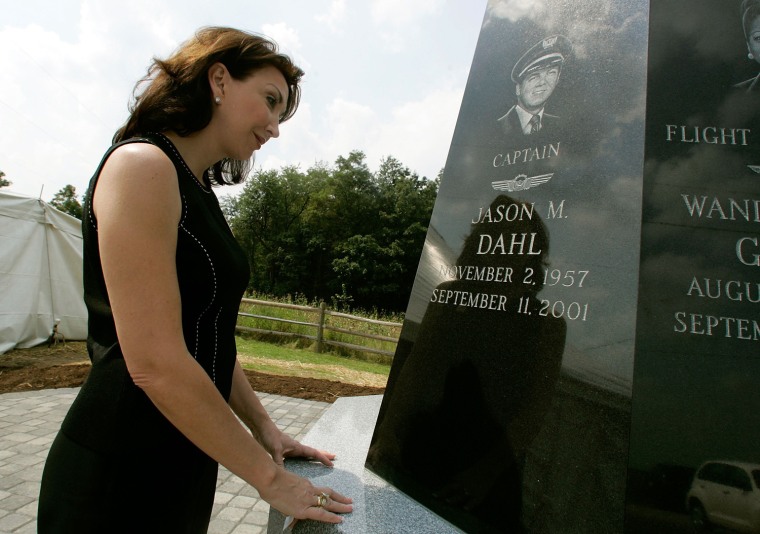 "I want to make sure history is written," she said then.
She said she believed her husband joined passengers in fighting the terrorists who planned to crash the plane into the Capitol or White House. It went down outside Shanksville, Penn., about 75 miles southeast of Pittsburgh. A memorial dedicated to the 40 passengers and crew of Flight 93 was dedicated last September.
Two other planes on 9/11 struck the Twin Towers of the World Trade Center in New York; a fourth crashed into the Pentagon in Arlington, Va. The death toll from the four attacks was nearly 3,000.
The Jason Dahl scholarship fund provided money for young pilots to receive their education.
As of 2011, 16 students had received scholarships and some were already commercial pilots, NBC station KUSA of Denver reported.
"Both of them were my best friends," Capt. David Dosch, president of the Jason Dahl Scholarship Fund, said of Jason and Sandy Dahl. "Unfortunately, both of them had a short period of time to enjoy their company."
"Sandy's courage picked up where her husband's left off," Patrick White, president of Families of Flight 93, said Saturday in a statement obtained by the Post. "Her dedication to completing the Flight 93 National Memorial as a way to honor her husband's heroic actions on 9-11, and those of his fellow crew members and passengers, is a significant part of her legacy."
Jefferson County coroner's officials have confirmed Dahl's death, but the exact cause has not been released, the Post said.
More content from msnbc.com and NBC News: