A world leader with a penchant for partying is nothing new.
But Finnish Prime Minister Sanna Marin has found herself under fire after footage of the 36-year-old singing and dancing with celebrities was leaked to the local press last week.
The public fallout from the video, and a subsequent picture that emerged of topless influencers partying at her official residence, has led Marin to take a drug test and apologize. It's also fueled a social media trend that highlights a debate over what many expect of their leaders — especially when they're female.
Finland has a strong track record of gender parity in politics and consistently ranks amongst the highest in the European Union's gender equality index. Indeed, Marin heads a governing coalition of five parties, all of which are led by women.
But opposition voices in the Nordic country have accused the center-left leader of lacking judgment.
"She is now surrounded by people who are just taking advantage of her," Tiina Lokka of the conservative Finnish podcast Monokulttuuri FM told NBC News. 
"They don't care about her but only want to make social media posts about partying with the PM, and they don't care about the damage it causes to her. But it's the PM's bad judgment in the end," she added.
Marin, who became the world's youngest serving government leader when she took power in 2019, has made no secret of her enjoyment of leisure time and has stood by that approach despite the recent backlash.
She gave a tearful speech during a meeting of her Social Democratic Party in the southern city of Lahti on Wednesday, asking to be judged for her work and not what she chooses to do in her free time.
"I am also human," a red-eyed Marin was reported as saying by Finnish media, speaking with a broken voice. She added that she had never failed to attend to a single work task because she took time off. "I do my job. I learn from this," she reportedly said.
"But I want to believe that people look at the work we do, not what we do in our free time."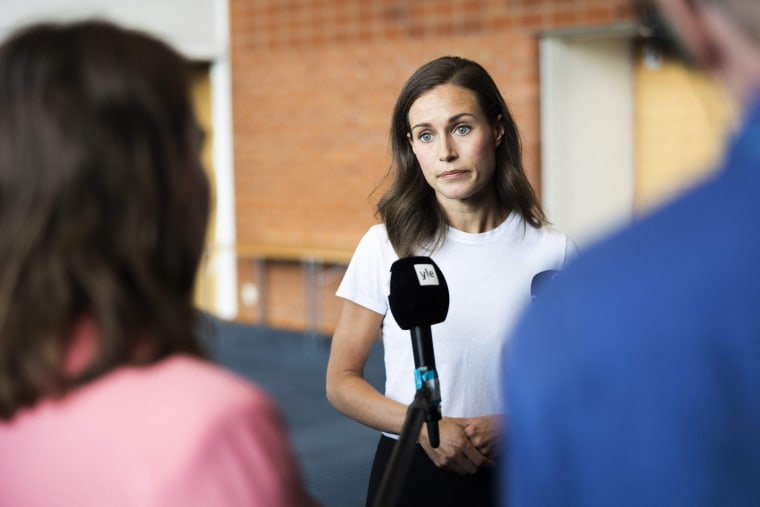 The video showed Marin mimicking a song in front of a camera and dancing with a group of people at a party. She admitted she had celebrated in a "boisterous way" but said that the footage was private and that she was spending time with her friends.
She has said she attended the party in recent weeks, but did not say exactly where and when. Her office did not respond to a request for further comment.
Marin's status as a powerful young woman in a male-dominated field and her contemporary "work hard, play hard" ethic resonated with many in Finland and beyond, with women posting videos on social media of themselves dancing with the #solidaritywithsanna hashtag.
"I think politicians — whether it be young women, older women, young men, older men, should have the right to disconnect and also have the right to dance," said Tilly Metz, a member of the European Parliament from Luxembourg, who posted one such video on Twitter.
"It's very important that politicians show that they are just human beings with emotions, with friends, with the aim to also to disconnect and to have fun."
Dr. Elif Cindik, a 50-year-old psychiatrist and the director of two medical centers in Munich, also posted a video of herself dancing with Christmas lights around her neck, to show that the critics "cannot hurt us."
"It's not something that should hurt a woman, that she's dancing and partying," she said.
Earlier this week, a leaked photo showing two topless women kissing with a sign reading "Finland" covering their breasts added to the party furor. Marin apologized for the image, which was taken at her official residence on the Helsinki coast this summer, saying it was inappropriate.
The prime minister also took a drug test in an effort to put an end to speculation about whether anything more than alcohol was involved in the party that first caused the public stir.
Her office said Monday that she had tested negative.
Critics have said the partying was ill-timed, with Finland facing rising energy prices and its bid to join NATO pending in the wake of Russia's war in Ukraine. And it wasn't the first time Marin has been criticized for untimely partying: She made a public apology in December after going out clubbing until 4 a.m. without her work phone and missing a notification that she was a close contact of someone who tested positive for Covid.
The latest scandal appears to have had little effect on her popularity in Finland, however.
A survey of 1,275 Finnish people conducted by the media company MTV Uutisten earlier this week found around 30% thought Marin's partying weakened her suitability to be prime minister, while 44% said they believed her partying did not affect her ability to carry out her duties as prime minister and did not think it was inappropriate for a prime minister to be partying.
Many in the country "see there is a gender difference here and defend Marin's right to party," said Anu Koivunen, a professor of gender studies at the University of Turku in the country's southwest. "They support her right to privacy and partying while not necessarily supporting her politics or government."
Others lament that the scandal has pulled attention away from Marin's policies.
"It's really sad that in this era of strong female leadership, that the discussion is about the scandals and not so much about the policies that they're making," said Fatim Diarra, leader of Naisasialiitto Unioni, Finland's largest feminist organization.
"We're not actually discussing the big political changes that are happening in the country," she added. "Instead, we're speaking about partying."