The sheer scale of the destruction caused by the collapse of the Kakhovka dam was laid bare Thursday by new satellite images.
Pictures from before and after the disaster — captured by Maxar Technologies, a U.S. defense contractor headquartered in Colorado — show how the landscape across southern Ukraine has been reshaped.
The images underline the immediate challenge faced by emergency services to find and rescue stranded people, with entire communities underwater and thousands fleeing the surging Dnieper River.
They also illustrate the far-reaching effects of the dam breach, which has swamped battlefields and drained a reservoir critical to water supplies and irrigation.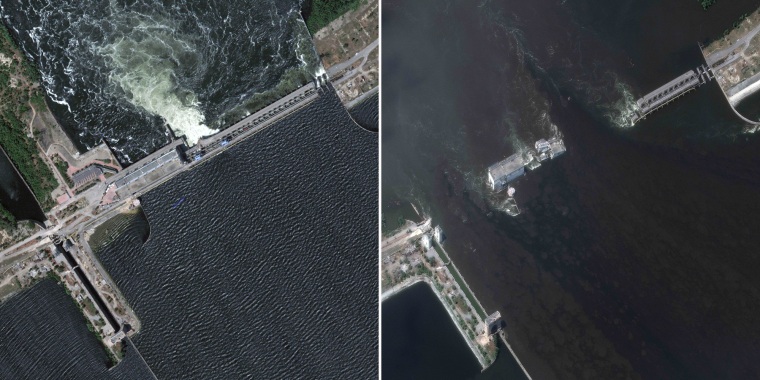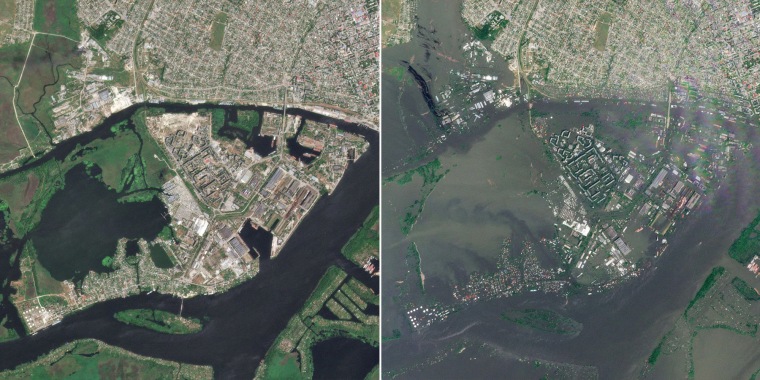 President Volodymyr Zelenskyy visited affected areas under Ukrainian control Thursday to evaluate the emergency response, as Russian-installed officials reported the first deaths from the disaster.
Ukraine blames Russia for the destruction of the dam and several of Kyiv's allies have called the incident a war crime, but the Kremlin has denied any involvement.
Zelenskyy has urged allies to offer aid and assistance in evacuating people and providing essential supplies. French President Emmanuel Macron said Wednesday his country would "send aid to meet immediate needs."
Huge swaths of land are underwater in a largely rural part of Ukraine, with entire towns now isolated and facing dangers, including dislodged land mines and waterborne diseases.
A highly complex series of irrigation systems used water from the river for crops across the region, bolstering Ukraine's reputation as one of the biggest food exporters in the world, with some 33 million hectares of farmland. But officials fear much of the region's farmland may now be ruined.
"The destruction of the Kakhovka hydroelectric power station will lead to the fact that fields in the south of Ukraine may turn into deserts next year," the Ukrainian Agriculture Ministry said in a statement Tuesday.
Light and heavy industry could be seen inundated in the Maxar images.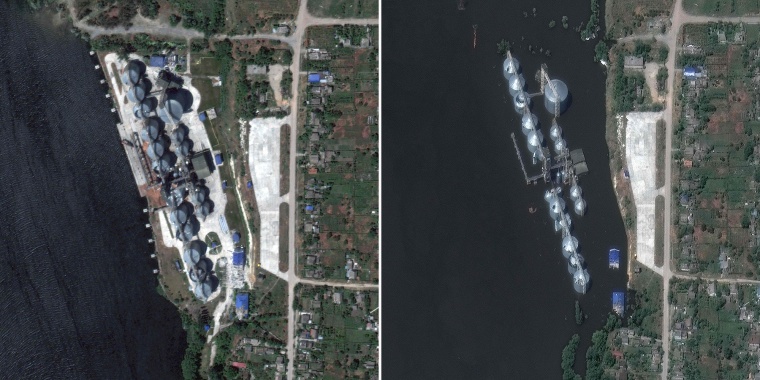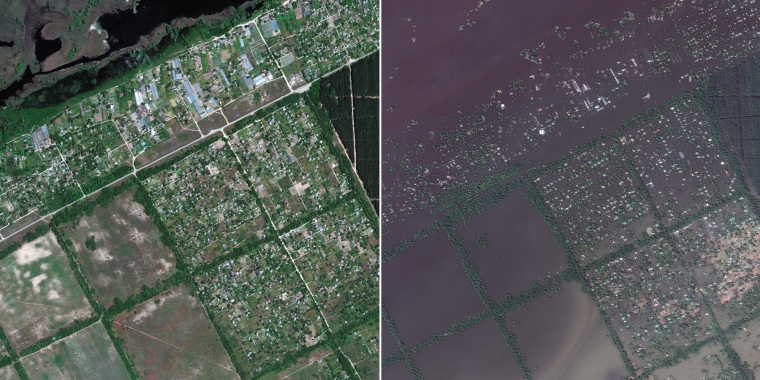 Some 231 square miles of the Kherson region is flooded, according to the regional governor, Oleksandr Prokudin. The river has risen by an average of 18.3 feet, he said, adding that almost 2,000 people had been evacuated so far.
More than two-thirds of the submerged area was on the Russian-controlled eastern bank of the river, he said, where Ukrainian leaders said humanitarian and logistical challenges were particularly acute.
Ukraine's military said some Russian forces on the left bank — including soldiers in trenches and in seized residential homes — were inundated by the floodwaters.