WANNING, China — There's a site on this island that commercial satellite images show bears the hallmarks of a balloon facility, including a stone sign with red lettering at the entrance describing it as a military zone.
Nearby is believed to be a launching pad for airships similar to the balloon that flew over the United States and was ultimately shot down off the coast of South Carolina.   
When an NBC News team tried to set up a camera near the facility on Hainan, an island province off the southern coast of China, they were shooed away. Local residents used umbrellas to try to block them from filming. And a police pickup truck with flashing lights arrived  as the news team was departing the area.
The 200-foot-tall balloon that traversed the U.S. this month before being shot down by an American fighter jet on Feb. 4 off the coast of South Carolina was launched from this island, according to a U.S. official and a former senior U.S. military official familiar with the matter. The Washington Post first reported that the balloon began its flight from the island.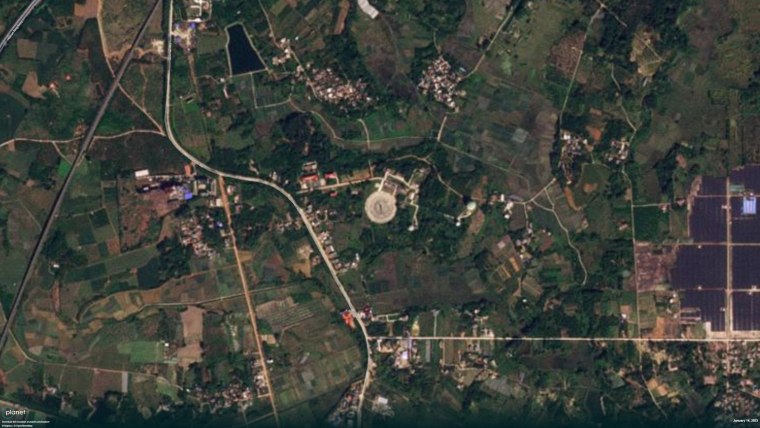 NBC News first reported the existence of China's spy balloon on Feb. 2.
Chinese officials say the balloon, outfitted with multiple antennas, was not designed to spy but was merely a civilian weather balloon that blew off course.  The Biden administration dismisses Beijing's explanation, and says the airship is part of a global surveillance campaign that included previous spy balloon flights over the U.S. and dozens of other countries.
Satellite images captured in mid-January by the commercial satellite company Planet Labs show what appears to be a balloon launch facility on Hainan Island, according to researchers at the Middlebury Institute (MIIS) in Monterey, California, who reviewed the photos.
Researchers could not confirm if the balloon that entered U.S. airspace was launched from the same facility. 
"It is definitely a military facility," Michael Duitsman, a research associate at MIIS, told NBC News. "It's been used for balloons at least since 2016." 
Along with his colleagues who helped identify the facility, Duitsman also found images of the location hosting airships using Google Earth. 
"We also know that that is a facility, because there is a satellite image on Google Earth showing a balloon rigged up at that site," he added.
The Middlebury team was able to identify the Hainan site as a balloon launch facility in part because of its similarity to another Chinese launch site they found in Dorbod Banner, near China's northern border with Mongolia.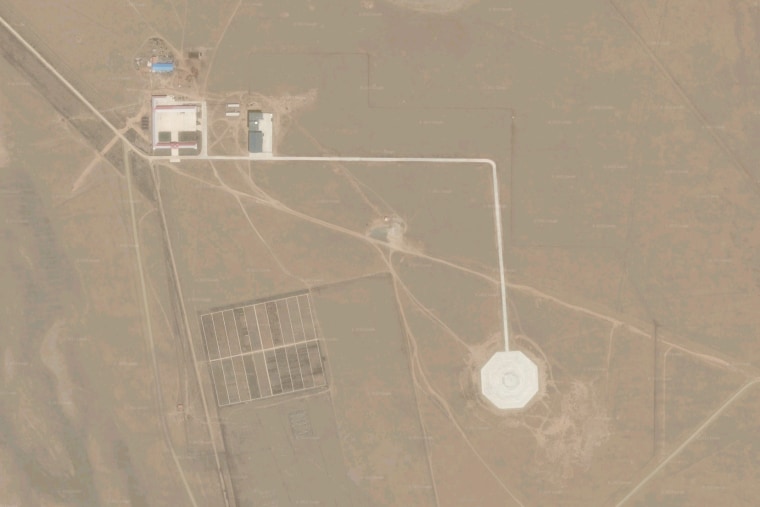 "You have a large pad, a large concrete pad in Hainan," Duitsman said. "In Inner Mongolia it's polygonal. On Hainan it's circular. Both of them have a support structure with a small radar unit on top of it, and both of them have another tall building that may be a hangar," he said.
The 460-foot launch pad also has what appears to be launch equipment visible in the satellite imagery.
"There are radar installations there that are camouflaged," Duitsman said of the Hainan launch site.
The launch site was expanded sometime from  2016 to 2020, he said.
The Office of the Director of National Intelligence and the Pentagon declined to comment. 
The findings came as China's foreign ministry accused the U.S. on Thursday of "escalating crises."
"The Chinese unmanned civilian airship that strayed into U.S. airspace was completely a force majeure incident," the Chinese foreign ministry spokesperson, Wang Wenbin, said at a news conference in Beijing Thursday.
"Nevertheless, it tested the sincerity and ability of the U.S. to properly manage and control crises and stabilize China-U.S, relations," he added.
President Joe Biden said Thursday that he would make no apologies for ordering that  the balloon be shot down and called the airship's violation of U.S. airspace "unacceptable."  But he also said that he wanted to maintain a dialogue with China and that the U.S. is not looking for confrontation with Beijing.
Biden said he expected to speak with Chinese President Xi Jinping and told NBC News' Peter Alexander that he did not believe Xi wanted to "fundamentally rip the relationship with the United States and with me."
Located in China's southernmost province, Hainan's sandy beaches, surfing competitions and posh resorts make it a tourist destination, known as "Chinese Hawaii."
But it's also a crucial hub for China's expanding military, with a large submarine base that includes a cavern tunneled into the side of a mountain and a spaceport for China's growing satellite network.
Hainan island is headquarters for Chinese naval ships and Coast Guard vessels that operate in the disputed waters of the South China Sea, where China has constructed artificial islands with runways and deep ports.
Janis Mackey Frayer reported from Wanning; Dan De Luce reported from Washington; Ken Dilanian reported from Los Angeles; Jennifer Jett reported from Hong Kong; and Aina J. Khan reported from London.