Saudi Arabia acknowledged for the first time on Friday evening that journalist Jamal Khashoggi died in its consulate in Istanbul, and said 18 Saudi citizens have been arrested, according to an initial investigation by the Saudi government.
In an announcement made early Saturday in Riyadh, the Saudi general prosecutor also claimed that Khashoggi, who was critical of Saudi Crown Prince Mohammed bin Salman, was involved in a "quarrel and fighting by hand" which led to his death.
The Saudi Ministry of Foreign Affairs claimed in a statement that Khashoggi died when a "suspect" attempted to take Khashoggi from Istanbul to Saudi Arabia.
"The suspect traveled to Istanbul to meet with Jamal Khashoggi after indications appeared the possibility of returning Jamal Khashoggi to the country," the ministry said.
The ministry said discussions escalated and led to a fight that ended in the journalist's death and that the people involved attempted to "conceal what happened and to cover it up."
The statement by the state Saudi Press Agency comes amid a firestorm of criticism of the Saudi crown prince, along with U.S. President Donald Trump's response to the crisis.
Khashoggi disappeared on Oct. 2 after visiting the Saudi consulate in Istanbul.
The Saudi government also announced that Saudi King Salman directed his son, Crown Prince Mohammed bin Salman, to lead the restructuring of the intelligence service and that the deputy president of intelligence, Ahmed Bin Hassan Bin Mohamed Assiri, was fired. Royal Court adviser Saud bin Abdullah Al Qahtani was also fired.
The Washington Post's editorial page has demanded a full accounting of what happened to Khashoggi, and in an editorial published on Friday accused Trump and Secretary of State Mike Pompeo of "conspiring with the Saudi leadership, buying time for them to construct a cover story that will deflect a wave of international outrage and discourage Congress from sanctioning the regime."
Trump was asked Friday at an event in Arizona whether he found the Saudi explanation credible and he responded "I do," but said, "It's early. We haven't finished our review or investigation."
He said the idea that a fistfight led to Khashoggi's death was "a theory that's being thrown out; I don't think anybody said that." Trump called the Saudi announcement and arrests "a big first step."
"Saudi Arabia has been a great ally. But what happened is unacceptable," Trump said.
He said he expected a full report from the Saudi government. "We'll be talking to them, we'll see what happens. We may have some questions — we do have some questions," he said.
A source with knowledge of the Saudis' plans says the government will likely release more information in the coming days about the chain of events leading up to his death and what exactly happened, beyond merely saying there was a fistfight.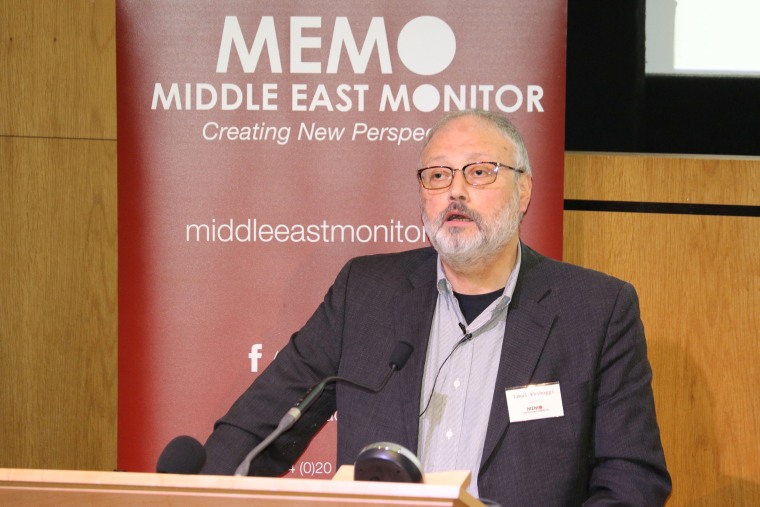 In addition to the deputy intelligence president and the Royal Court adviser, several other top intelligence officials were dismissed: Mohamed bin Saleh al Rumeh, assistant to the president of general intelligence for intelligence affairs; Abduallah bin Khalifa al Shaya, assistant to the president of general intelligence for human resources; and Rachad bin Hamed al Muhamadi, director of the general department for security and protection in the command of general intelligence.
White House Press Secretary Sarah Huckabee Sanders said in a statement that U.S. officials were following developments after the announcement and that the United States would "advocate for justice that is timely, transparent, and in accordance with all due process."
The Saudi confirmation marks a full reversal from the Saudi government's repeated and vehement denials that anything had happened to Khashoggi in the consulate.
On Oct. 6, four days after Khashoggi entered the consulate and disappeared, the Saudis released a statement from the consul general in Istanbul that said: "I would like to confirm that Jamal is not at the consulate nor in the Kingdom of Saudi Arabia, and the consulate and the embassy are working to search for him."
That same day, the Saudi Embassy in Washington released a statement that "dismissed the report by the media, which cited Turkish officials, that Saudi citizen Jamal Khashoggi was killed in the Consulate in Istanbul."
And less than a week ago, on Oct. 13, the Saudis issued a statement condemning the "false accusations circulated in media reports on the Saudi government and other people in the purported relation to the disappearance of Saudi citizen, Jamal Khashoggi."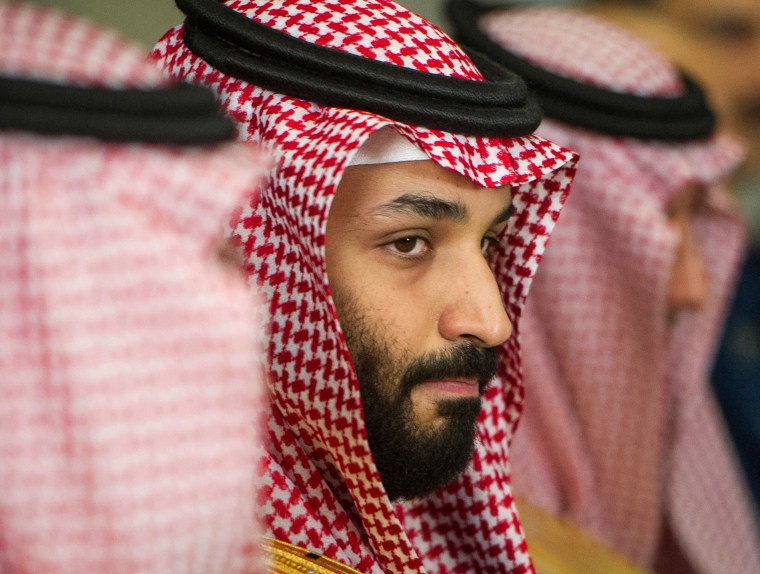 Multiple government officials told NBC News Thursday that U.S. intelligence agencies investigating the journalist's killing believe it's inconceivable that the crown prince had no connection to his death, but still have no "smoking gun" evidence that he ordered Khashoggi killed.
Pompeo traveled to Riyadh this week and met with King Salman and the crown prince to discuss Khashoggi's disappearance.
Pompeo said Saudi Arabia pledged to hold senior officials accountable if they are implicated in the disappearance and now-confirmed killing of Khashoggi.
Since Khashoggi's disappearance, Trump has highlighted an arms deal with Saudi Arabia and told the Associated Press in an interview Tuesday that there should not be a rush to judgment, saying, "I think we have to find out what happened first" and "here we go again with, you know, you're guilty until proven innocent."
Trump told reporters Thursday it was likely the journalist was dead. "It certainly looks that way to me. It's very sad," Trump said.
Sen. Lindsey Graham, R-S.C., who on Tuesday vowed to "sanction the hell out of Saudi Arabia" tweeted, "To say that I am skeptical of the new Saudi narrative about Mr. Khashoggi is an understatement."
"First we were told Mr. Khashoggi supposedly left the consulate and there was blanket denial of any Saudi involvement. Now, a fight breaks out and he's killed in the consulate, all without knowledge of Crown Prince," Graham said. "It's hard to find this latest 'explanation' as credible."
When asked Friday if he shared Graham's skepticism, Trump responded that he wants to speak with the Saudi crown prince before making statements, and again brought up an arms deal with the Saudi government that he would prefer not to cancel in response.
"I've spoken to the king, I want to speak with the crown prince," Trump said. "I think we're getting close to solving a very big problem." He said the U.S. needs Saudi Arabia as a "counterbalance to Iran."
Rep. Adam Schiff, D-Calif., who is the ranking member of the House Intelligence Committee, also expressed skepticism.
"The announcement that Jamal Khashoggi was killed while brawling with a team of more than a dozen dispatched from Saudi Arabia is not credible," Schiff said. "If Khashoggi was fighting inside the Saudi consulate in Istanbul, he was fighting for his life with people sent to capture or kill him.
"The Kingdom and all involved in this brutal murder must be held accountable, and if the Trump Administration will not take the lead, Congress must."