Saudi Arabia's king and crown prince have called the family of slain journalist Jamal Khashoggi to offer their condolences, and Foreign Minister Adel al-Jubeir called his "murder" a "tremendous mistake" on Sunday.
In an interview with Fox News, Jubeir described Khashoggi's killing as a "rogue operation" and said Saudi Arabia wanted to make sure that "those who are responsible are punished."
The acknowledgment that Khashoggi was killed in the Saudi consulate in Istanbul marks a 180-degree change from the Saudi government's previous and vehement denials that anything happened to him there on Oct. 2.
With Khashoggi's killing confirmed by the kingdom, NBC News takes stock of what we know so far.
Who was Jamal Khashoggi?
A prominent journalist and former newspaper editor in Saudi Arabia, Khashoggi was once close to the inner circle of the kingdom's huge royal family.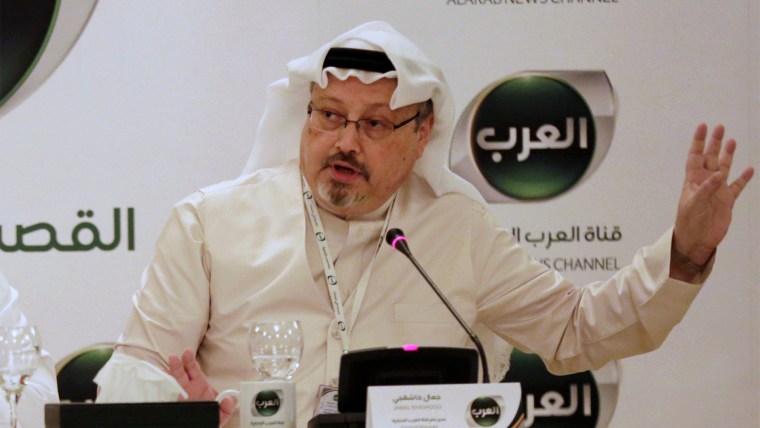 Khashoggi also served as an adviser to the kingdom's former head of intelligence, but he went into self-imposed exile in the United States after Mohammed bin Salman replaced his older cousin Muhammad bin Nayef as crown prince in June 2017. Last year, Khashoggi became a contributor to The Washington Post and wrote pieces critical of the crown prince, Saudi Arabia's putative leader, who has launched a sweeping crackdown on dissent.
Friends of the missing journalist described him as being deeply afraid of his country's rulers.
What do we know about his death?
Khashoggi entered the consulate earlier this month to obtain documents needed for his planned marriage to a Turkish citizen, Hatice Cengiz.
After repeated claims that he left the building the same day, Saudi officials now say he died there after a "quarrel and fighting by hand."
The Saudi public prosecutor said Friday that 18 Saudi nationals were being investigated over Khashoggi's death. The Saudi government also said five Saudi officials had been fired.
A "suspect" had traveled to Istanbul to meet with Khashoggi in the consulate after it appeared that there was "a possibility" of returning the journalist to Saudi Arabia, according to the Saudi government.
Discussions escalated into a fight that resulted in Khashoggi's death, and those involved then tried to cover it up, continued the official account.
Jubeir denied that the kingdom's crown prince had prior knowledge of the operation.
"There obviously was a tremendous mistake, and what compounded the mistake was the attempt to try to cover it up," he told Fox News.
Turkish officials revealed information about a supposed 15-person hit team on Oct. 16, providing NBC News with scans of passports they said belonged to seven of them.
Before the Saudi U-turn
Until Friday's announcement, the Saudi government repeatedly denied and condemned allegations that Khashoggi was killed in the consulate. Instead, officials claimed that the journalist left the building the same day he entered it.
The kingdom rejected any "threats" of economic or political pressure and warned that it would respond to any steps taken against it with "greater action."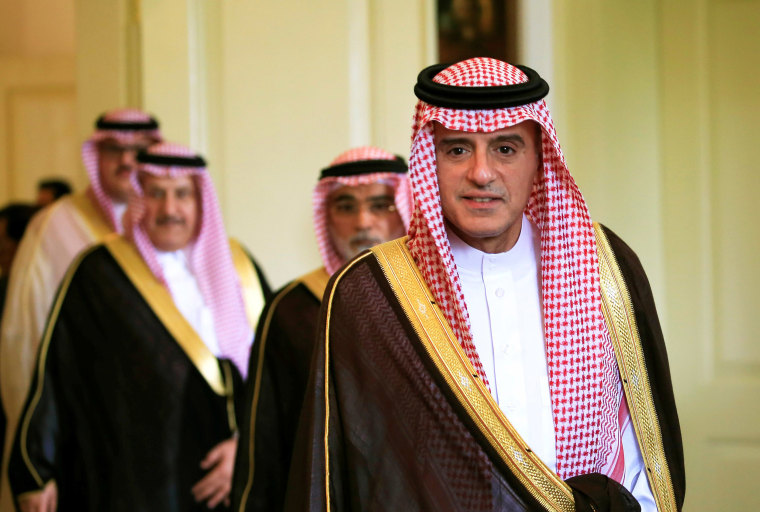 Meanwhile, Turkish authorities told international and Turkish media that they had audio recordings proving he was killed inside the consulate.
Where was Khashoggi's body?
"We don't know where the body is," Jubeir told Fox News on Sunday.
The foreign minister said the Saudi government was working with Turkey on what happened to Khashoggi's body.
The Turkish authorities have alleged that Khashoggi was dismembered, and other regional diplomats have told NBC News that they believe he was removed from the consulate in boxes.
Last week, the Turkish police expanded their investigation to a forest on the outskirts of Istanbul and another city, Yalova, a police source with direct knowledge of the investigation told NBC News.
Investigators have closed-circuit video of Saudi diplomatic vehicles in those areas after Khashoggi's disappearance, the source said. Police believe that those areas could be the dumping ground for Khashoggi's remains.
Who has been punished?
Saudi Arabia has said 18 Saudi citizens have been detained after an initial investigation into Khashoggi's death by the Saudi government.
The Saudi government announced Friday that five Saudi officials had been fired following the investigation into Khashoggi's killing, including the deputy president of intelligence, Ahmed Bin Hassan Bin Mohamed Assiri, and a royal court adviser, Saud bin Abdullah Al Qahtani.
The government also said King Salman had directed his son bin Salman to lead the restructuring of the intelligence service.
How has the United States reacted?
President Donald Trump has alternated between voicing strong warnings to the kingdom and striking a more conciliatory tone.
In an interview with The Washington Post late Saturday, the president offered sharp criticism of Saudi Arabia's explanation of Khashoggi's death, saying, "Obviously there's been deception, and there's been lies."
In previous comments, he said he thought the Saudi government's explanation was credible. But the president has also cautioned that the United States hadn't yet finished its own review and said he wouldn't be satisfied until "we find the answer."
Trump, who has made Saudi Arabia a linchpin of his Middle East policies, has also repeatedly brought up a major arms deal with the kingdom that he says is worth $110 billion.
Lawmakers, meanwhile, have called on the president to hold Saudi Arabia accountable.
NBC News reported Thursday that U.S. intelligence agencies believe it's inconceivable that bin Salman had no connection to his Khashoggi's death but that they still have no "smoking gun" evidence that he ordered the journalist killed, citing multiple government officials.
Sen. Lindsey Graham, R-S.C., said on Fox News that he didn't think the Saudis' explanation was "credible at all."
"It's ridiculous to believe 18 people would go to Turkey to kill Mr. Khashoggi and nobody in the government know about it," he said.
After days of will-he-won't-he speculation, Treasury Secretary Steve Mnuchin tweeted Thursday that he wouldn't be participating in Saudi Arabia's Future Investment Initiative economic conference, which begins Tuesday.
But he told The New York Times on Sunday that he would meet with his counterparts in Riyadh this week and that he planned to visit the Terrorist Financing Targeting Center, which the United States leads with Saudi Arabia.
Mnuchin said that while "human rights issues are very important," he thought the United States should wait for more facts before determining whether the kingdom should be subject to sanctions.
What about the private sector?
Over the last few days, a slew of businesses leaders and media companies announced that they were pulling out of the Future Investment Initiative conference — a glittering meeting at the center of the crown prince's efforts to showcase Saudi Arabia as a modern, moderate, high-tech mecca.
Hollywood, too, has been reassessing its ties, with the crown prince having lifted a ban on movie theaters.
Entertainment and media moguls were courting Saudi officials and potential partners, and exhibitors including AMC and Vue International have committed to build multiplexes in the kingdom, according to Reuters.
What's next?
Turkish President Recep Tayyip Erdogan and Trump spoke on the phone on Sunday evening and agreed that the Khashoggi case needed to be "cleared up," according the Turkish leader's office.
Erdogan said that he would reveal more about the investigation on Tuesday.