The U.S. continues to have "serious concerns" about Iran's behavior even after the watershed nuclear deal last year, President Barack Obama said Thursday during meeting hosted by Tehran's arch-rival Saudi Arabia.
While the agreement signed on July 14 had helped "cut off every single one of Iran's pathways to a nuclear weapon," illegal Iranian arms shipments, ballistic missile tests, and "destabilizing acts" were a continued worry for the U.S. and its allies, the president said.
Obama was speaking in Saudi Arabia where he was conducting talks with the Gulf Cooperation Council — which also includes Oman, the United Arab Emirates, Qatar, Bahrain and Kuwait — to coordinate better on conflicts across the region.
"Even as Iran was calling us the Great Satan we were able to get a deal done that got rid of their nuclear stockpiles and that makes us safer."
He said that how to deal with Iran was still proving to be the "biggest area where there's been tactical differences" with the GCC.
U.S. policy toward Shiite-governed Iran is a source of tension with Washington's longtime ally, Sunni Saudi Arabia.
"What I've said to them is we have to have a dual track," he told reporters, referring to his discussions with the Gulf leaders. "We have to be effective in our defenses and hold Iran to account where it is acting in ways that are contrary to international rules and norms, but we also have to have the capacity to enter into a dialogue."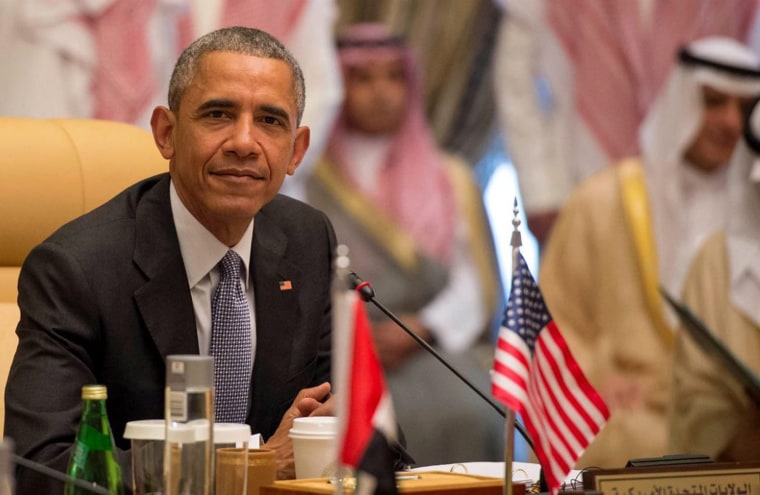 He said mistrust has grown "in part because of Iranian provocations" but added that dialogue did not equate to the U.S. giving Iran an easy ride.
"Even when the Soviet Union was threatening the destruction of the United States there was still dialogue so that we could find ways to reduce tensions," he said. "Even as Iran was calling us the Great Satan we were able to get a deal done that got rid of their nuclear stockpiles and that makes us safer. And that's not a sign of weakness, that's a sign of strength."
Saudi Arabia has felt beset by regional unrest and anxiety over the U.S. rapprochement with Iran, American hesitance to become more involved in the Syrian civil war and U.S. legislative efforts to help victims' families hold the Saudis accountable for the September 11th attacks.
The president also said the U.S. and Gulf state "remain united in our fight to destroy" ISIS, which he said was "a threat to all of us."
Obama also said all had agreed to support a ceasefire in Yemen, the path toward free elections in Syria, and the unitary government in Libya.
Before Obama departed Riyadh for London later on Thursday, Saudi Arabia's King Salman called the meeting "a constructive and fruitful summit."
The Middle East is mired in several conflicts, including wars in Syria and Yemen and ongoing violence by ISIS.
Saudi Arabia is the main supporter of rebels fighting to topple Iran's ally, President Bashar Assad in Syria.
In March 2015, Saudi Arabia began a military campaign in Yemen to stop the Houthis, allied to Iran, from taking power. Riyadh accused Iran of using the militia to stage a coup d'etat. Tehran said Riyadh's air strikes targeted civilians.