A ballistic missile fired from Yemen toward Saudi Arabia's capital on Saturday night was shot down by Saudi defense forces, officials said.
The rocket was targeting the populous areas of Riyadh, but was intercepted by a surface-to-air Patriot missile and turned to shrapnel as it flew east of the King Khalid International Airport, said Col. Turki al-Maliki, a spokesman for Saudi Arabia's coalition forces in Yemen.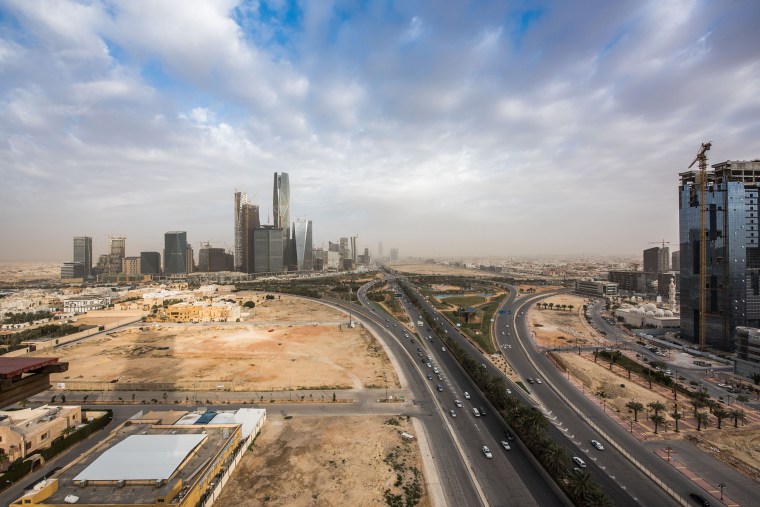 The missile blew up in an empty area and there were no casualties, Maliki said.
He added that Yemen's Houthi rebels, who are at war with Saudi Arabia, were to blame for the act — the first time that the kingdom's capital has been targeted.
The Iran-backed Houthi rebels crippled Yemen's internationally-recognized government in 2015, leading to a years-long civil war. Saudi Arabia has led a coalition of nations inside the country ever since.
Maliki said the attack confirmed that a regional country — likely Iran — supported the Houthi's attack, which was a breach of a 2015 United Nations resolution that demanded an end to violence in Yemen and chastised Iran for manipulating the conflict.
He added that targeting civilian populations ran counter to international humanitarian law.
The King Khalid International Airport tweeted that everything continued to run smoothly Saturday and that flights remained on schedule.
Ismail Ould Cheikh Ahmed, the U.N. special envoy for Yemen, met with senior Yemini and Saudi officials late last month in an effort to begin peace talks between the two governments. He told both sides during the four-day visit in Riyadh that "this is at heart a political conflict so it can only be solved with political negotiations."
Ahmed said both sides explored steps toward ending a humanitarian crisis in Yemen that has led to one of the largest and fastest cholera outbreaks on record. According to the World Health Organization, at current rates, more than a million people could be infected by Christmas, including 600,000 children.
The U.S. Department of Defense has also been conducting strikes against the Islamic State terror group's training camps in Yemen in coordination with the Saudi Arabia-supported Yemeni government, hitting two camps last month. Dozens of Islamic State, or ISIS, fighters were killed in the October assault.
According to the Pentagon, ISIS has taken advantage of the ungoverned territory in Yemen to support its training and planning efforts, and U.S. forces will continue to support counterterrorism operations in the country.