TEHRAN — A loud boom shook the Saudi capital of Riyadh on Tuesday as Patriot missiles whistled through the sky and intercepted an incoming rocket.
Rebels in neighboring Yemen said they had launched the rocket at Riyadh's al-Yamama palace, where they claimed a meeting of Saudi leaders was taking place.
The rocket never reached its destination. The Saudi Arabian military said in a statement that it shot down the rocket using Patriot missiles, and that there were no injuries or damage.
Far from an isolated incident, the rocket firing is the latest example of the tension between the regional powers of Saudi Arabia and neighboring Iran.
The nations are engaged in what experts view as several proxy wars in the Middle East that pit the Saudis, who are majority Sunni Muslims, against the mostly Shiite Iranians.
In Yemen, Saudi airstrikes are supporting government forces that are battling rebels, known as the Houthis, who have been linked to Iran.
Officials in Tehran support the Houthis but deny arming them. Saudi Arabia and the U.S., on the other hand, blame Iran for rocket attacks like the one on Tuesday.
Col. Turki al-Maliki, a Saudi military spokesman, called the launch Tuesday a "hostile and indiscriminate action" that "proves the continued involvement of the Iranian regime's support of the Houthi armed group."
Last week, Nikki Haley, the U.S. ambassador to the U.N., presented the charred remains of what she claimed was an Iranian-made missilethat was fired from Yemen toward Riyadh in November.
She held it up as proof that Iran was violating international restrictions on arms dealing.
Prince Mohammed bin Salman, Saudi Arabia's influential crown prince, said after that launch that Iran was guilty of a "direct military aggression" that could "constitute an act of war."
Iran dismissed the claim as "fake and fabricated." Its foreign minister, Javad Zarif, then compared Haley to Colin Powell and his 2003 statement, as secretary of state, about Iraq's supposed weapons of mass destruction.
Under President Barack Obama, the U.S. criticized longtime ally Saudi Arabia, signed the nuclear deal with historic enemy Iran, and told the two counties that they needed to "share the neighborhood."
By contrast, President Donald Trump made Saudi Arabia his first foreign visit and has vehemently condemned Tehran.
This pivot has concerned some observers in Iran.
Foad Izadi, an assistant professor at the University of Tehran, said the U.S.-led invasion of Iraq in 2003 "started with false accusations against the Iraqi government."
"Seeing those signs again with the Trump administration is worrying to Iranian leaders because they don't want to have a war with the United States," he said.
While most analysts say all-out war between Saudi Arabia and Iran is unlikely, an animated video that went viral over the weekend raised the specter of just that.
The warlike fantasy imaged a Saudi warship sinking incoming Iranian boats, the kingdom's jets shooting Iranian planes out of the sky, and its tanks rolling through Tehran to the cheers of welcoming civilians.
The video received almost 900,000 views in just four days and was translated in English, Arabic, Hebrew, Turkish, Spanish and Japanese.
There is no suggestion the video was created or endorsed by the government in Riyadh. NBC News received no immediate response when it reached out to Saudi officials; the YouTube account that posted the video also did not respond.
It comes almost two years after another video was circulated widely that showed Iranian missile strikes on several Saudi targets.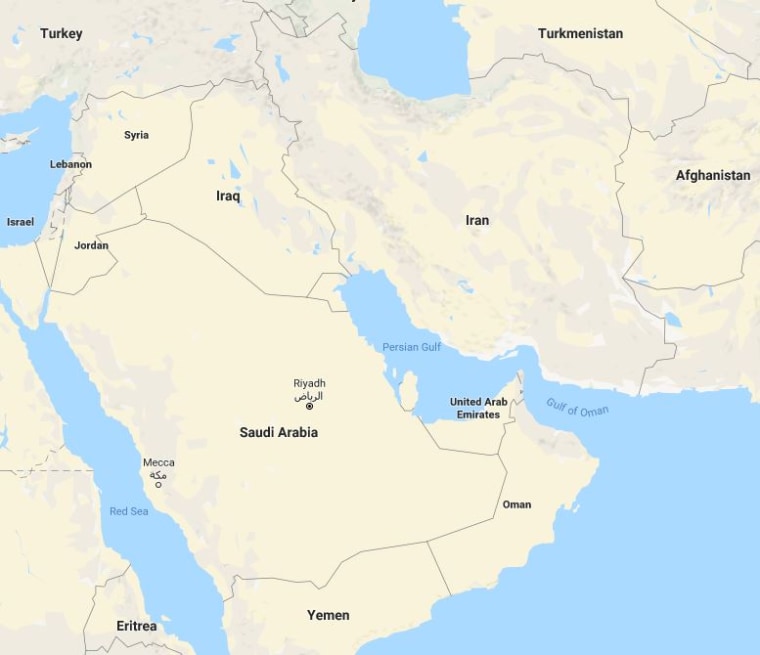 The two countries have had fractious relations for decades, but their rivalry has intensified since the 2015 coronation of King Salman, and the rise of Crown Prince Mohammed, referred to by many as M.B.S.
"M.B.S. has been driving strategy in the kingdom in terms of economic and social policy but also a more aggressive regional policy," said Peter Salisbury, a senior consulting fellow at Chatham House, a think tank in London. "He is trying to 'make Saudi Arabia great again' and to create a context where Saudi Arabia is the regional hegemon."
The crown prince has pricked Western ears with bold reforms in the religious-conservative kingdom, vowing to crackdown on corruption, allowing women to drive and lifting the ban on concerts and movies.
He has coupled this with a more assertive brand of foreign-policy rhetoric, even comparing Iran's supreme leader, Ayatollah Ali Khamenei, to Hitler in an interview with The New York Times in November.
Iran and Saudi Arabia have entered into something of a cold war, not fighting each other directly but supporting an array of rival proxies. These conflicts are playing out in Lebanon, Iraq and Syria, where Iran is fighting alongside government and Russian forces, and Saudi Arabia is supporting the embattled rebels.
In Yemen, the Saudi air war has drawn particular international criticism, with the U.S. and others providing arms, intelligence and aerial refueling power to a bombing campaign that many analysts say has caused a humanitarian crisis.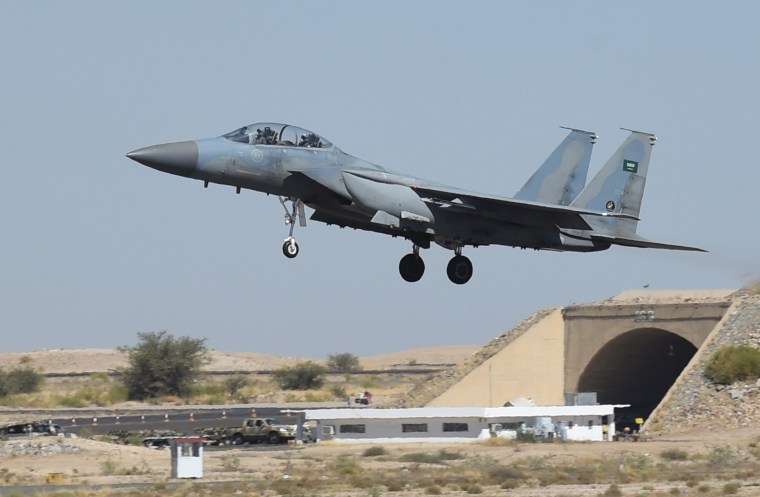 Iran and Saudi Arabia blame the wider standoff on each other.
Izadi, at the University of Tehran, said the new Saudi rhetoric is merely designed to distract from the country's "serious internal problems," namely the endemic corruption that the crown prince says he wants to root out.
On the flip side, Firas Maksad, director of the Arabia Foundation, a Washington-based think tank, maintains that Saudi Arabia was forced to react to Iran's "infiltrating Arab countries using proxy militias" and trying to spark Islamic revolutions abroad.
"Saudi Arabia is, in essence, now compelled to play defense to Iran's increasingly aggressive offense," Maksad said.
Although it is in neither party's interests to wage a full-scale war, a conflict is not impossible purely because of both sides' refusal to back down, Salisbury said.
"Iran has had a pretty good few years in terms of their military objectives, but they do not see a reason why they should be any less effective in the future," he said. "Saudi Arabia wants Iran to get back in its box, but Iran sees no reason why it should do so."
Ali Arouzi reported from Tehran, and Alexander Smith from London.