BARCELONA, Spain — Thousands of Spaniards set out on a pilgrimage of peace Friday along the same street that was a scene of horror less than 24 hours before.
Under the hot Mediterranean sun, they clapped and paused at makeshift memorials to the dead along La Rambla — the boulevard that is ancient Barcelona's beating heart.
"It makes me feel proud of my city," said Xavi Fuentes, 40, a veterinarian who came to La Rambla with his partner, Albert Perez. "To get here and see all this makes you so proud — this is what you must do."
Thirteen people, including an American, were killed when a van rammed into the crowds along La Rambla. More than 100 others were injured in the carnage. The victims, most of whom were from Spain, represented 34 different nationalities.
The horror continued through night, when a separate vehicle attack took place in Cambrils, a city less than 100 miles away on the coast. One person died there. Police said Friday that three attackers, one of whom was identified as Moussa Oukabir, were killed by law enforcement. A fourth suspect is still being sought.
Yet in Barcelona, a day after the violence, the marchers who gathered spontaneously were trying to reclaim their city from the terrorists, and take a stand against an ideology that is so at odds with the population, said Perez, a banker.
"We want to give a message of firmness and strength to those who want to annihilate our way of life," he said.
As the pair spoke, a major anti-terrorism operation was underway, with security forces hunting the driver of the van, who was seen escaping on foot Thursday. In another incident eight hours later, a woman was killed when a car ran down six people and a police officer in Cambrils, a town south of the city.
According to authorities, the incidents have killed and wounded people from 34 nations — a sign of Barcelona's standing both as an international city and a tourism mecca.
The city and the country formally honored the dead with a minute's silence at noon (6 a.m. ET), lining up to enter the Plaça de Catalunya, a large square at the top of La Rambla.
Spain's King Felipe VI and Prime Minister Mariano Rajoy, along with Catalan regional president Carles Puigdemont, stood in front of the crowd. After it had passed, they broke out into chants of "I am not afraid! I am not afraid!"
Rajoy tweeted a message of unity after the minute of silence. "The king and all the institutions are unified in condemning the barbarity. We will defeat terrorism."
Afterward on La Rambla, Guillerm Isern said he wanted to send the same message the residents of other multicultural European cities have tried to deliver after similar attacks.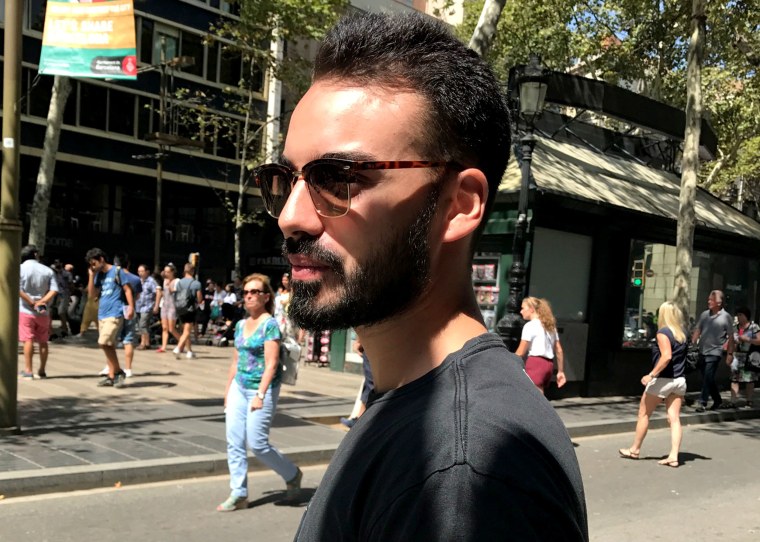 "We have to move ourselves to show that there isn't fear," said the 23-year-old student of physical education and part-time waiter. "Clapping gives us hope."
Isern said he was afraid, but wouldn't stop "taking the subway, going out on the street."
"The first few days I guess you are afraid to go into crowds — and then you forget. But living with fear is a bad thing."
He warned against what he said was the inevitable wave of bigotry to follow.
"Racism is worse than anything," Isern added. "I work with Pakistanis, with people from the Maghreb — they are the most peaceful people you will meet."
He has reason to worry — far-right demonstrators planned an event at 7 p.m. (1 p.m. ET) in front of the famous Boqueria food market on La Rambla.
The event — billed as an effort to "defend" Spain and Europe from cultures that "are totally alien to it," according to a statement by organizers — quickly degenerated after a much-larger group of chanting anti-fascist protesters surrounded a few dozen right-wing demonstrators.
Scuffles broke out and police in riot gear stepped in to separate the groups.
But the feelings espoused by the right-wing protesters were clearly aimed at tapping into fear felt by many still reeling from the attack — such as Mercedes Caules, who lives a five-minute walk from La Rambla.
The 72-year-old says she doesn't know where to turn now and worries she will not be able to take care of herself and her eight dogs if there is another attack.
"Someone has to fix this," she said. "I don't know what's happening and what to do."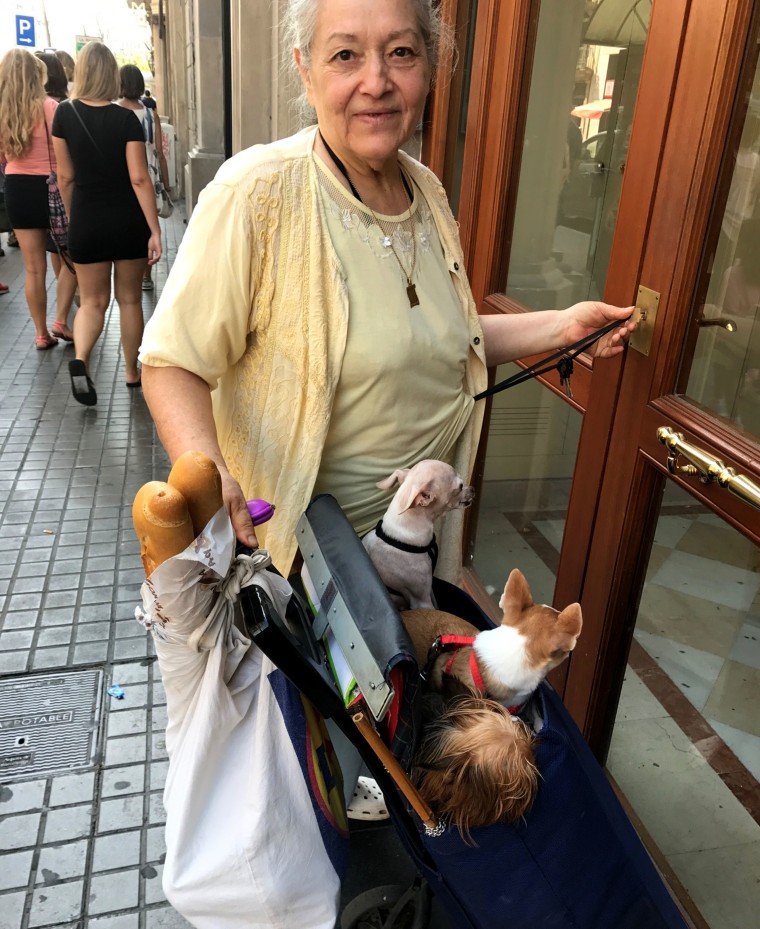 Ariad Na, who works at a nearby cosmetics shop, was shaken too, describing crowds of terrified people swarming up the street as they tried to escape the attack Thursday.
"The people were running — there was a whole movement of people," the 23-year-old said.
But the enormity of the event didn't hit her until she got to her house and saw her husband, Na said.
"When you get home and watch news, you can't believe it. I couldn't sleep until 3," she said.
"I used to feel Barcelona was safe, very safe," Na added, and then admitted: "Honestly, I didn't want to come to work this morning."
Na also admitted something she was clearly ashamed of: "I'm scared of Muslims. Of course, not everybody is bad, but it is hard to trust now."
She added: "Yesterday they killed several people — it could have been me."