Even in the rubble, there are traces of Amatrice's beauty.
The remnants of a centuries-old church. A statue of the Virgin Mary. Quaint stone buildings with yellow facades.
But mostly, there is devastation.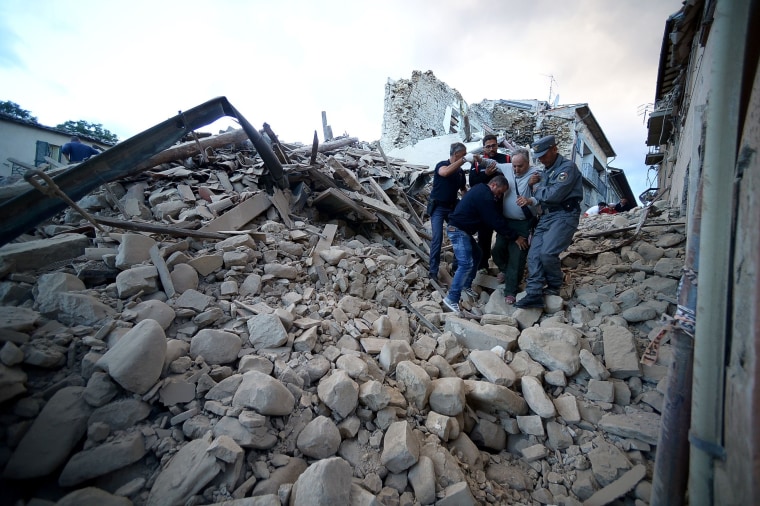 Homes opened up, like dollhouses, revealing shards of life interrupted by the 6.2-magnitude earthquake before dawn Wednesday. Pieces of furniture here, a broken suitcase there. A child's comic book. A bathroom with the shower curtain still attached. A living room with books tumbling out into the debris below.
Amatrice, considered among the most beautiful of Italy's historic towns, has survived centuries of war, weather and earthquakes, but never one like this.
"Three quarters of the town is not there anymore," Amatrice Mayor Sergio Pirozzi told state broadcaster RAI.
The town was coated in dust, which was clinging to clothing, eyes, mouths. Growling bulldozers drowned out all other sounds.
But the most jarring image of Amatrice was what was missing: many of its residents. Untold numbers remain trapped beneath the bricks; many will not emerge alive.
"There are voices under the rubble. We have to save the people there," Pirozzi said.
Able-bodied survivors, along with rescue workers and dogs, searched for buried victims. Dozens have been pulled out alive, triggering bursts of celebration. But many bodies have also emerged, followed by wails.
"Unfortunately, 90 percent we pull out are dead, but some make it, that's why we are here," volunteer Christian Bianchetti told The Associated Press.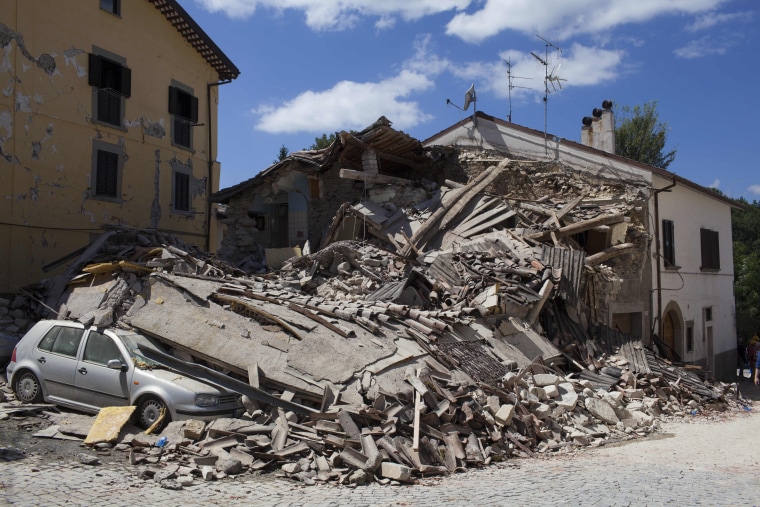 Many of those bodies rested in parks and along roads, covered in sheets. Over some, loved ones kept vigil.
Others survivors seemed unable to do anything but cry.
At the side of a road, a woman broke down in tears, staring at a home she will not be able to enter. "Let us grieve," her relatives said.
In the parking lot of a damaged hospital outside town, elderly patients sat near one another, some weeping, others looking dazed.
Among the missing, no doubt, were visitors from out of town who'd come for a weekend food festival. Amatrice is regarded as the birthplace of spaghetti all'amatriciana, a dish known worldwide.
"It was one of the most beautiful towns of Italy and now there's nothing left," one woman, too distraught to give her name, told the AP. She sat in front of her destroyed home, a blanket over her shoulders. She was still waiting for word on family.
"I don't know what we'll do," she said.
Nearby, in the town of Pescara del Tronto, which was also devastated, the gloom was pierced by cries of relief. An 8-year-old girl had been pulled alive from a collapsed building. "She's alive!" two women shouted as they ran up a street, The Associated Press reported.
The quake was felt as far away as Rome, 80 miles from Amatrice, where the men's basketball team from Bryant University in Rhode Island, in town for preseason training, were jarred out of their sleep.
"It felt like the room was shaking and swaying. Almost like someone was under your bed pushing up on the mattress," assistant coach Chris Burns told NBC Providence affiliate WJAR.
PHOTOS: Crews Rescue Burried Survivors After Italy Earthquake
No one knows when they'll be able to return home — if they have a home. Officials pleaded for donations of rescue equipment, food, blood, medicine, water, diapers.
Then there were the aftershocks. The ground rumbled. Stones fell off remaining buildings. Rescue workers tried to push people away, lest they too became victims.
There was a sense that things could get worse before they got better.