He's been dubbed the "Schindler of Congo" for acts of heroism, but now he's the one in need of saving.
Pastor Marrion P'Udongo earned his nickname for saving nearly 100 people from murderous militiamen in 2003 — but that was only one of his many acts of courage.
He's gone into the bush to coax out child soldiers, helped scores of rape victims secure medical treatment, fed and clothed inmates in Congo's most notorious prison and helps run an orphanage for children impacted by his nation's decades-long war.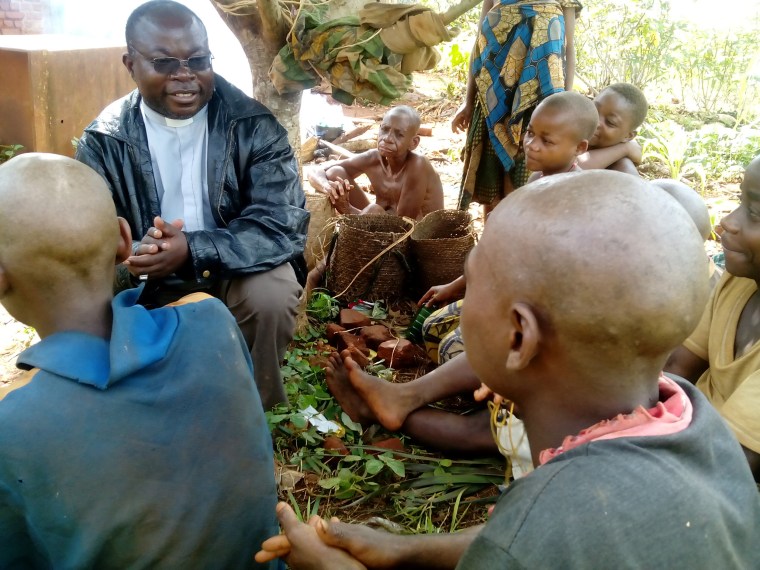 But today, the man also known simply as "pastor" to many spends his days hooked up to a dialysis machine and praying for a miracle.
"I don't feel in my heart that I should die now," he told NBC News. "I still have a lot to do."
P'Udongo nearly died in 2011 from kidney failure; a massive fundraising campaign helped cover the cost of a life-saving transplant. But the donor organ was slow to take and this spring he got bad news: his body was rejecting the kidney.
Suddenly, he was back where he started — and desperately in need of assistance.
Several people volunteered as new donors. A match was found and paperwork arranged for a transplant at a hospital in India, which reportedly has a higher success rate for such procedures.
"There are really people who want to help. So many. But the challenge is that we don't have money," P'Udongo said.
He needs around $35,000 for the procedure. The pastor is currently living off his $200 a month salary and a patchwork of donations to pay for medical care and rent in Uganda's capital, where he gets dialysis three times a week and only goes out for church.
"It's like a life in a prison," he said. "You can't go far from where there is no dialysis."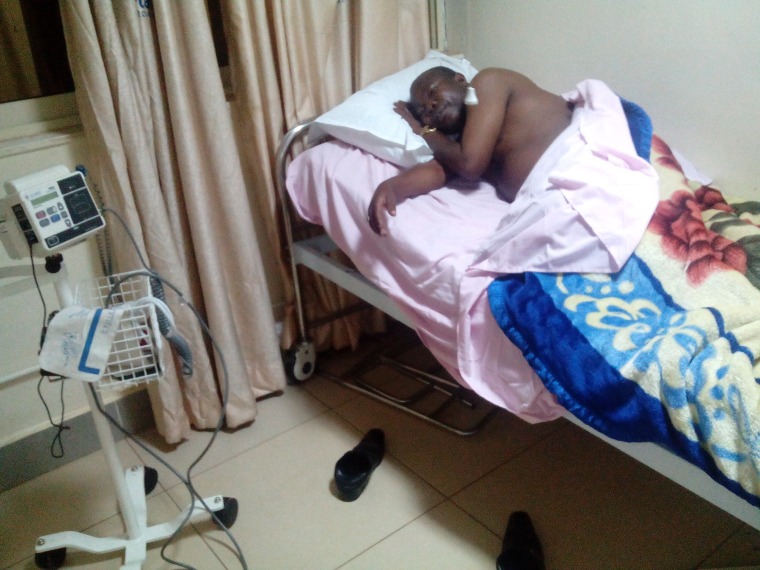 He can't take joy from food anymore — most of the time, he doesn't have an appetite — and says with a trademark giggle that he's lost so much weight he's "like a little boy."
"I'm not very strong to walk and many times I feel a lot of pain," he said, turning serious. "Sometimes you feel like you will not make it any more."
P'Udongo's current reality stands in stark contrast to his life in Bunia, where his work made him feel "like I'm doing one of the best things in the world."
Human-rights workers, journalists and Hollywood stars like Ben Affleck who worked with him there agree — and are fighting to ensure he gets back there to continue his mission.
"He's like a Moses character ... Even the most wicked militia guys, they loved him"
Affleck — founder of the Eastern Congo Initiative — called the pastor a "friend and a hero."
He said he first met P'Udongo in 2008 on a visit to northeastern Congo, where the pastor helped him understand the "complexity and possibility" of wartorn Bunia along with the "stark realities of life" for those affected by war.
"Pastor is a genius connector, translator, producer and fixer but he is first and foremost a great humanitarian," Affleck said in an emailed statement to NBC News.
Bryan Mealer is one of the reporters who relied on P'Udongo as a "fixer," or guide, during Congo's war.
"Look at the world right now… you don't see a lot of really good people left," Mealer said. "This is one of them."
Mealer — who has led fundraising efforts for pastor's first and this latest transplant effort — said he was "incredibly moved" from the moment he met P'Udongo.
"He has kind of a power around him — it's a magic," he explained, adding that what sets P'Udongo apart was his ability to access all sides in the protracted conflict.
"He's like a Moses character," Mealer said. "You would walk through the bush and people would just run out to him. He was this kind of lighthouse through all these years of war. Even the most wicked militia guys, they loved him."
The Schindler comparisons started after the siege of Bunia in May 2003. Ethnic Lendu militiamen tore into the town and started butchering members of the Hema ethnic group in the streets.
Dozens of desperate Hema went to the pastor's house seeking refuge.
"Hema were being captured by the militias in order to be slaughtered," the pastor explained. He sheltered around 70 people for about a week — with little food or water but plenty of prayer — until fighters kicked down his door.
"The militia came in and they wanted to kill the people who were there," P'Udongo said. "All Hema — including my wife."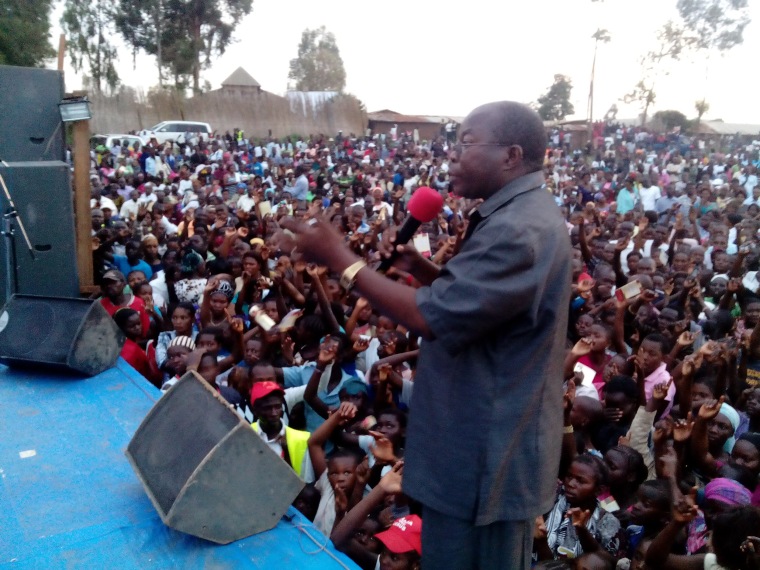 He said he thought he might die but felt compelled to act, so he pleaded for mercy.
"People cannot be killed by dogs," he said. "I was feeling that passion in my heart to ... plead with them."
The militiamen seemed undeterred, until a fighter came in who'd seen pastor preach.
"He said, 'we know this pastor, he's a good man so we cannot kill these people here,'" P'Udongo recalled. That stroke of luck — or act of God, as pastor describes it — secured their safety, and the militiamen escorted all of them to a U.N. base.
When asked about the Schindler nickname, P'Udongo laughs.
"It's a big name," he said with his giggle. While he acknowledges saving "many people" during the war — he insists he was just doing his job.
"It's my responsibility as a pastor … not only to preach but also to risk our life for the sake of others," he explained.
Pastor has carried on his saving since that moment in Bunia, most recently devoting his time to his prison ministry and helping run the St. Kizito orphanage there.
His colleague there, Elysee Pifwa, volunteered and matched as his kidney donor — a testament to pastor's impact, according to Mealer.
"When you put it into terms of him being gone … There's no getting him back," Mealer said. "There's no reproducing someone like this who has given, who gives his life for others."
He said that the 80 kids at the orphanage — many brought in by P'Udongo himself — would be devastated to lose their protector.
"Those kids need him — they really depend on him," added Mealer, one of the orphanage's founders. "He's the oil that helps that place run."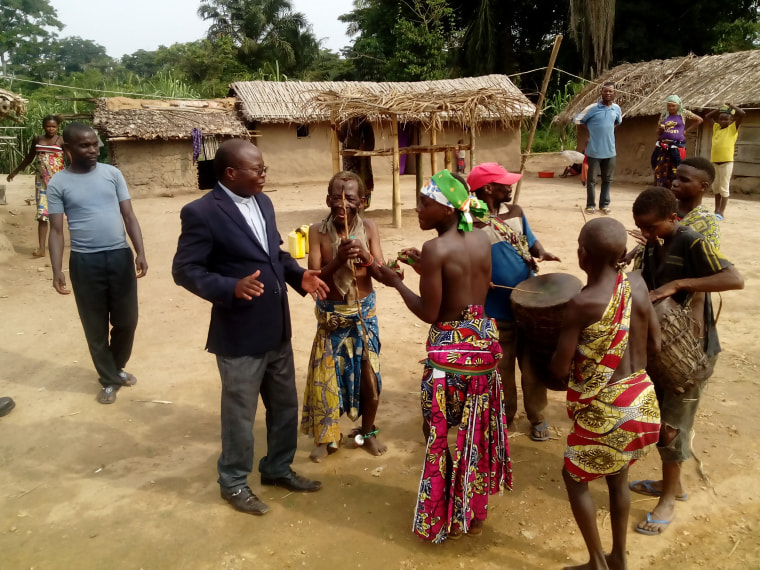 P'Udongo was an orphan himself. Early on, he made money smuggling gasoline across the border between Uganda and Congo before finding God in the 90s. He began ministering to refugees from the Rwandan genocide who had come into Congo. Then, fighting hit home.
"It was like a calling … to help his community," Mealer said.
He described how P'Udongo would go into the bush to preach about God but also about the developments and how to get help — a phenomenon Mealer witnessed while pastor helped him as a "fixer" navigating coverage of the war.
"To see someone who is positive and to see someone who had this light shining through them was so good for people," Mealer said. "This was a place where there was absolutely no hope."
Mealer said small acts of kindness to help save the pastor's life would reverberate and benefit the orphans, prisoners and countless others touched by P'Udongo and those who could be helped in the future.
"This is a good man doing good work in a place where there isn't a lot of goodness left," he said. "It's a good person working on this earth, helping people without a voice and without a lot of power. If he's gone, that will be lost. The darkness that tries to force itself into every small place will win again."
P'Udongo said he's more worried about his family — his wife of 16 years, four young biological children and one young orphan he has taken in to raise as his own — and his country.
"I'm not feeling that I should die now," the pastor said. "I think my presence is doing something there. If I am not there… who will fill that gap?"
"No, I should not die now… There's still a lot to do."